Sneed Yacht Charters.


CREW PROFILES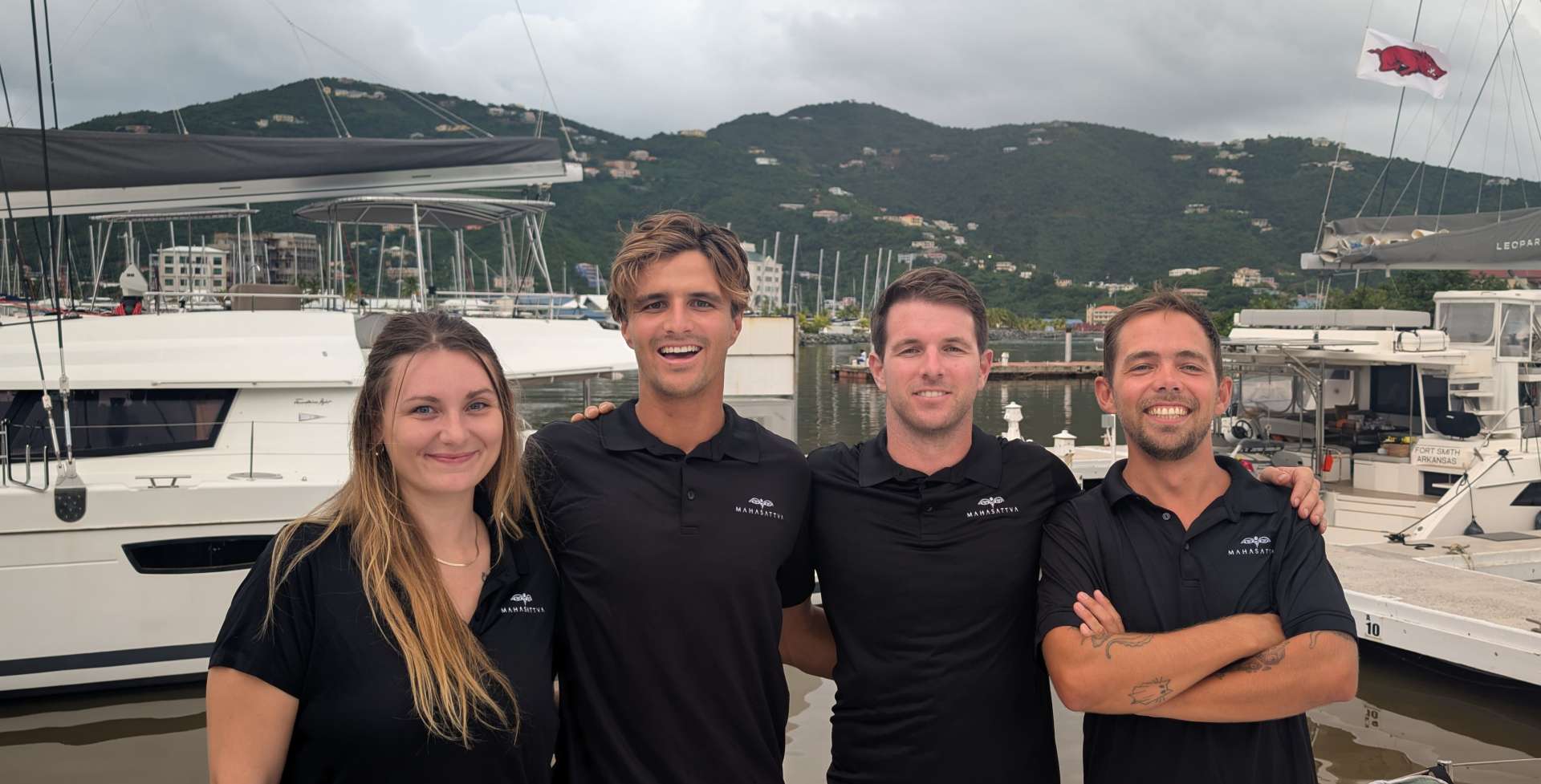 Title
Name
Nation
Born
Licenses
Captain
Ian Whitney
USA
1982
USCG 100T Masters
Chef
Blair Barbour
USA
1982
STCW/Yoga certified, Reiki Master
Number of Crew: 3
Languages: English
Crew Profiles:
World traveler, Blair Barbour, spent her youth between the art scene in Philadelphia and skeet shooting in the back woods of Virginia. She and her father built a sailboat in their garage when she was a child and she grew up in the water - snorkeling in Mexico, canoeing the Moose river in Maine, whitewater rafting in West Virginia, pretending to surf in California, scuba diving with sharks in the Caribbean, sailing the Outer Banks and spending a lot of time finding treasure at the bottom of the community pool.

She is a big part of the local animal advocacy scene in Philadelphia, winning Miss Pinup Philadelphia 2014 and helping to raise awareness for breed discrimination through the organization Pinups for Pitbulls. Other than sailing and cooking, Art is her absolute passion and her signature style is paper collage. Her art has been recognized with an International Art award from Neo Pop Realism and can be found globally with works residing in every major US city and in Paris and Hong Kong. She was accepted into the Artist Residency Program at the Chiricahua National Monument in Arizona where she wrote and illustrated one of her numerous children's books. Blair has used her talent for many charities supporting local arts programs in Philadelphia schools, Pinups for Pitbulls, the Wounded Warrior Fund and raising money to aid Haiti after the earthquake. Most of her current inspiration comes from the ocean and you can check out her work at this link: www.BlairBarbour.com

Blair and her famous sommelier sister – Erin Barbour: Thinking-Drinking.com have traveled through Europe and Asia eating the local cuisine and drinking the best wines. Her sister owned a number of French restaurants and wine shops where they have collaborated on many culinary events. Blair learned some of the European techniques for her sous chef position in Philadelphia, spending many long nights creating 15 course dinners in New York City and watching the sunrise while finishing assembling the millionth homemade ravioli.

Blair has lived in Brazil where she got her Yoga certification and after living in the Las Vegas desert for 2 years teaching Yoga workshops, she moved up to Lake Tahoe in the mountains. There she was employed on an 80ft motor yacht which chartered through the most beautiful parts of the lake and of course went skiing whenever possible. This is where she met the Captain of the Vessel, Ian Whitney, who later ran off to the Caribbean with her to sail the Bodhisattva.

Ian was practically born a Captain. He took his first steps as a toddler on a boat while sailing down the coast of Mexico with his mother and father. Ian's father has been a sea Captain his whole life, sailing across the world and also finding his home in the Virgin Islands. Throughout Ian's childhood he traveled back and forth between the Caribbean Sea and the snowy mountains of Lake Tahoe. He doesn't just have his sea legs but he has his land ones too, as he makes Blair look bad with his snowboarding skills.

He grew up in Lake Tahoe, California where he raced sailboats, won the polar plunge, studied pottery, perfected snow mobile wheelies, found the best cliffs to jump off of, snowboarded down glaciers and learned to scuba dive at high altitudes. He moved to the California coast to live on a sailboat and go to college where he studied Film and Media Production. He then ran off to Hollywood and worked on movie sets before finding his way to San Diego where he remodeled a Baltic 42 sailboat as his new home.

After sailing and surfing the California Coast, he made his way to the Caribbean where he chartered several different Catamarans, spending 7 years getting to know these islands in and out while learning how to grill the perfect lobster. During hurricane season he avoided land and would head to Europe sailing through Croatia and the Mediterranean. And finally after many years away he found his way back to the mountains in Lake Tahoe where he captained an 80ft motor yacht and met a new crewmember named Blair, who loved boats almost as much as he did.

They found the Mahasattva and moved to the Caribbean and are excited to help create your best vacation possible. Whether you are looking for a relaxing time with beautiful sunsets or an action packed adventure – either way you are going to eat some great food.

First Mate Ian Quigley
Ian is a lifelong sailor and traveler. Moving to Ireland at a young age Ian was introduced to sailing and racing and moving to San Francisco allowed him to hone his sailing in a very demanding environment. Being on boats has made him very at home on the water and between his Irish upbringing and service industry background in bartending make him a very welcoming and accommodating presence on any sail. Ian has sailed Ireland, San Francisco, France, Spain, Portugal, and in the Caribbean. Ian 's professional conduct, as well as his enthusiastic love of the ocean and nature, brings a wonderful joyful perspective to the charters.

Sneed Yacht Charters.