Sneed Yacht Charters.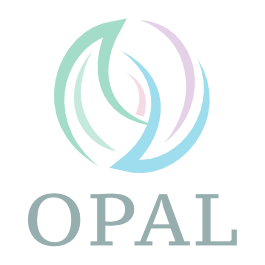 OPAL (Lagoon 620) GUESTS COMMENTS
Oustanding week aboard the Opal, guests from USA
Our week aboard the Opal was outstanding; we and our eight guests could not have asked for a more perfect boat, a more perfect crew, more perfect weather, itinerary, food and wine, or more perfect anything.

It is almost impossible to capture the essence and feeling of spending time in your beautiful country and on the Adriatic. Boris knew exactly how to find the best weather and he moored the Opal in beautiful, quiet coves where we swam and napped and ate and drank to our hearts' content. Gaga planned, prepared and served the most amazing meals and really outdid himself on our final night when he baked a chocolate birthday cake with ganache filling and pistachio nut toppings. And Marija -- what good care she took of all of us, serving our every whim from cappuccinos to beer and wine, to special gin and tonics, and how she managed to also keep the Opal clean and tidy at the same time will always be a mystery!
Lagoon 620, week in 2017 , guests from USA
I keep bragging about the experience and the staff to everyone that asks. More than happy to be a reference. The best vacation of my life.

Global Rating: 5/5 (Excellent) Beyond expectations

Outstanding service. The food was better than we thought possible. The off boat recommendations from the Captain, Boris, were excellent. The Croatia shores, islands, views, water, historical sites and activities were outstanding. One of the best vacations I have ever taken.

GoCrowGo
Our week aboard the Lagoon 620, Opal, was sublime. My husband and I joined with four other couples from the U.S. and Canada for a what turned out to be a wonderful mixture of laziness, leisure, fine dining, a bit of hiking and shopping, lots of fun playing in the water with SUPs and kayaks, near perfect weather and great fun with great friends. And at every single step, we were coddled and cared for by the amazing, talented crew members Boris, Maja and Dragan.
The Opal is a beautiful boat; the photos don't do it justice. It's pristine and spacious.
Boris skillfully skippered the Opal into quiet, scenic coves for swimming and relaxing. Maja quietly and efficiently poured coffee in the mornings and wine the rest of the day, and kept the Opal clean and tidy. She makes a remarkable cappucino! Dragan is a chef of the first order, who served delicious, nutritious meals of meats, fish, vegetables, and even baked a birthday cake on our last evening.
What a spectacular way to visit Croatia. Thank you, Adriatic Sailing. From original inquiry to booking to checking in to a grand sailing adventure, you are all first rate and first class. Thank you, thank you, thank you!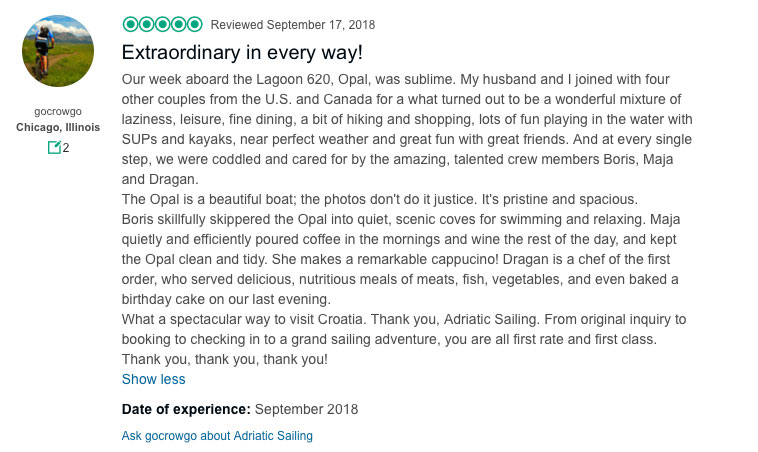 Gerry & Family
Tamara,

I am writing a review of our recent sailing holiday with yourselves and Skippercity. Firstly, you have a very beautiful country and you all must be very proud.

The Lagoon 620 catamaran was first class, spacious, great condition and met all our expectations.Service from Miha at SkipperCity during the reservation process was excellent giving me all the information and help I needed to charter the boat, a first for me. The crew - Boris, Maria and Dragan - were also excellent. and we were made to feel welcome with a high level of professional friendly service.Boris quickly found out our preferences and adapted the course to suit us. Maria was very attentive, approachable and professional making our holiday very relaxed and enjoyable. Dragan, what can I say, the meals on board exceeded our expectation and were quality restaurant standard.

A great holiday had by all. 5 star experience.

Thank you for all your service including organising transfers from and to the airport particularly on our last day which finished our holiday in Split on a good note.

Thanks again, Gerry & family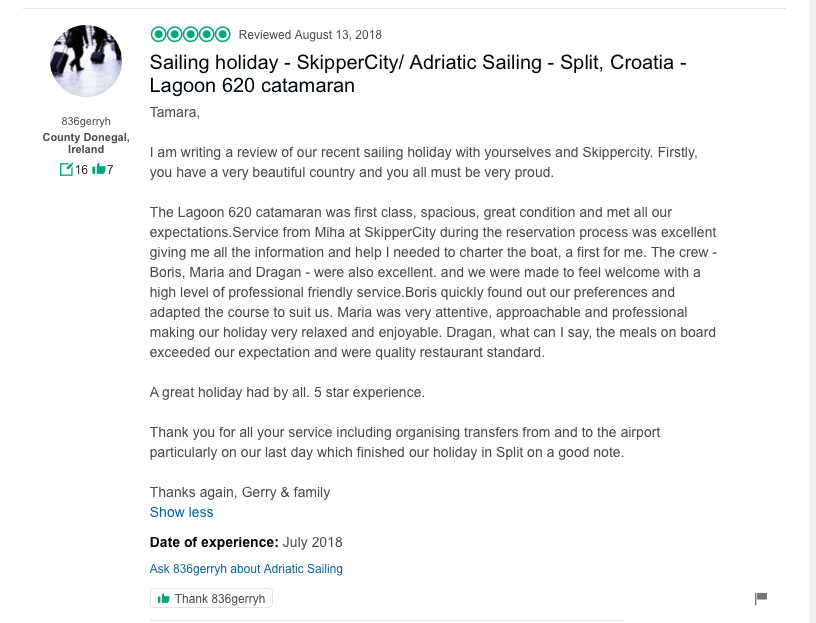 Sneed Yacht Charters.