Sneed Yacht Charters.


LUCKY CLOVER GUESTS COMMENTS
August 2020
Charter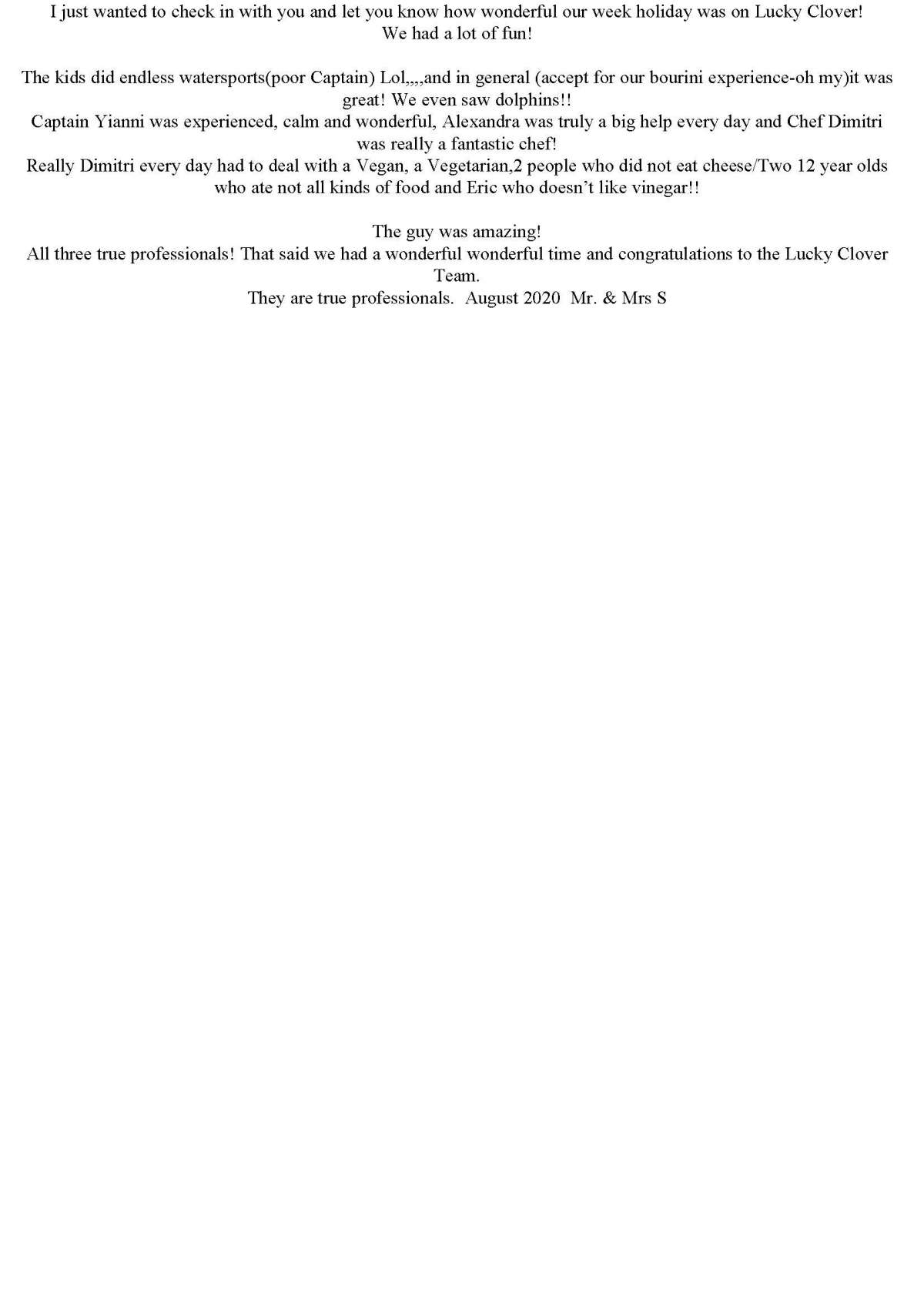 August 2020
Charter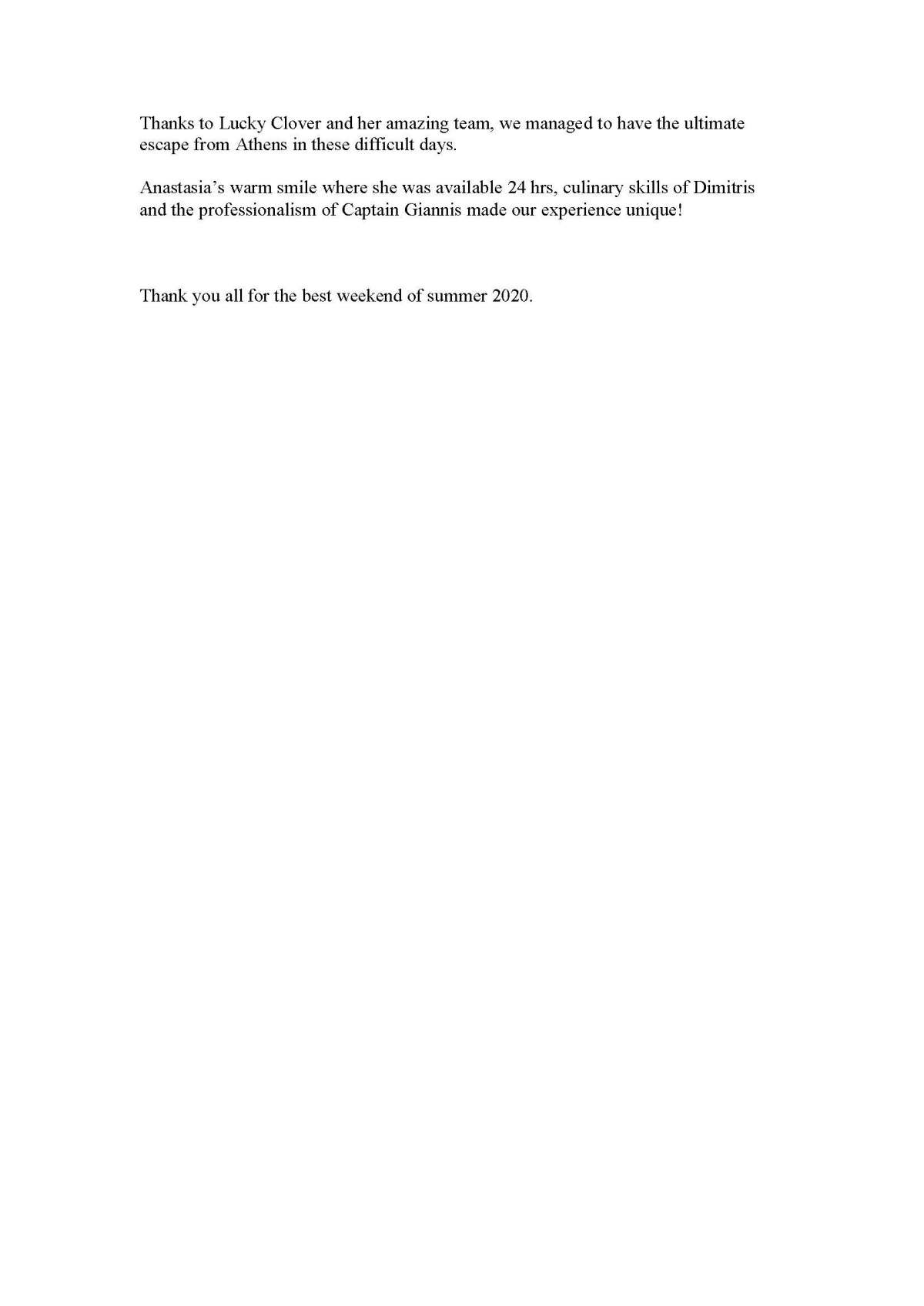 2017
May 13th to May 20th, 2017

*Please don't read the text below*
There is nothing to compare with our journey on the Lucky Clover!
The perfect mixture of the weather, people, food and sea. It is not enough to say just "thank you" to the crew, I would like to send them post cards every day with plenty of good words.
Yannis, Yorgos, Vagia you are the best crew ever. Hope to see you again and of course again wherever it's possible.
Not sure my English is that good to describe my mood and all the pleasure I got here on board.
Every day was full of joy and happiness.
Huge thanks to Yannis, Yorgos and Vagia!!

P.S. It's a bit stormy now, so my handwriting getting worse and worse

June 9th to June 16th, 2017

Words can never express and pictures cannot capture the feelings, emotions, memories and of course the dabs. Thank you for making the Lucky Clover feel like the home we never want to leave and that we always want to return to. Remember our home is always open for you all to visit!
We could never repay the hospitality you guys have shown us and our lake beaches could never compare to the clear blue waters of Greece. Thanks for your love and ever lasting friendship! We will always remember this amazing week
Keep your dabs high and your "wwhhaaaatt" s loud!
Toby, AJ Rachel, Jeffrey and Grant.

June 24th, 2017

Had a great time experiencing Greece! The crew made the trip a memory that will last forever. We wanted to make sure we were easy to accommodate and entertain. Every aspect of our sail was spectacular. I cannot wait to tell my family and friends of our journey that I will forever call friends! Thanks!
Bart-Melissa

LUCKY CLOVER CREW!
We had the most incredible trip and could not have imagined a better experience. SO much of you were so wonderful and welcoming. We hope you come visit us in Chicago sometime.
We are so appreciative and cannot thank you enough for the trip of a lifetime.
Efharisto! Yamas!
Megan and Brett

Once in a lifetime trip! There is no doubt that these memories will last a lifetime – such an amazing experience! Thank you so much for all of your hospitality. From day one, the Lucky Clover felt like home. I truly enjoyed getting to know each one of you and wish you nothing but happiness in the future!... and if you ever find yourself in Cincinnati, OHIO, please reach out for a beer! Cheers!
Kacy and Houst

This was the trip of a lifetime. The crew treated us so well. To care for us who drink so much was a challenge. Yannis, Yorgos and Vie spoiled us and gave us so much patience. I loved the boat days and George showing me wakeboarding and throwing myself the tube. I hope I get to see this crew in the very near future. They are like family. Thank you Yannis, George and Via!!


Efharisto! I had the most amazing time, and wouldn't change a thing. Thank you for the wonderful food, hospitality and taking us to all the most beautiful places. And for taking such good care of us, putting up with our shenanigans and still having fun. Hope to cross paths soon and best wishes for the future! Ya mas! Katy ; Hot Carl

We ended our 2 ½ week honeymoon with a week of sailing in the Cyclades with friends on the Lucky Clover and this has been the best experience ever!! Yiannis, Vaya and Giorgos have made our trip better than we could have imagined.
The whole crew took such good care of us, from giving us hangover remedies, to adjusting route plans to accommodate wind and rain, bringing at delicious snacks before we even knew we needed them, giving great island recommendations, driving us on the water toys, and so much more.
Yiannis provided us the perfect balance of exploring the islands and spending time in the water. Everyday was perfect and seemed to get better and better. Vaya spoiled us with her wonderful meals and Giorgos was incredible helpful with everything. It was so nice getting to know this crew also appreciating all their hard work. They truly made this trip so special for us. My favorite day might be our last day anchored on a cove in Kythnos, hanging out with the crew all day in the water and enjoying a BBQ dinner with everyone on the front deck.
I will never forget this incredible experience.
Thank you!!!!!
Lindsey + Kyle

July 2017
Yannis, Vaya & Giorgos
We can't thank you enough for everything that you do! Truly a dream visiting the Cyclades with all of you. Somehow each day was better than the last, thanks to all three of you. We definitely hope to join you again! Thanks for your patience, kindness & humor and delicious food.
Yamas! Christine & Dominic

Yannis, Vaya & George,
You made this trip "extra" special. You were awesome with your hard work and efforts. …. Best trip ever!!
Yamas & cheers! Brat & Chery!

Yannis, Vaya & George,
This has been a trip I will never forget and so much of that has to do with your hard work, hospitality, good humor, incredible cooking knowledge of the islands all the best swimming spots and attention to every little detail. I am already dreaming about my next trip to Greece – as long as it's on the Lucky Clover with the same crew! Thank you, thank you! Love Kate

Yannis, Vaya & George,
The trip across the Aegean was perfect and yet you allowed us opportunity to have our adventure of a lifetime. You were so gracious to us, sharing your experience and providing us with culinary delights beyond our expectations. Thank you for making our trip this past week such a success. Wishing you all warm wishes and safe travels whenever you go in the future. Best, Kyle

In spite of the wind that shortened and changed our itinerary we had a wonderful time, with lovely spots the Captain took us, protected from the bad weather. Delicious food made by our always smiling Vaya and with the continuous and …….. help of Yiorgos. More to come back soon.
Best from Evelyn, Iulia
John, Luz Maria, Juan, Maria, Matias, Julia, Rosemary, Julio, Evelia, Stefania, Raimundo 09/07/17
Thank you again , all ………… Rosie
Lucky Clover gave us luck!! 09/07/17

To the Suavecito crew!
We have nothing but gratitude towards the warm service we received during our family vacation!
We believe in life experiences and this was definitely a once of a life time experience! Vaya's smile and cooking abilities were phenomenal!
We still think she lies about her age, but its ok…..that's all on her!
We are very appreciative of her, taking care of us.
Thank you Vaya!
Mr. George 300!! You are an extraordinary gentleman! Your kindness and smile were pleasing to deal with every day! Thank you for taking care of the kids and giving them those memories they will never forget and thank you for giving the adults that 5 start service!
Capt. Yannis!!! You are amazing! Your wiseness…..your attitude….your patience….a true captain! Again thank you for having us and the unforgettable family experience!
We are all appreciate your crew, your ship and most of all the time devoted to us!
Thank you immensely!
Dani Nolla – Claudia Harb – Monica Harb –Bella Nolla, George Bejarano, Manuel Harb-Nolla, Kristian

15-22 July 2017
This has been an amazing adventure. The islands we visited were beyond my dreams, but the best thing of all for me was the Captain and crew. They made us feel like family.
Take care everyone. Would love to do another trip with you all.
Karen Ellig – David Ellig. New Zealand Kiwis

To the "Lucky Clover" crew, Thank you so much for making our holiday absolutely amazing. Your attention to us all was excellent. Loved the boat, the islands, the water and the food. You made our trip of a life time the best experience ever!
Dean & Nicola

Thank you for an awesome time. The attention you gave us was great food, facilities and company made our experience all the better
Red & Libby Cunningham. Waimate New Zealand
Good luck and safe travels

Yannis, Vaya & George,
Many thanks for an amazing week showing the islands. Every day was brilliant and so many laugh's along the way. We have been very spoilt by you all. We will be back to do it all again. Meantime you are all most welcome to come & stay with us all in NZ.
Best wishes & good health to you all.
Cheers
Ross & Deborah Gibson, Ashburton, NZ

Thank you "Lucky Clover" we have had an amazing holiday with you guys. We have been very spoilt and are sad to be leaving such a beautiful boat, country and people.
Much love Ian & Stacey

Thank you for an amazing week spent on the Lucky Clover. The Captain and crew have been just brilliant. The food was so good and the service excellent. We have had such a wonderful time.
Thank you Robert & Kayla, Newlands
Ashburtch, NZ

30/07/2017 – 06/08/2017
Dear Yannis (Joooo), Vaya and George,
Thank you very much for this week, we had an amazing time. We were able to see unique places that we will never forget. The food was really good too!
Thank you for being so kind! We will see you next year!
Love,
Marta Joao, Maria Joao, Pedro, Mariana Joao, Mariana Jose (The Portuguese family)


Yannis, Vaya & Yiorgos our dream team
Thanks for this beautiful cruise, one of the best in my life!
Love Herve & Lizzy Studnia – Paris – August 2017

Dear Yannis, Vaya and George,
A great thank you for that wonderful cruise. You are the three of you, a great team always ready to please us.
Best cruise we even had.
Best regards,
Marc & Nathalie Mandel (Paris)

Dear YANNIS,
Dear VAIA,
Dear Giorgos,
We spend a very very good time with all your team, very nice, very easy always ok for the wishes of the customers.
Good choice of crew and taverns.
See you soon for the next cruise.
Merve Studnia – Paris

Dear Vagia,
Dear George and Captain Yani 
It was a pleasure to meet you all and Helen and I were delighted to share our first private cruise XP with the best team ever!!
Thank you for Everything you did for us and the wonderful time. You are beautiful people.
Looking forward to seeing your team again next time we cruise in Greece.
Lots xx – Yves & Helene

19-26/08/2017
To the wonderful team captain Yannis, Vaya and Giorgos!
It was a dream to be on the boat with such a professional team, with a huge heart that gave us much more than we expected. We are sure that we will come back and ask the same team.

We really enjoy our time with you.
Love you all
Ratzoni & Gaat famiy


Thank you so much for your kindness and ……..availability.
Gilles & Catherine

Thank you so much. You have made our trip absolutely amazing. Your crew is so great. Wishing you calm sea and great trips ahead.
P.S. The food and service have been just…. Don't know how to say but beyond amazing.
Romain & Natalia

Yes I have a beard I am not the murdered hahaha Matthieu
Thanks Yannis, Vaya, George 26/08/2017-02/09/2017


Dear crew,
The Lucky Clover bring us luck with the amazing crew but not so much with the weather.
Please rename your next boat: lucky weather 
Unfortunately this week comes to an end but we can't stand defeated and we will be back to conquer the Cyclades. Hopefully Georges will know how to do kitesurf by then unless he sark with the tender. In that case R.I.P….
Since Vaya will still be there to work her magic as the master Druid we will come back to taste her new recipes.
At last but not least Yannis will evolve from being the masterfull Captain of this ship to Poseidon.
May we need again, we will miss you
Chloe & Lionel

Thank you so much for this amazing week, with the perfect crew! I hope that you past a nice moment with us. You are very professional and kind team. Nice to meet you!
Maybe, we will make another trip with you next year!
Charles

02/09/2017-09/09/2017
We are returning home, relaxed and refreshed after a great vacation on the Lucky Clover.
Captain Yannis & Vaya and Jorge have made our stay very safe and comfortable, we thank you for the excellent service aboard, food, drinks, swim and the rest.
We had plenty of sunshine and good friendly winds to sail around the Cyclades, starting in Mykonos-Paros-Ios-Milos-Siros, all excellent islands for our needs.
It was an excellent choice!
All the best wishes on the next tours, many thanks
Peter Mongilardi & Anc Maria

Sept 2017
- We had an amazing experience aboard the Lucky Clover (lucky us!). It was made more special because of Vaya (amazing yummy food), George (yummy bod) and Captain Mike (great stories). We are extremely graefull for letting us decorate the boat for our surprise wedding ceremony – it was perfect. Thank you for being great human beings and keeping us safe, comfortable, and entertained throughout the entire week. We felt like family and were so happy to share this unforgettable trip with and incredible crew.
Linda Eller Atlanta – Evren Baykal New York – xoxo Joyce Chon Los Angeles
- Much love for the incredible crew – we love you Capt. Mike. Vaya & George – Mona
Experience of a lifetime! Will always remember Greece and our new Greek family Vaya, Yiorgos and Captain Makis. Thank you for making this unforgettable! Love you guys!
Savitha Los Angeles, CA
- We will forever remember this trip. Thank you for hosting our wedding and being so wonderful to us.
Best crew ever! Esther & Giancarlo
- Thank you so much for an amazing unforgettable trip! The best experiences are those made with great people and everyone of you contributed to that! Will never forget you all – Savitha
- I will never forget this amazing week on the Aegean. Thank you so much for everything. Hands down, you are the best crew a girl could ask for to.
- We will never forget this trip. Thank you for a truly fantastic time. You are all the best! Esther
- Thank you for taking such good care of us. We will not forget you. Bang
- On the 20th of September every year, I will fondly remember the smiling faces of Makis, Yiorgo & Vaya who just gave us a trip of a lifetime, but also pulled off getting us married on board. Yamas! Giancarlo
- This was one of the most amazing trips I've ever had and it's not only because Greece is beautiful but also your crew's kindness. We will forever remember you guys and the Lucky Clover. Xoxo Joyce
- You made this trip so special. We can't thank you enough. Devi & Sarathi
September 16-23/2017




Sneed Yacht Charters.