Sneed Yacht Charters.


CREW PROFILES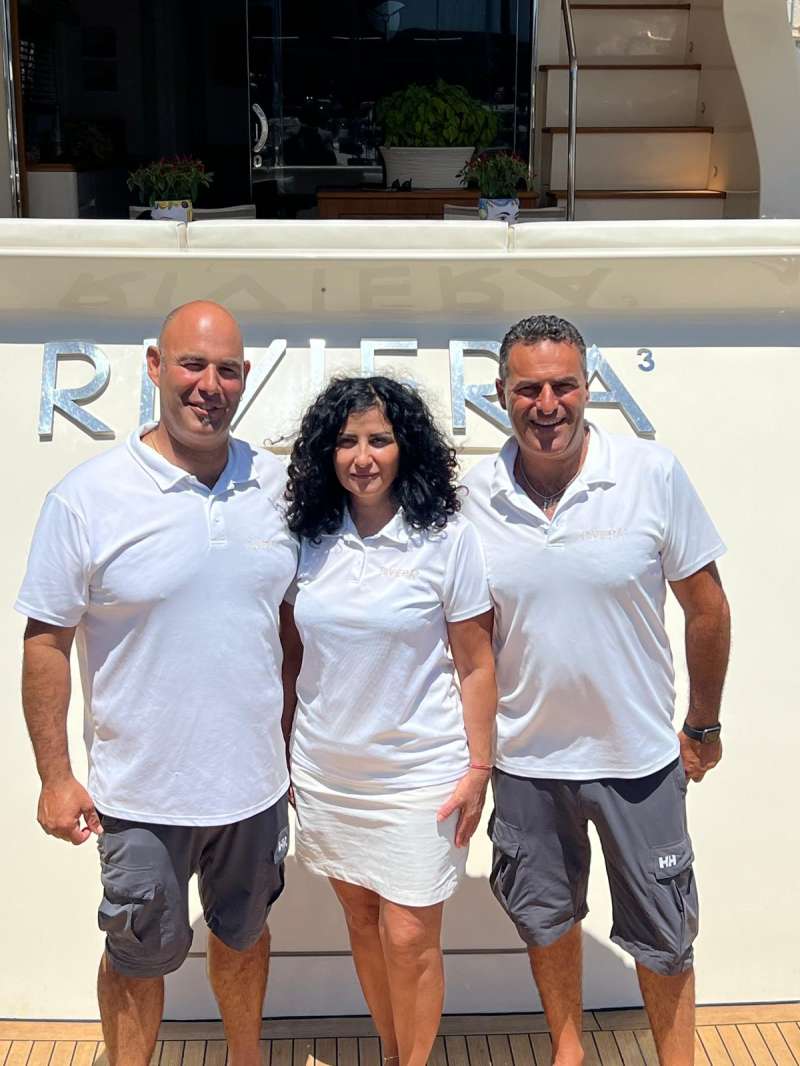 Title
Name
Nation
Born
Licenses
Captain
Antonino Aiello
Italian
1983
Chef/Deckhand
Salvatore Aiello
Italian
0
Number of Crew: 3
Languages: Italian - French - Spanish- English
Crew Profiles:
Captain Antonino Aiello, Italian, 32 y.o.

Born in 1983 in the beautiful Amalfi Coast, Antonino has an innate passion for the sea. His father is a professional seaman and introduced him to sailing since his early age. Once he grow up he decided to attend the Nautical Institute and, after graduating, he started working in the yachting industry onboard cruise ships for five years for a leading Italian company. Then he drove touristic charters around the wonderful island of Capri and worked as a Captain onboard private yachts for several years, before joining Riviera's crew. His life-long experience in sailing and his professional attitude will make you feel comfortable and welcomed, and his deep knowledge of the Amalfi Coast and of the islands of the gulf of Naples is a bonus for those who wish to visit the area and discover the most wonderful secret spots only locals know. Antonino is also a guarantee for his guests' safety as he achieved different first aid certifications, among others the Basic life Support and Defibrillation. Thanks to his excellent sailing skills and his kindness, he will be able to grant his guests a sheltered experience. He speaks Italian and English.


Chef/Deckhand Salvatore Aiello, Italian 32 y.o.

Thanks to Salvatore, Riviera is a 5 stars floating restaurant. He is a terrific chef having started his career, since very young, as a chef's assistant in his family's restaurant in Sorrento. His culinary skills are next to none and with the quality of his refined Mediterranean cuisine he has always conquered the most demanding guests. Salvatore has that typical Italian enthusiasm that charms everyone, no matter where the yacht is cruising, he has the know-how and ability to source the finest ingredients in order to prepare his culinary creations, which are specifically tailored to the clients' wishes. His cooking style is fresh and lively, capturing the natural and local flavors found in the freshest ingredients that are available. He has built a fine repertoire of varied menus to suit guests requirements, each day he would develop new menu ideas, in order to create new bold and exciting combinations. He has over ten years yachting experience as deckhand and has attended many specific courses for yacht charter. He is in charge of all water sport activities and will make sure that guests safely enjoy their stay onboard. Salvatore speaks Italian and basic English.


Stewardess: Celeste Schettino, Italian, 34 y.o.

Born in Pompei (Naples), Celeste is a friendly and valuable crew member with well- developed problem solving skills.
With a proven experience in the hospitality industry, she is ready to satisfy every guest's need aboard.
After the scientific degree, she has been working as hotel receptionist and stewardess aboard cruise ships dealing with hospitality service.
Her passionate attitude and love of her job will make guests feel pampered and comfortable since they embark aboard Riviera.
Italian mother tongue, she fluently speaks English and a basic level of Spanish and French.



Sneed Yacht Charters.