Sneed Yacht Charters.



WANDERLUST GUESTS COMMENTS
March 2023 BVI Charter
This was our first charter experience, and we couldn't have been any luckier! A beautiful brand new boat, decorated perfectly. Francois and Katie made us feel comfortable. It was so easy to transition to "island time." Our only request was that we didn't have a busy itinerary, and Francois and Katie delivered! We got to see new places (and some old). We love the BVI!! Every spot is unique in its own way and has different things to offer.
I can't believe I made it this far and haven't mentioned the food! WOW!! So much, beautiful, great tasting food. Katie is hands down the best chef! Stuffed from dinner, someone would always mention how they couldn't wait til breakfast the next morning. Literally everything we ate was the best! Fresh lobster from a passing fisherman was a special treat!
Wanderlust is always spotlessly clean and smells amazing. It's funny how it seems to have been made for this crew. I'm not sure what more we could have asked for. This trip is our favorite, EVER.
We can't thank you enough, Francois and Katie!!

The Websters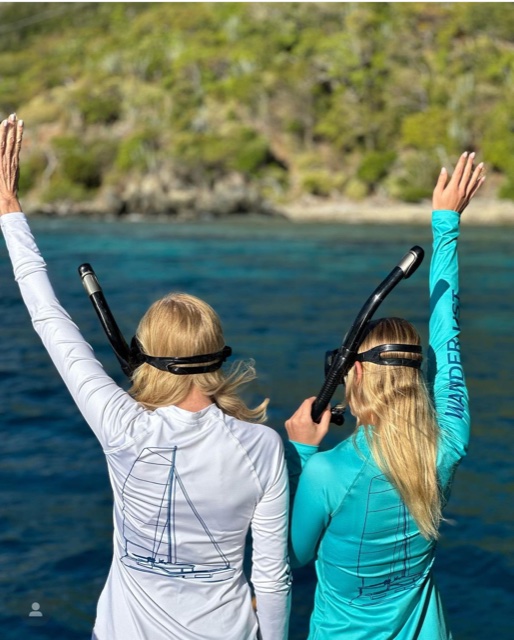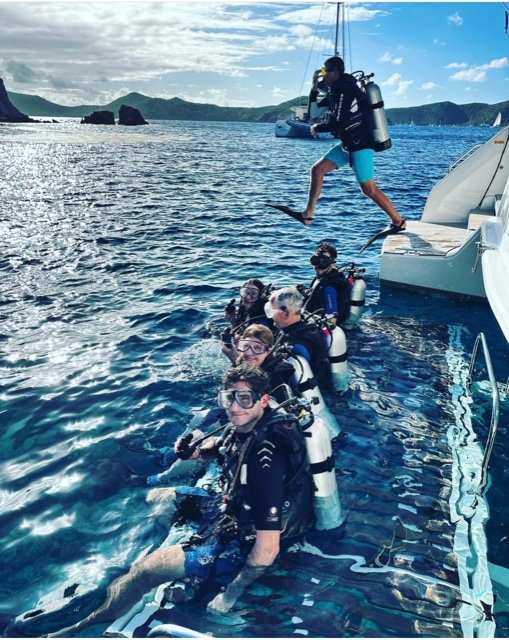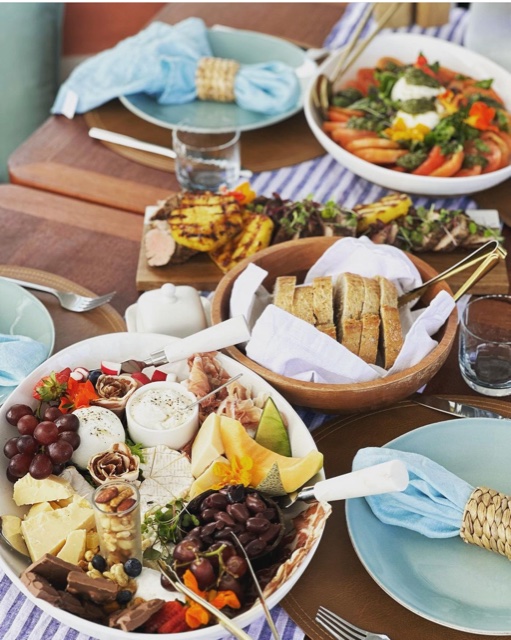 February 2023 BVI Charter
We love Katie and Francois!
You two are the best. Katie is the best cook/baker, best tea maker, one of the sweetest people you have ever met, always in a cheerful mood. Katie makes every dish unique and very flavorful, and she is very attentive to everyones needs. Francois is the BEST Captain ever! Katie and Francois made our experience on Wanderlust AMAZING!!! Our beds were made and cleaned everyday right when we woke up and turned down perfectly every night before we went to bed. The interior and exterior of the boat was always clean and tidy. Everything at all times smells so fresh and clean on Wanderlust! Overall, what a beautiful boat and wonderful couple. We loved going to Soggy Dollar, Saba Rock, Bitter End and Cooper Island. We had so much fun but our fun and experience was easily heightened by Katie and Francois.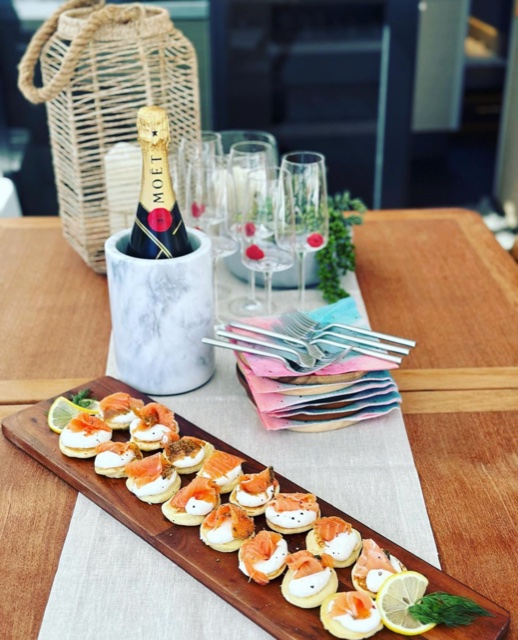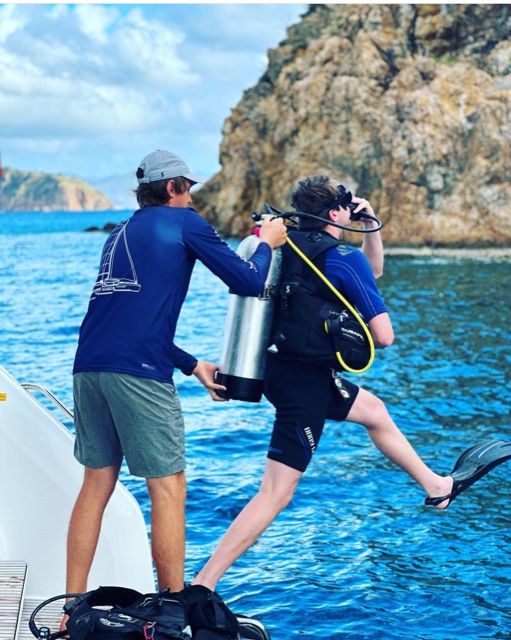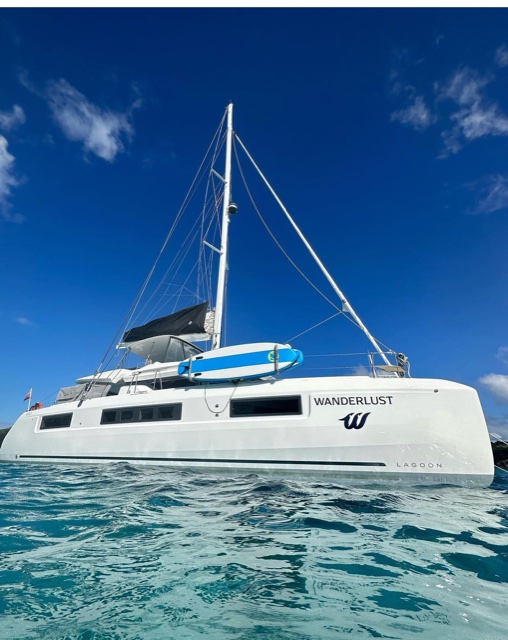 February 2023 BVI Charter
Wow!! How to start to describe our week with you is tough... We loved every moment on board Wanderlust with the two of you. Francois and Katie you made our week together absolutely amazing. We loved the scuba diving (especially wreak of the Rhone and seeing the planes and 2 sharks), exploring new places (Anegada-the scooters and scavenger hunt were great fun!), fishing (though we never did catch the big one... next time!), the food...wow, we ate so much... it was all so delicious and beautiful! The Wanderlust itself is beautiful, spacious, comfortable, (esp. loved the time sailing with you two), the daily special drinks and the table set ups, and helping us do everything... it was all perfect...and all done with a smile. We can tell you love it here and that love is infectious!

And I can't forget- "We saw a whale!!!!" Will never forget that. Thank you for a very special week! We hope to be able to sail with you again.
Please reach out to us if you ever come North to Virginia or our Delaware Beach-we'd love to have you!
Until next time!
Claire, Mark, and Gang
Jan BVI 2023 Charter
Dear Capt and Kate,
We can't thank you enough for creating a spectacular week for all of us. You both were perfect hosts and went above and beyond.
Glenn and I loved our time on the Hobe cat and I cant thank you enough for not flipping it while I was on.
The meals you created were beyond and one was better than the next.
We loved exploring Anegada with you, so glad we were able to make it there. We are so lucky to have been your maiden voyage. You both will be very successful and we wish you all the best in the future!
Love
Lisa and Glenn
PS I will keep working on my napkin folding. thank you for the lessons.

Dear Kate and Captain,
Thank you Thank you for a fabulous voyage! Truly everything was fantastic. The food was beyond what we expected and delicious!
The boat was kept so clean and neat. The excursions were all so well planned and enjoyable. Hard to focus on one highlight when everything was a new, fun, and yummy experience. You guys are a great team!
Thank you for everything and smooth sailing!
xxox
Kathy and Henry

2023 arrived with a gift-Wanderlust arrived in time for our group to be their first charter!
Captain Francois and Chef and amazing first mate Kate are experts at what they do, but besides being a wonderful crew-they made us feel cared for and shared their knowledge and love of sailing, boating, and the BVI.
Thank you for an amazing week!
-Martia and Bob
Sneed Yacht Charters.