Sneed Yacht Charters.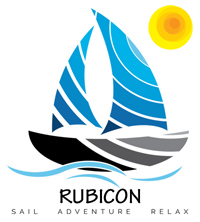 RUBICON SAMPLE MENU
Our Bahamas sailing charters include breakfast, lunch, dinner, snacks, and alcohol. We will accommodate special diets (diabetics, vegans) with prior notice.  Fresh bread is prepared daily in time for an evening twilight dinner.    
 Menu 1:
Bahamas Breakfast  
All breakfasts served with coffee/tea and juices
Eggs Benedict    
Pancakes and Fruit       
Southwest Frittata
French Toast
Breakfast Burrito           
Muesli and Fruit
Bahamas Lunch      
All lunches served with fruit or chips  
Tuna Salad Sandwich    
Cold Cuts on Hoagie Roll           
Gourmet Nachos
Mushroom and Pepper Panini    
Chicken Caesar Salad
Fish Tacos
Cocktail Hour Hors D'oeuvres
Hummus with Garlic Chips
Vietnamese Spring Rolls
Black Bean and Mango Salad
Conch Fritters
Bahamas Dinner
All dinners served with salad, a variety of side dishes and bread   
Asian Stir Fry
Lamb Chops and Grilled Vegetables       
Vegetable Lasagna
Fresh Catch of the Day 
Spicy Clam Pasta         
Chicken and Vegetable Kabobs
Desserts
Variety of pies, cookies, and delicious treats
Menu 2:
BREAKFAST:
Banana cornbread pancakes with coconut and chia seeds topped with honey

 

Omega bowls (chia porridge)

Frittata

 

Bagels with salmon, capers, onions, tomato

 

Coconut flour crepes with fruit

 

Soul/smoothie bowls/tarts

Avocado toast

Fruit salad in papaya

Sweet potato biscuits

Candied oranges

Toasts

Frozen bananas with coconut milk and chia seeds
LUNCH:
Burritos/tacos/raw taco salad

Pesto subs/panini roasted peppers, sun dried tomatoes with cucumber slaw

Flat breads with vegetti pasta salad

Fish/chicken over Caribbean salad

Sweet potato crustini topped with

 

Deconstructed sushi bowl with stuffed avocado

Collard wraps with fall veggies (salad samurai cashew paste)
DINNER:
Curry shrimp over black bean pasta

Shrimp boil with corn and potatoes

Fish with black bean salsa and saffron rice

Paella with cornbread

 

Truffle sweet potatoes, vegetti pasta

Jessa's sweet potato salad
NIBBLES:
Caprese salad

Cheese and crackers with meat

Julianne veggies with hummus

Spring rolls with rice paper and edamame

 
DESSERTS
Sneed Yacht Charters.