Sneed Yacht Charters.



ABUNDANCE GUESTS COMMENTS
July 2021 USVI Charter
Now!!! Book this boat and crew now! You won't be sorry! On a scale of 1-10, (10 being the best) Capt. Blaine and his First Mate / Chef Carolina scored a 14!! The boat is very nice, clean and comfortable. The food was exceptional - tasty, healthy (not counting the wonderful desserts :-) and well presented. Capt. Blaine is a well credentialed First Class sailor, a thoroughly nice fellow, and knew all the best spots for diving, snorkeling and other attractions. What made this trip really special was the how much he clearly enjoyed his "work". (Quotes added for irony.) Sailing with Blaine and Carolina (Cat) was like adding a third fun couple to our group. Great folks, and a wonderful time.
March 2021
Our yacht, Abundance, was in excellent shape. The cabins were clean, comfortable and well ventilated with A/C.
The crew was hospitable and terrific in all respects
Our substitute Chef Maya, (not Siobham) was creative and all of the meals were terrific, in particular the local fresh fish.
We spent most of our time sailing around St John which was gorgeous. Unfortunately mooring availability was limited in the St John National Park and so it was sometimes a struggle to find available moorings. Very nice, but not as nice as the BVI's which were off limits.
Pickup and drop off in Charlotte Amalie was extremely convenient to the airport and so we appreciate that location. Captain Blaine was very accommodating. His suggestions for hiking and snorkeling areas were perfect. Both he and Maya kept a watchful eye on us while we were snorkeling which was much appreciated.

Most amazing week at sea!
Our week aboard Abundance with Blaine and Siobhan was absolutely amazing. From minute 1 they did everything possible to pamper us. They learnt all about our likes and preferences in advance, and then absolutely customized everything (from itinerary, to activities to food and drinks!) to make it just perfect. Siobhan is an excellent chef and made each meal delicious and different, while Blaine made us 'surprise drinks' that were amazing every time. They always had a suggestion for a fun activity (like incredible snorkeling, a pretty hike, tubing or visiting a secluded beach), including teaching us how to play many card games in the evenings!

The boat is new and shiny, and super comfortable (roomy bedrooms with amazing mattresses and pillows, super comfy poufs in the bow to lounge while sailing,..) and we had fun with all the toys and equipment, like the paddleboards or the tube.

We cannot recommend it enough, and hope to be back on Abundance for our next sailing adventure!

Claudia and Gui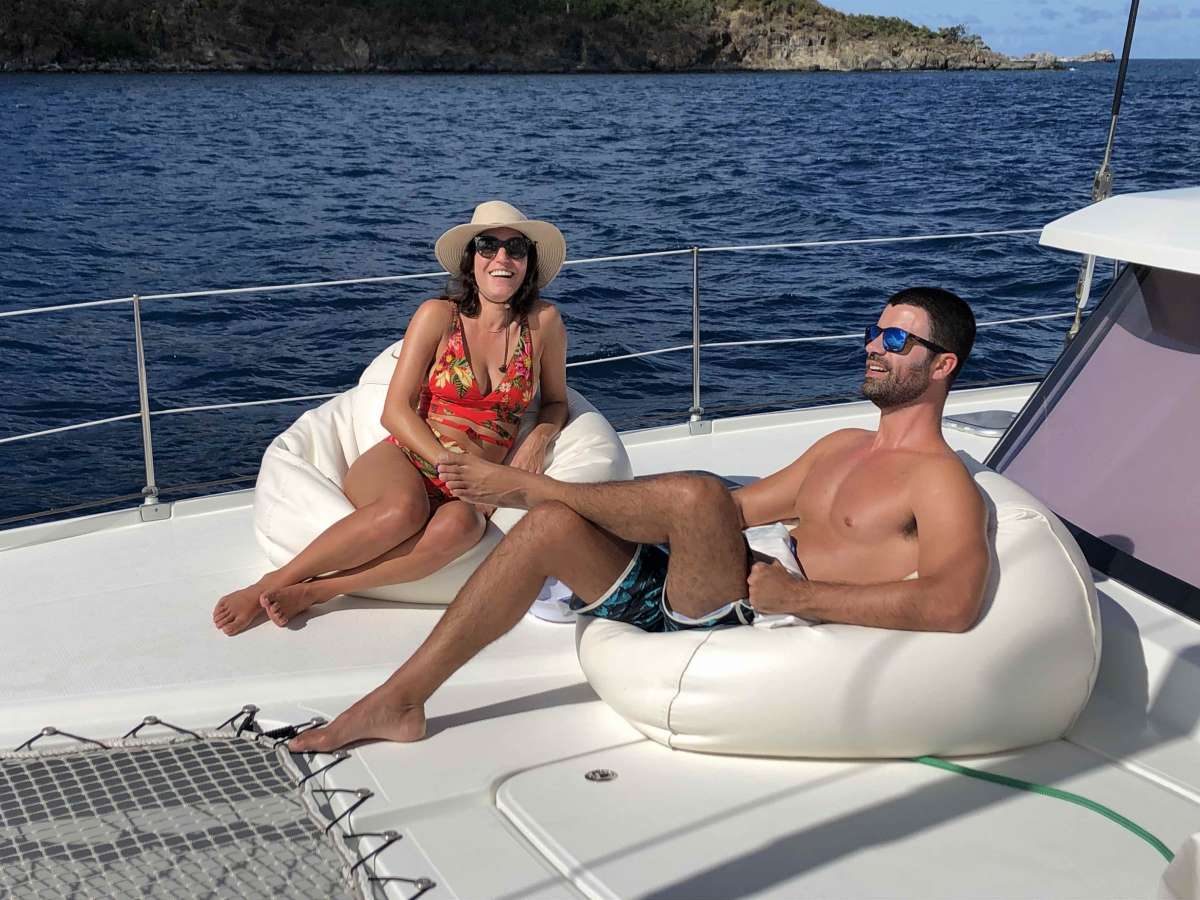 Super fun and relaxing
Super fun and relaxing vacation with Abundance Yacht Charters sailing around the US Virgin Islands! Stayed in a different bay each night with days filled with sun, beaches, hikes, snorkeling, paddle boarding, delicious on board food, and fantastic views!
Thanks Siobhan and Blaine!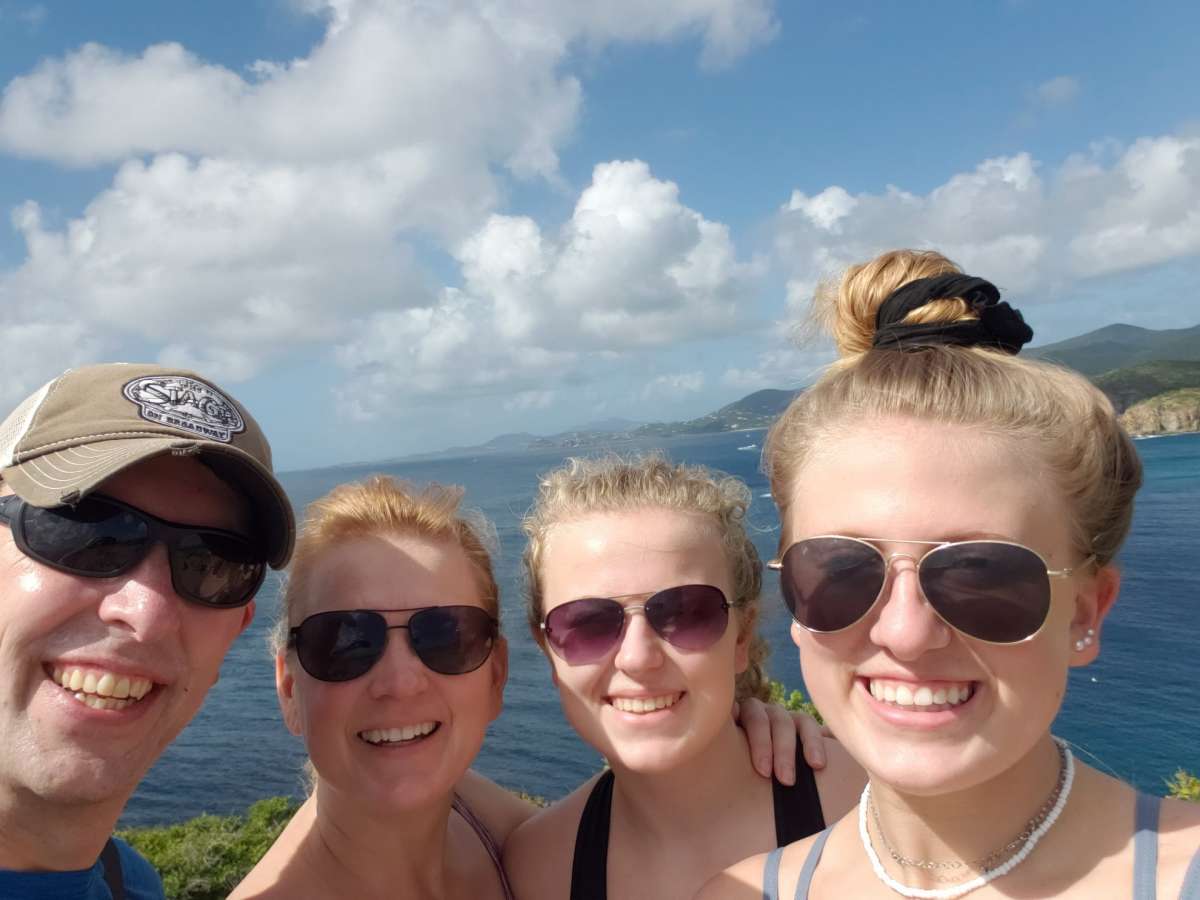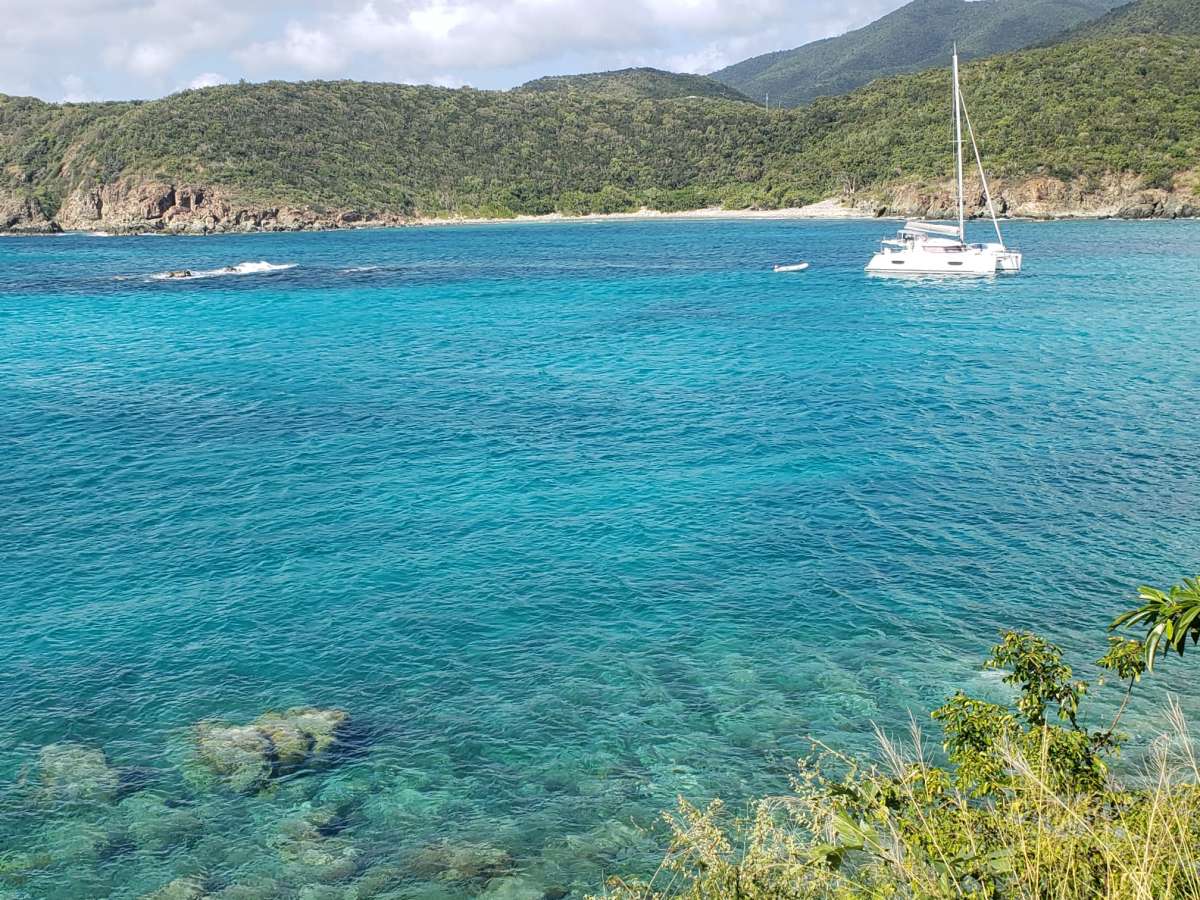 5+ stars - absolutely best in class
Our trip to the US Virgin Islands aboard Abundance was five +stars. Blaine and Siobhan are absolutely best in class.

The accommodations were amazing. But, their attention to detail truly made our trip spectacular. This is our third charter in the Virgin Islands and by far our best. The British virgin Islands were closed to us. But, Blaine put together a great itinerary full of sailing, snorkeling, diving, hiking and fun restaurants/bars.

Speaking of food....the BEST food and drink we had during our 7 day cruise was prepared & served onboard. We were blown away with Siobhan's mastery in the kitchen. Truly, amazing food!
Blaine is a maestro behind the bar-specialties :Painkiller & Bushwhacker. (But he can mix anything)

Blaine and Siobhan were the ultimate hosts and a great team. Both anticipated anything we might need or want. When we thought about drinks, drinks appeared. If we thought about getting hungry, food appeared.

By the way, I knew it was going to be a great trip when you took time to give us a pre-trip call to find out exactly what we wanted to do and what kind of things we like to eat and drink. In our previous trips that had not been done. So, good work! It was a pleasure to get to know both of you. You really are a special couple.
Thanks for a great trip.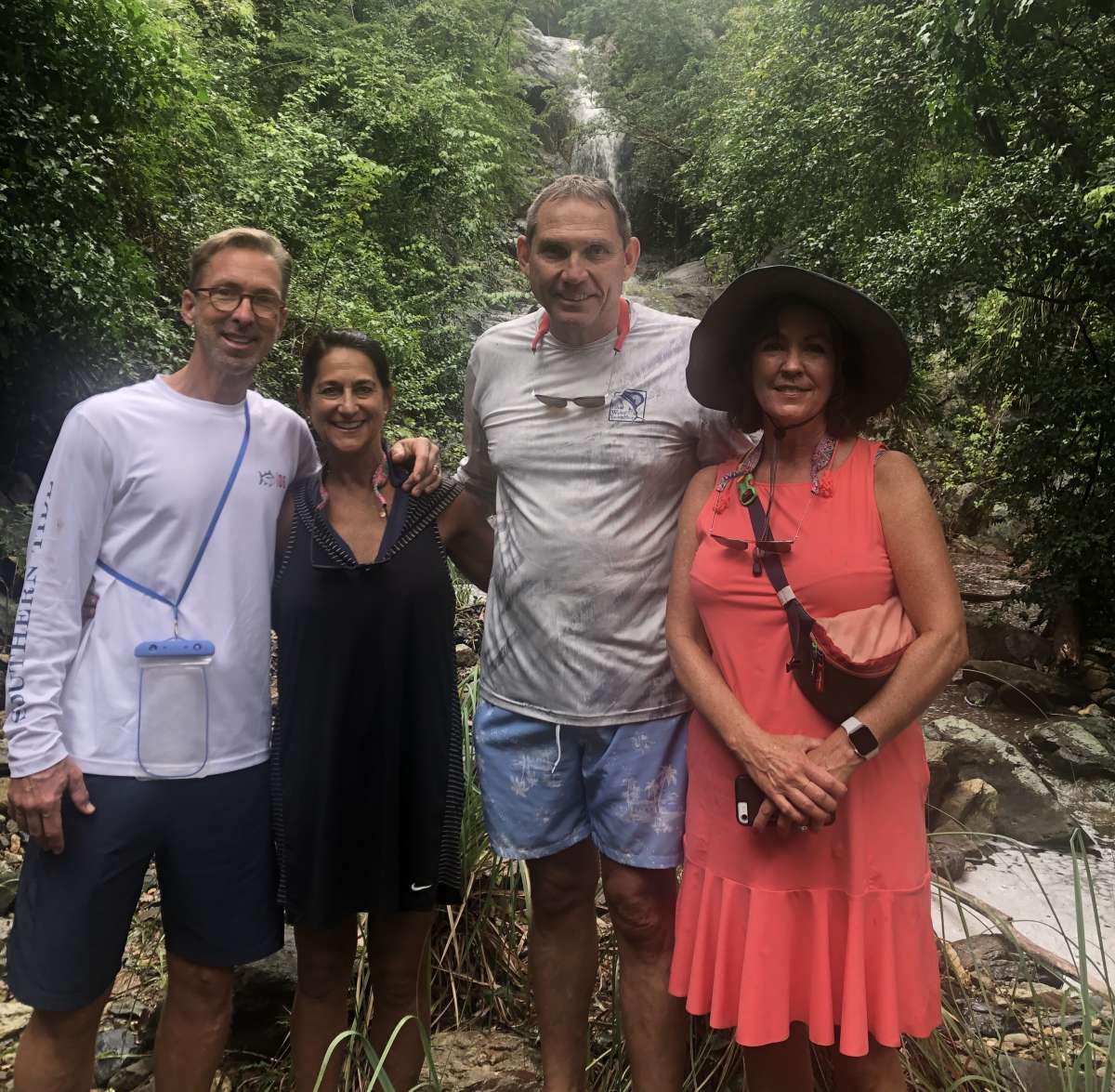 Great memories all around
Thank you Blaine and Siobhan for making our USVI trip special. 🙂 Great coves, great snorkeling, and great friendships. Your yacht was wonderful and your knowledge of the USVIs was invaluable. Ooh and the Lime Out Bar and Grill...just icing on the cake. Great memories all around. Thanks so much!
A week we will not soon forget.
Our time with the crew of Abundance was a week we will not soon forget. Siobhan and Blaine welcomed us aboard their beautifully kept yacht with frozen mudslides to discuss the weeks itinerary. They were both knowledgeable of the area and competent sailors. We were able to sit back and relax from bean bag chairs on the bow while they delivered us from anchorage to anchorage. Blaine knew all the great spots for our daily snorkels and one morning we were lucky enough to dive for our lobster dinner. From paddle-boards to swim up taco bars, the options for fun were endless. Every morning started with a delicious breakfast, our two favorites were Siobhan's salmon Benedict with boat made English muffins and fresh hollandaise and Blaine's pancakes that were so light and fluffy we had to have them again on the last morning. Most evenings came to a close with a little friendly competition on the aft deck in a game of dominos. We wish them the best with the rest of their charter season and would love nothing more than the opportunity to return.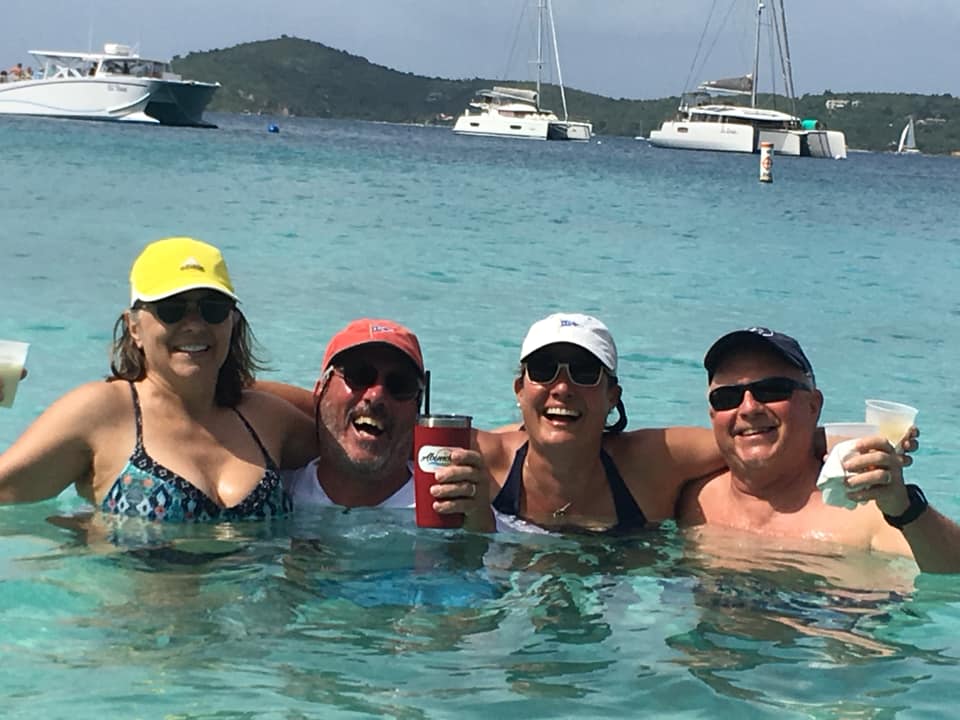 Sneed Yacht Charters.