Sneed Yacht Charters.



ECLIPSE GUESTS COMMENTS
Captain Jim and Lisa are incredible! | July 2021
We had an absolutely wonderful time on our charter this last week. Captain Jim and Lisa are incredible! They navigated to the best beaches, including one that was nearly deserted. Lisa is an amazing chef, and we had so many great meals. Each breakfast, lunch and dinner was different and rivaled the best gourmet restaurants. We just couldn't believe how she managed to create such wonderful dishes and have them all come out at the same time at the perfect temperature. The tastes were, as my son kept saying, "delightful." We all keep talking about which meal was our favorite; hard to pinpoint as there were so many! Lisa truly has the gift of hospitality, and we all agreed that she should have her own YouTube channel! Captain Jim made sure we always had whatever drink we desired, whether it was Rum Punch, a Pain Killer or a delicious glass of wine (including some of the best Port dessert wine that we could have wished for!). Captain Jim was full of great stories. A master storyteller for sure.

The yacht was beautiful, and we all had spacious berths. It was wonderful for each of the couples in our group to have their own head, complete with a very good-sized shower with plenty of hot water! It was equally appreciated that the berths had their own air conditioning, which kept each area nice and cool. There is more than ample space to enjoy on the yacht, with a very spacious salon and an outdoor dining area on the Stern Lower Deck. We were also able to stretch out on the covered Flybridge where Captain Jim navigated and there was ample seating to lounge on in the front Main Deck. Captain Jim graciously ferried us to the beaches in the tender and was always on time picking us up. Some of the guys really enjoyed jumping off the back of the boat after a day at the beach.

We could not have wished for a more perfect setting with the best hosts! Thank you Captain Jim and Lisa!!!


Vacation of a lifetime | March 2020
Our first catamaran trip that we ever went on. This trip was on our bucket list and we were incredibly surprised how wonderful it was. We went with friends, in total we were 7 not including Capt. Jim and First mate/Chef Lisa. The Eclipse is a spacious, beautiful, clean and quite functional in it's layout. I picked this particular catamaran because of it's wonderful reviews and the incredible appearance of this boat online.
Captain Jim and Chef Lisa were the perfect hosts. Capt. Jim was friendly, social, informative, funny and a very reliable Captain of the sea with over 35 years of experience, he was patient as we bombarded him with hundreds of questions during our entire trip regarding everything from sailing to information of the BVI's. He is very interesting to talk with and is a bit of a jokester.
Chef Lisa is a warm, friendly, personable and an incredible gourmet chef, all of her meals were delicious. Her attention to detail on every meal was so memorable but beware you might add on a few pounds by the end of the week because you won't want to miss a meal. Don't tell anyone but we all thought Chef Lisa was the real undercover Captain, ask Capt. Jim and he'd probably agree, between being Capt. Jim's first mate she ran a tight ship coordinating where we were going, what our plans and trips were for the day and in between... cooking and delivering 3 gourmet meals a day in perfect harmony not without the help of Capt. Jim though.
Both of them were in perfect sync when it came to running and sailing the catamaran without a hitch. They knew all the places including swimming, snorkeling, hiking, walking, restaurants and bars to eat in that we needed to visit without knowing all the islands. They navigated the seas with perfection. We got to know both of them and by the end of our stay we felt like they were part of our family. I would recommend the Eclipse to anyone who is thinking of booking this type of trip. You won't be disappointed and if you decide to go on a trip on the Eclipse with Capt. Jim and Chef Lisa, please tell them 'you don't need no stinkin shoes' for me.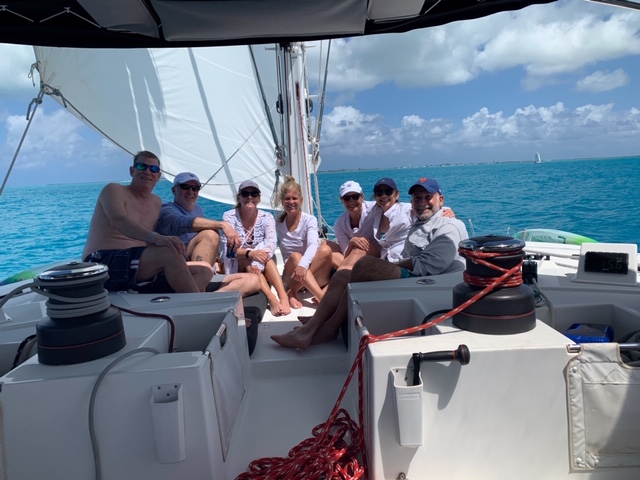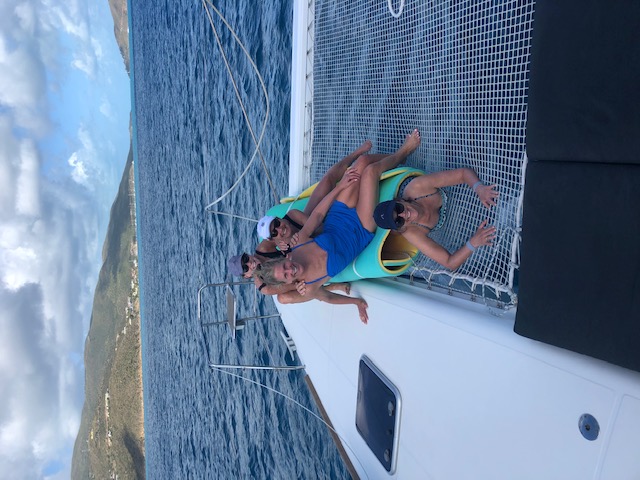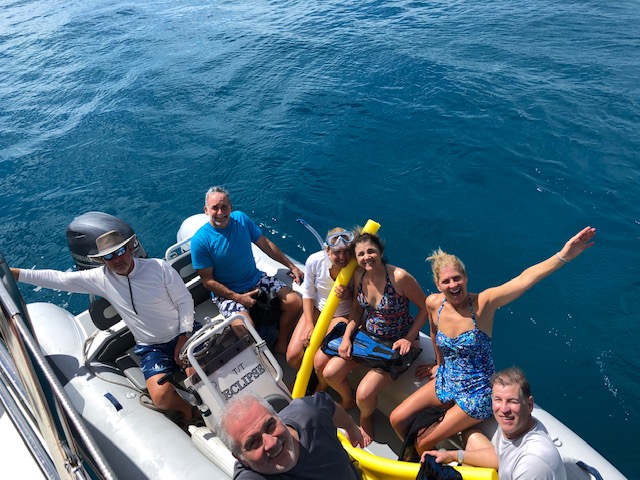 Unique! | February 2020
The unique experience of sailing the British Virgin Islands is truly magical. Everywhere you look postcard perfect views enchant you. Islands sprinkled along the Caribbean blue water provide play spaces to explore, reefs to snorkel, and calm coves for evening mooring. Captain Jim's knowledge of the waters and islands is extraordinary and a great comfort to any catamaran first timers. All options's for the day's sailing and excursions are offered to you by Captain Jim and Lisa. The boat is well equipped with many toys like tubing, kayaks, paddle boards, and snorkels for all sorts of water fun. Plus, the ocean water is so warm and inviting. The sailing enables every day to be different like a travelling resort. Each room on board the catamaran is designed to meet all your needs and since, you are on a boat, the together time simply happens in an unexpected precious way. Perhaps, it's the superb gourmet meals that enhances the entire together time when gathered around the table. Chef Lisa, Jim's dear wife, has a culinary gift. Lisa adds the little presentation touches to each plate served and every meal was very tasty. Our adults kids especially enjoy the element of surprise as to what Chef Lisa was preparing. Foodies will be excited by Lisa's wizardry. In short, this vacation far exceeded our expectations in so many ways and we can honestly say, that Captain Jim and Chef Lisa ensured the experience was most remarkable.
Fantastic! | December 28, 2019
Absolutely fantastic time. Love the Captain and his wife. Very knowledgeable and welcoming. My wife and I had a wonderful experience, thank you kindly again ❤️.
Mid-June, 2019, guests aboard catamaran ECLIPSE with Jim & Lisa wrote:
We had a wonderful time! It was so very relaxing and well-planned.
Jim and Lisa were incredibly knowledgeable. We requested to really have more of a quiet, crowd free trip. They certainly delivered. We were in coves that were essentially private and very soothing. Captain Jim took us all tubing as the coves were wide open and Lisa prepared amazing dishes. I have a severe allergy to casein, a form of a dairy allergy. She researched and planned meals around it. I have not personally eaten that well in a long time. They were also very knowledgeable regarding dive sites. I was a little nervous diving the Rhone due to the currents, but they knew it extremely well and were able to describe and explain what to expect. When we were done, the kids would ask questions about fish and they knew every one.
We also left with recipes. We have already created Lisa's homemade Pain Killer recipe.
We would love to bring friends along next time. Jim and Lisa went out of their way to really make this a fantastic vacation. The proof is in wanting to bring friends back with us to share in the experience.
Just an overall very fun trip and one we will certainly do again!
Awesome sailing adventure | February 2019
The Captain and Crew are amazing and treat you like old friends from the moment you arrive. The food was like a 5 star restaurant . We have chartered BVI for 10 years and this boat was spectacular with large cabins and endless amounts of room to relax .

I highly recommend Jim and Lisa they will not disappoint !

- Tarvey R.
Best way to travel through BVI | January 2019
WOW! The new Catamaran is Gorgeous and HUGE!

We will always have a soft spot for the old boat, but this was definitely the step up in room and comfort that you said.

Our two families all had a great time. Plenty to do for the adults and kids. Hadn't gotten on the paddle boards before and I was surprised how easy it was learning how to stand up and paddle - I was nervous the first time, but I am glad you talked me into trying it. Still love snorkeling in the islands, and there is usually lots to see, the turtles are there at our usual spots and I had never seen the wild goats on the one island before.

Lisa's food - she is always able to come up with something new as well as our usual favorites. Every meal was gourmet and plenty of it. Just when you think you might be hungry, food just appears! And I won't mention the nice pairing of the endless supply of wines.

Captain Jim really knows his way around the Islands and was able to find new anchorages and new things to do for us even though this was our 5th trip with Jim and Lisa.

The new boat Eclipse is absolutely AMAZING! I was happy on the old Power Boat but the new Cat is modern, big, clean, neat and everything is new, and yes, it even "smells" new (you can still smell the leather upholstery in the main salon like that new car smell).

Every boats Captain and Crew are unique, but sometimes it feels more like coming home to family when we get to the islands, Obviously we enjoy Jim and Lisa's company, that's why it's our 5th trip. But this new boat blows us away, and being able to bring the extra couple made it easier to fit all those that wanted to come. It's huge, comfortable and perfect for our group of 8.

We'll definitely be back for #6!!

- Michael M.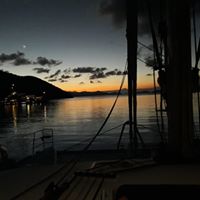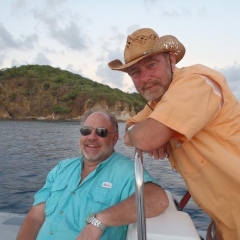 Most relaxing vacation you will ever take!! | January 2019
This was our 5th trip with Captain Jim and his lovely wife Lisa. Our first 4 trips were on their previous boat. We loved it but their new boat is even more spectacular!! We highly recommend chartering with them. Captain Jim's knowledge of the area and of boating is excellent. Lisa's meals are better than any restaurant in the islands. Everything she serves is fabulous. Everyone is always sad when our trip comes to an end. We will definitely book trip #6 with them. Do yourself a favorite and book this trip of a lifetime
- Lynn W.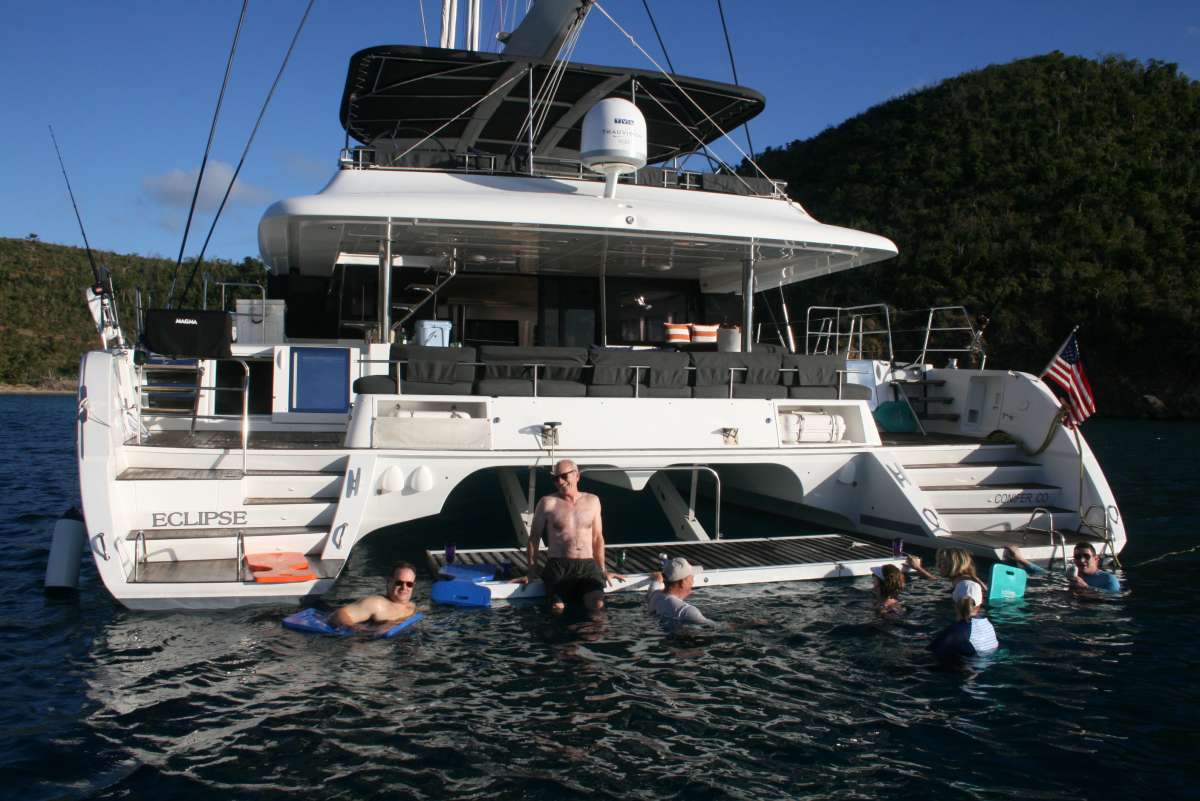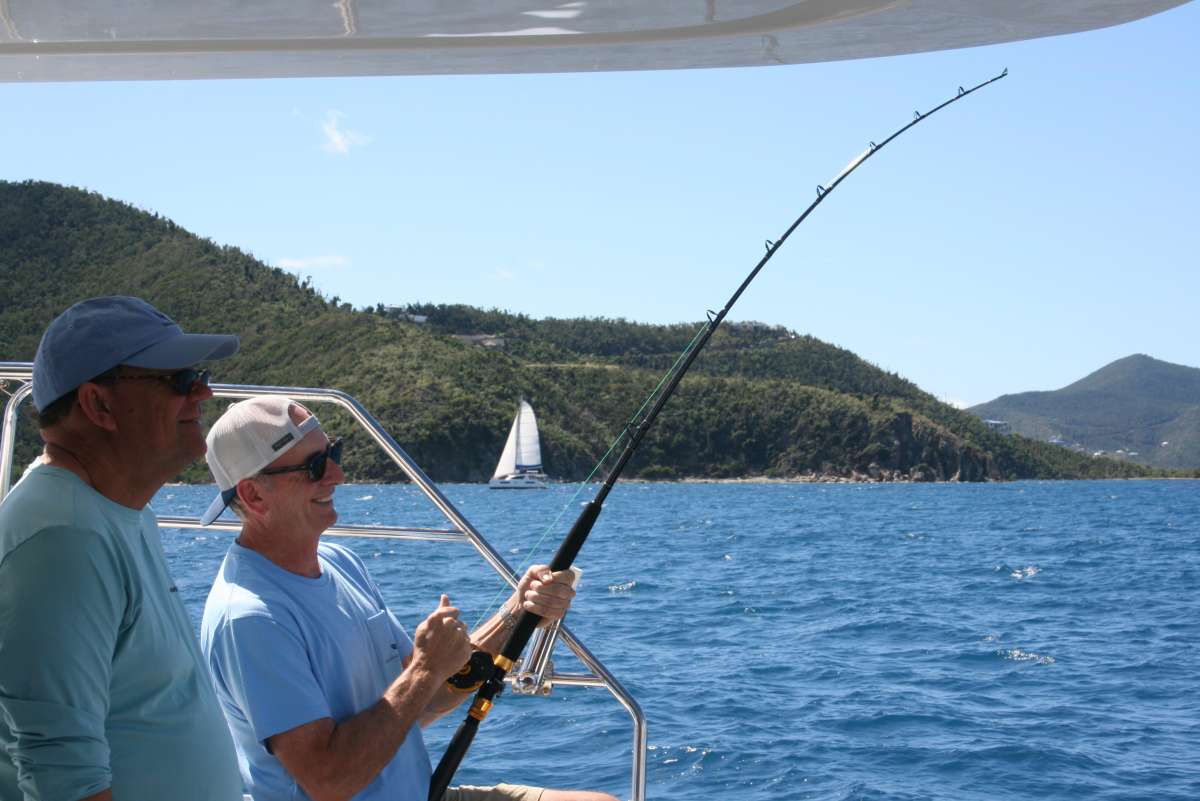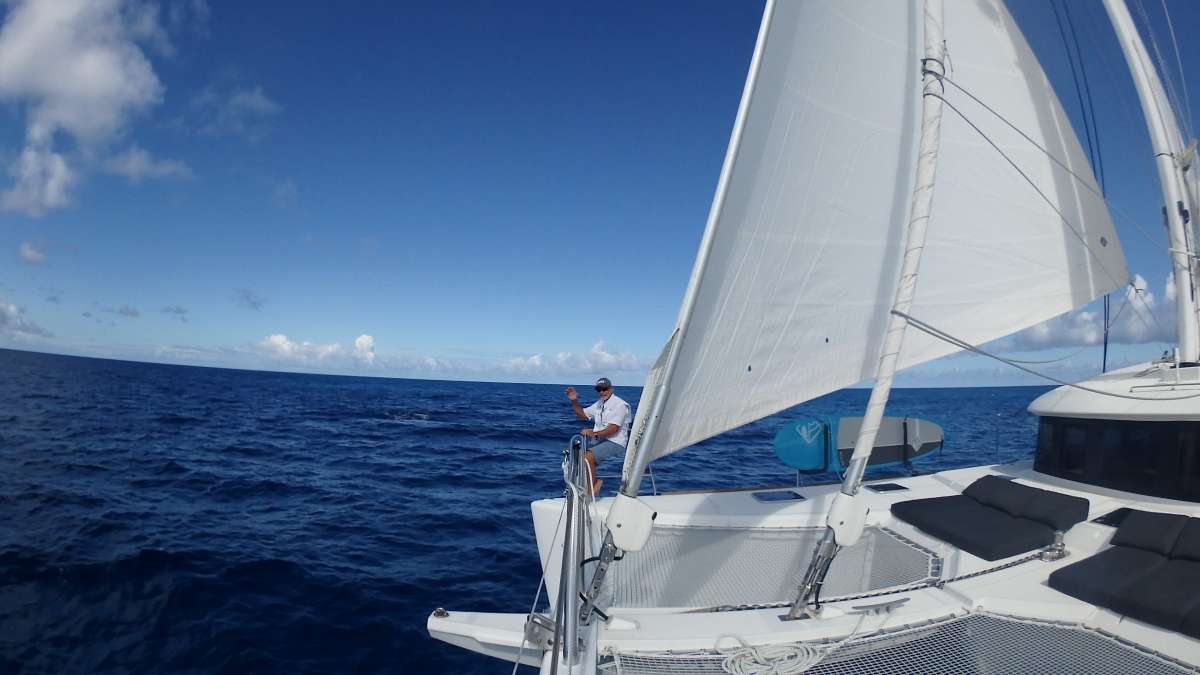 Gary and Pam A.
Thank you for a memory of a lifetime. We loved every minute in paradise thanks to you and your very warm hospitality. You are the best!
Fouad & Lisa T.
Thanks for an experience of a lifetime! So relaxing, beautiful, and so fun!
Zagdanski Family
We would like to thank you very much for an amazing week which we will never forget. The scenery, the boat, and the amenities were fabulous. The food was like being in the world's best restaurants meal after meal for a whole week. The service, the friendliness, everyone's smile and helpfulness was the icing on a great cake.
Josh R.
Great food, friends & fun!! Capt. Jim & Lisa are a great team!!
Jason N.
It would be impossible to educate people on all that Jim and Lisa really offer on the charter. When we decided on the Runaway, we were uneducated in the process and truly did not know what we should be looking for. Obviously, the Runaway sells itself. It is a beautiful boat, impeccably maintained and offers every amenity. However, having now completed the trip, the crew is what really makes the experience all that it can be. Both Jim and Lisa were absolutely wonderful. They made us feel right at home, acted like family but treated us like royalty. I cannot even begin to describe how amazing our dining experience was on the boat. Every meal, every snack and every place setting was prepared better than any 5 Star restaurant I have been to. Lisa has a very special talent in the kitchen. It makes my mouth water thinking of her cooking. Oh my goodness it was great. Jim was fantastic too. A gracious host and truly learned Captain. He was engaging and entertaining. He took us to great spots and obviously made look easy his efforts to position us in every great location to enjoy each stop. The Runaway is an amazing yacht that is worth every penny. But people really need to know that the boat is only 20 percent of the experience. Jim and Lisa make the Runaway larger than life. Honestly, if Lisa could cook on a 15ft Tender and Jim was Manning the boat, I'd spend a week on that dinghy with them– I know it would be a blast.
Sneed Yacht Charters.