Sneed Yacht Charters.


ZULU GUESTS COMMENTS
ARC 2013
We have a super Transatlantic ARC on board ZUlu , very confortable and very suscesfull , second in our class and 25 in general clasificatuion.

Well Done ZULU

ARC Crew 2013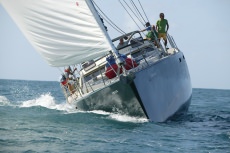 Amazing Holidays in Ibiza
Thanks to Diego and Zulu for our fantastic Holidays in Ibiza last summer. Excelent boat, excelent food and excelentent crew.
We will come back very soon

Massimo and Flora
Ibiza
We came 4 years now to ZULU in Ibiza and are the best holidays possible, skipper knows very well the area and service are perfect.

Jose Garcia
Sneed Yacht Charters.