Sneed Yacht Charters.


BREIZ-ÎLE GUESTS COMMENTS
Charter on February 20-25, 2023 in Antigua / French family of 6
Un équipage sans égal pour une semaine de rêve.
Merci Alex pour ta gentillesse, tes mouillages exceptionnels et tes Ti punch légendaires.
Merci Camille pour ta délicatesse et tes attentions quotidiennes si touchantes.
Merci Camélia pour tes succulents plats, chaque jour.
Vous nous avez enthousiasmés. Quelle meilleure manière de célébrer une amitié sans faille.
Une âme nous a accompagné durant toute cette semaine et c'est en grande partie grâce à vous.
Certainement, nous espérons poursuivre ce rêve avec vous par une prochaine croisière !

Un bateau de rêve avec une équipe au top !
Un capitaine chanteur ! Merci Alex pour ton professionnalisme et ton extrême gentillesse.
Merci Camille pour ton sourire permanent et ton super pouvoir à mettre à l'aise et à faire plaisir !
Et merci à notre top chef Camélia qui nous a fait voyager bien au-delà d'Antigua ! Fraicheur et saveurs c'était que du bonheur !
Merci et bon vent à la dream team !

Quel beau voyage de rêve avec cette super équipe compétente, souriante et toujours prête à nous rendre service.
Quel bonheur de passer des vacances avec toute cette bienveillance. Merci à vous !

Merci Camille, Camélia et Alex pour votre charmant accueil et les sourires.
Nous avons passé un agréable séjour en votre compagnie.
A bientôt et surtout gardez votre bonne humeur !

Un super bateau, une super équipe, pour découvrir dans les meilleures conditions 'ile d'Antigua.
Merci au capitaine de nous avoir fait découvrir les plus beaux endroits de l'île avec professionnalisme et bonne humeur, Merci Alex !
Merci à Camille pour avoir superbement secondé Alex dans ce beau voyage et pour avoir tout fait pour que nous soyons à l'aise, dans la bonne humeur et pour que nous ne manquions de rien.
Merci à Camélia de nous avoir fait voyager bien plus loin que dans les Antilles grâce à ta cuisine exceptionnelle, matin, midi et soir. Nous avons parcouru la planète et cela a enchanté nos papilles.
Ce voyage était une belle surprise. Bon vent à vous !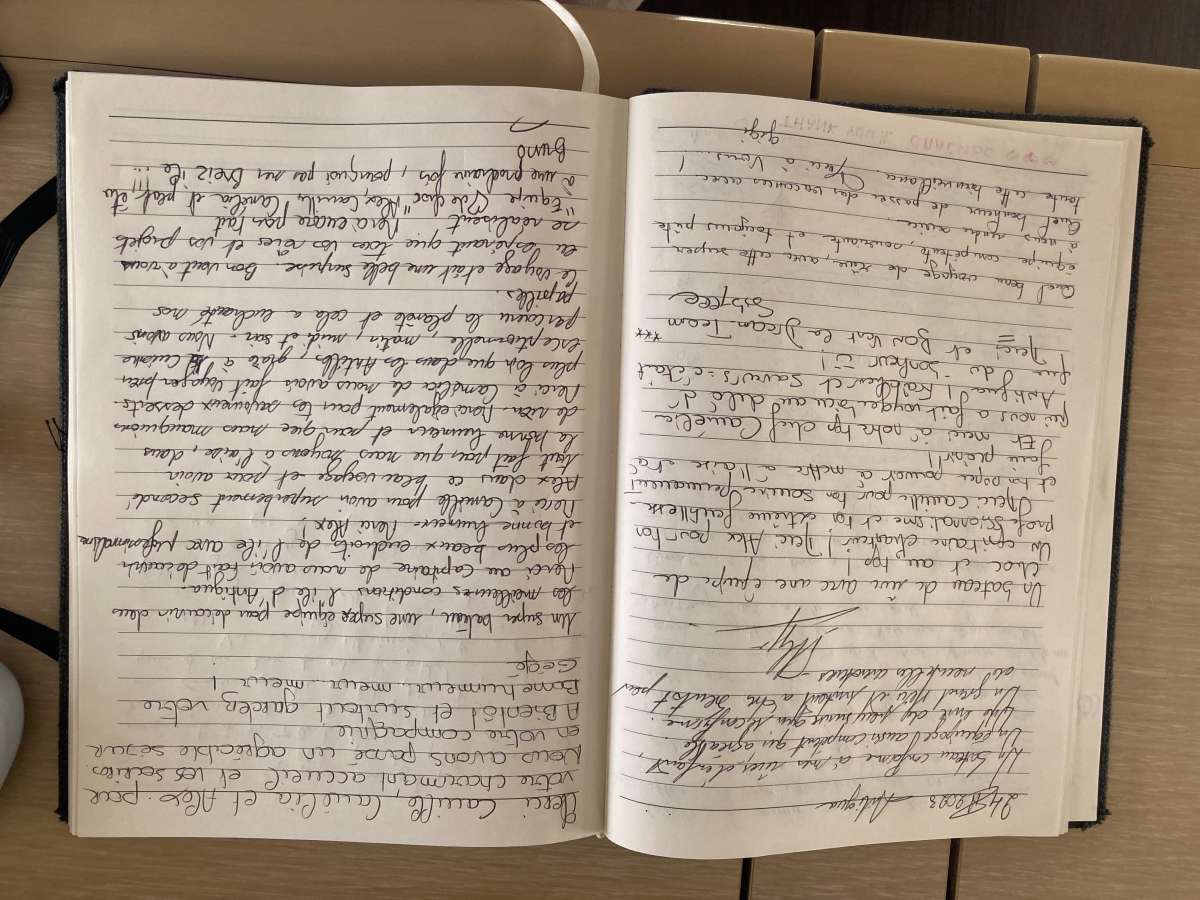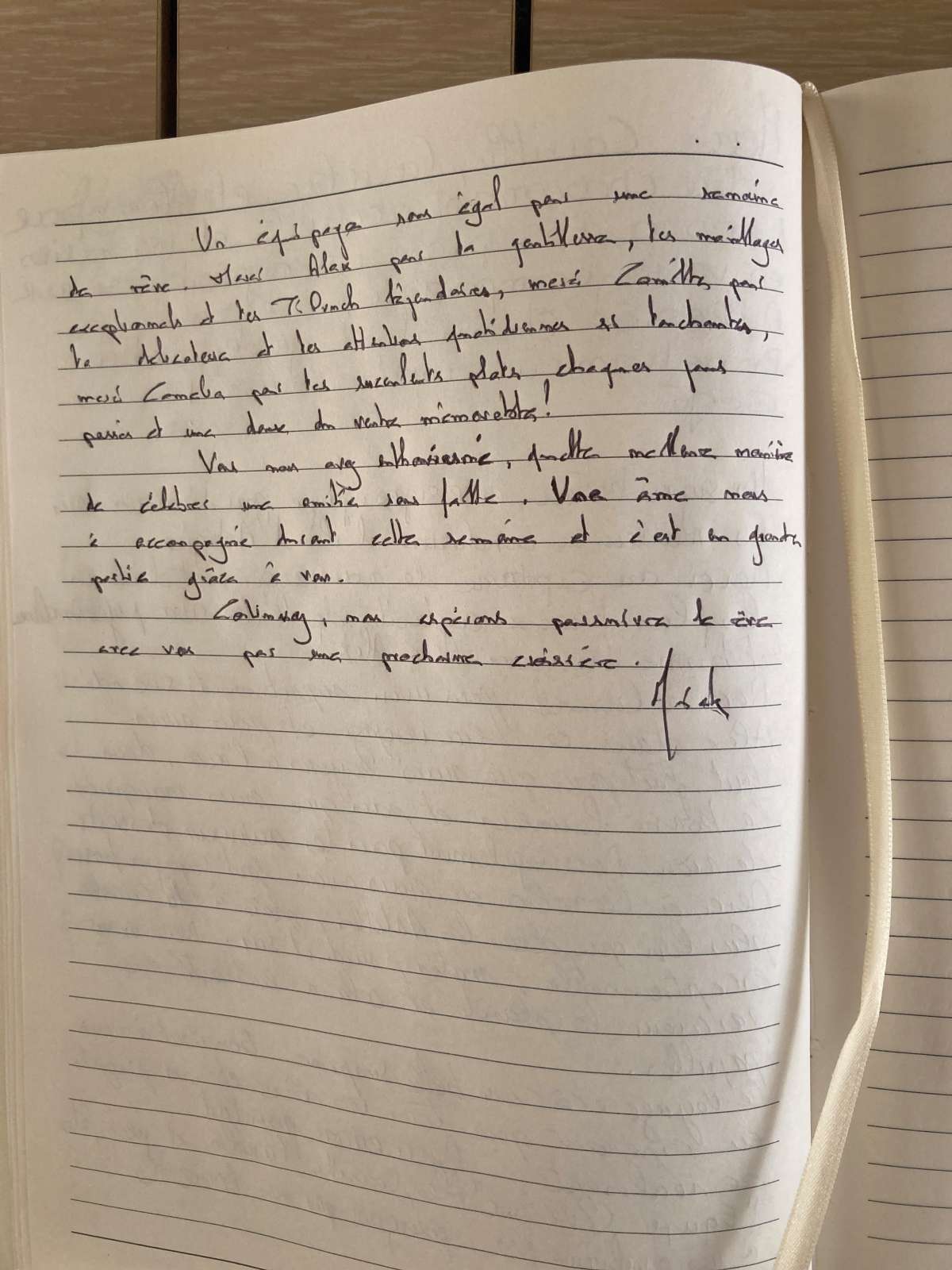 Charter on February 11 - 18, 2023 in Antigua - European family of 5
One week sailing around Antigua with a fantastic crew.
Thanks Alex (the captain), Camillia (the Chef) and Camille for making us feeling "at home" thousands miles away from home.
you are an amazing crew and without you this trip would'nt be the same!

Alex, thanks for taking a good care of us during our trip and making us feel safe. The kids will always remember their first deep-sea fishing experience, exploring remote islands, climbing throuhg the 'tell's gate" and listening and dancing to your fantastic guitar skills!
Camilia, a huge thank you for keeping us well fed throughout the trip and surprising us with all the flavours, combinations and presentation. I'm sure Kate has asked for a few receipies, too!
Camille, a massive thank you for looking after us and the kids and the boat.
It's such a lovely place to stay in and with your help it is even more pleasurable.
Your eagle eye always was the first one to smpot a turttle out in the water and your waterskie skills are second to none!
You even managed to find fresh flowers to help me surprise my wife on a Valentine's Day whilst travelling out o the open sea!
Overall, it has been a turely unforgettable experience and the crew has made it more special. Time to plan another voyage for next year.
Grenadines, here we come!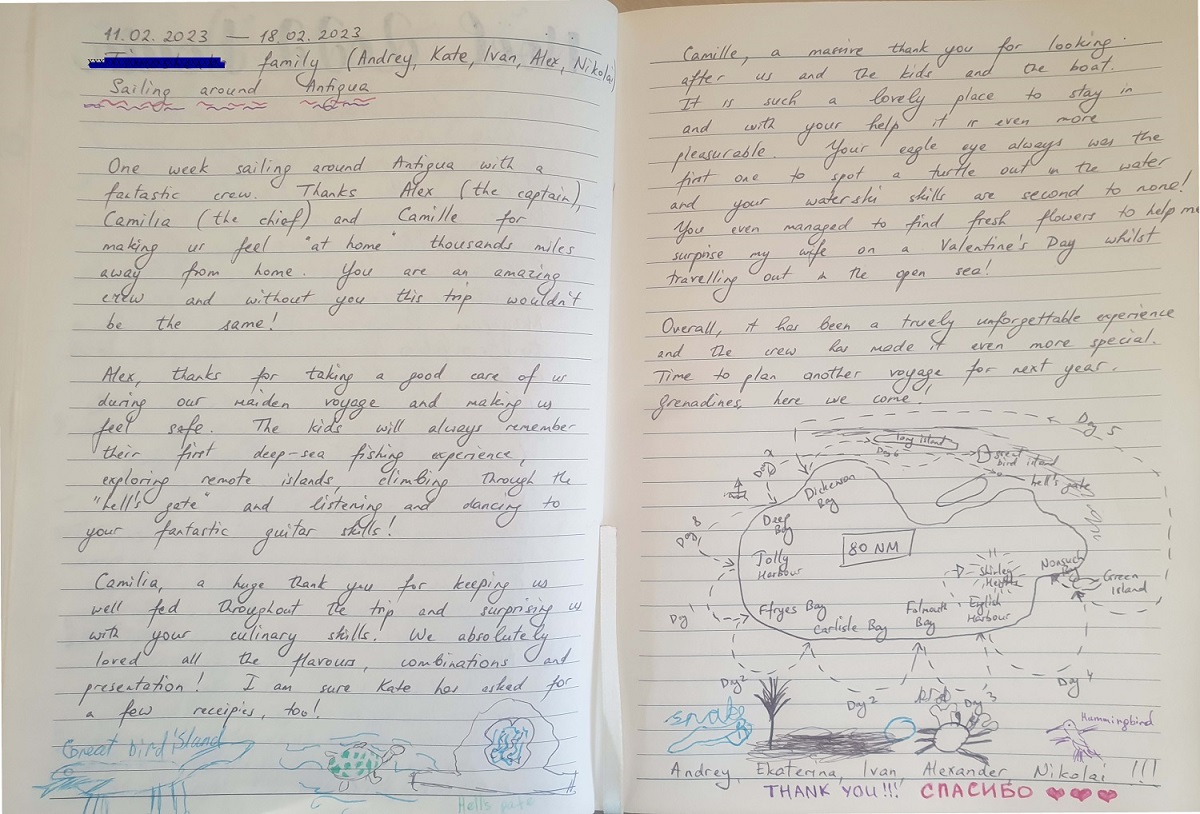 Charter on Dec 17 - 26, 2022 in the Grenadines - French group of 7
Thank you to the whole crew, Captain Alexander « the boss », Second captain Camille « the smile » and Chef Camelia « the sun of Med ».
Thank you for having us discover all these paradisiac islands of the Grenadines : St Vincent, Bequia, Canouan, Tobaggo Cays, Mustique, Morpion, Petit St Vincent… all more surprising the ones from the others. What wonders !
Thanks you for having regaleted us with sunny dishes full of spices, sometimes Caribbean, sometimes Mediterranean. What delight !
Thank you for having welcomed us so warmly on board your beautiful Breiz'Ile where we felt as at home. She looks good sailing through the trade winds with full sails out. What a beautiful cat !
Thank you for having shared magic of Xmas with us, far away from yours.
Thanks, D family !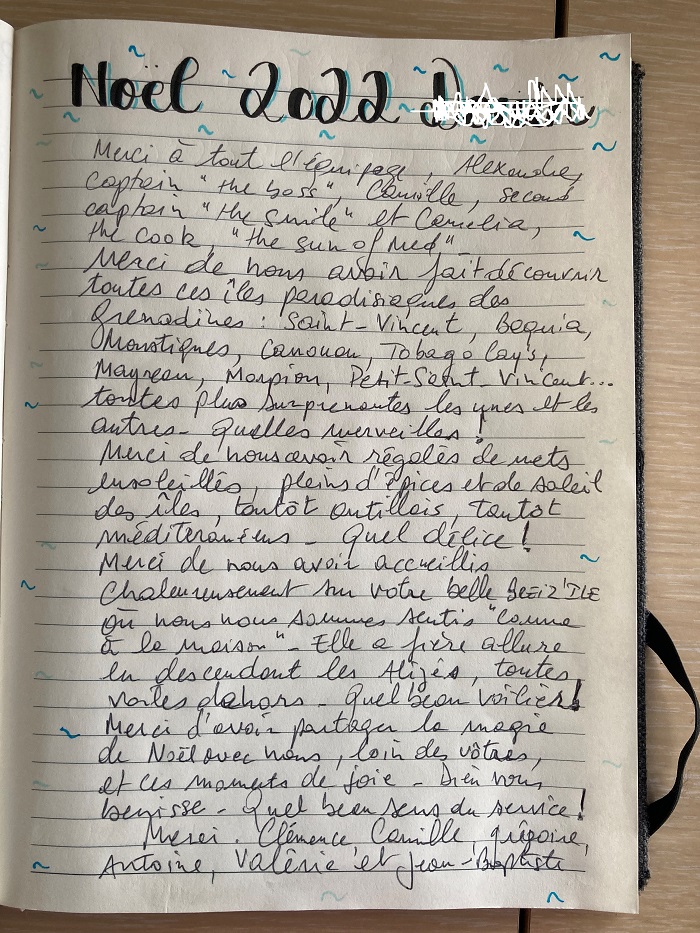 Sneed Yacht Charters.