Sneed Yacht Charters.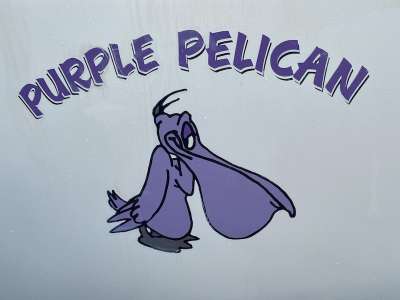 PURPLE PELICAN SAMPLE MENU
What sets us apart?  The Chef hand picks all the ingredients
to make sure we have the best for our guests!  If you are a
"foodie" this is the yacht for you.

BREAKFAST
All breakfasts come with fresh fruit, coffee,
tea
​
*French Toast with Vanilla-Cream served
with Amaretto Syrup
*Strawberry & Cream Cheese Crepes 
*Eggs Benedict
*Blueberry Pancake Bake with Maple syrup
*Fresh Fruit Parfait with Granola &
Greek Yogurt
*Meat Lovers, Cheesy Frittata
*Baked Breads, Muffins,Bagels with cream
cheese & jams
*Scrambled Eggs with smoked salmon
​
​
​
LUNCH
*Farmers Market Crust-less Quiche with
Salad 
*Gourmet Fresh Vegetable Pizza 
*Caribbean Style Chicken Salad with Veggie
Chips
*Carolina Pulled Pork Sliders with Island
Coleslaw
*Captain Chris's Grilled Blue
Cheeseburgers 
*Tequila Lime Chicken On A Bed Of Mixed
Greens
​
APPETIZER
*Poblano peppers Stuffed with Salami
& provolone
*Cream Cheese,lemon,Capers & Salmon
canapes
*Melted brie&Cranberries atop a
fluffy puff pastry
*Gourmet Antipasto Platter
*Veggie Delight freshly made Hummus
& Warm Pita Bread 
*Island Gazpacho w/goat cheese toast
*Black olive tapenade
​
​
DINNER
*Succulent Pork Tenderloin with Roasted,
Garlic Brussel Sprouts
*Grilled Salmon on a bed of Creamy
Mushroom Risotto
*Short Ribs in Red Wine Sauce smothered
over wasabi Mashed Potatoes
*Grilled Chicken Kabobs accompanied with
Caribbean Rice 
*Mahi-Mahi with mango salsa and Basmati
Rice
*Asparagus & Gorgonzola Ravioli in
a white wine sauce.
*Grilled Cajun Shrimp Taco's with
Cilantro, mango slaw
​
​
DESSERT
*Oreo Cookie Cheesecake
*Bailey's Velvety Smooth Chocolate
Mousse
*Lorrie's Signature Creme Brulee
*Chocolate Fondue...YUM! (2-4 pp)
*Purple Pelican lava Cake
*Key Lime Pie
*Heavenly Cream Puffs
​
 
All meals are subject to change
without notice. 
Not all items are
available all the time.
Island
availability. 
We will come as close
to possible for an alternative.
A preference sheet will be sent out
before charter.
Sneed Yacht Charters.