Sneed Yacht Charters.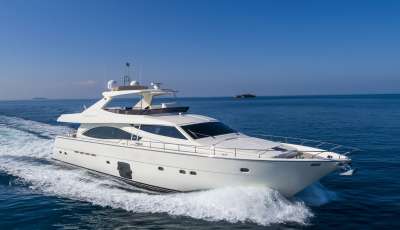 CREW PROFILES
Title
Name
Nation
Born
Licenses
Captain
Giorgos Psarros
Hellenic
0
0
Number of Crew: 4
Languages:
Crew Profiles:
Captain Giorgos Psarros
Nationality: Greek

Captain Giorgos Psarros holds a Captain certificate and his highly experienced, having begun his career in 2002. He is certified in ship security, fire-fighting, life-saving and medical care as well. He began initially on tug-salvage boats and for the last ten years has been working in the yachting industry, specialized onboard Ferrettis. Giorgos has extensive knowledge of the Mediterranean Sea and knows all the secret beaches, isolated coves and hidden treasures the Greek islands have to offer! On his spare time, if not on the water then you can find George enjoying nature, snowboarding, or relishing in fine dining. Giorgos knowledge and dedicated attention to safety onboard and his excellent leadership skills, ensure a strong and healthy collaboration with his crew, thus guarantees a successful and pleasurable cruise for his guests! He is highly professional, hospitable by nature, with strong communication skills, and speaks English very well.

Chef Ioannis Linas
Nationality: Greek

Ioannis Linas has 20 years of experience as a Chef at top notch restaurants, and five-star hotels. For the last 8 years he has been working onboard luxury yachts as a head chef and has extensive knowledge on international cuisine as well as Mediterranean cuisine. He is an award-winning Chef, and uses only high quality and fresh ingredients to ensure not only a master piece in appearance, but for savoring tastes and flavors to remember. Giannis loves his work, and his guests are always more than happy!

Stewardess Vessy Basheva
Nationality: Bulgarian

Vessy is a highly enthusiastic professional with exceptional communication skills and 17 years client interface experience. As a chief stewardess, she is in charge of understanding each client's specific needs and wants, and adapting to meet and exceed their expectations! Vessy offers top notch service and ensures an excellent experience for her guests onboard.

Bosun Lefteris Tselios
Nationality: Greek

Lefteris is an experienced seaman. His love for the sea makes him feel like his is at his natural environment. He has passion for traveling and his long experience in mega yachts made him a skillful bosun! Lefteris's strong character and willpower exhibits his professionalism and ensures safety for all onboard. He is always ready to assist, and his very friendly character will surely make your time onboard unforgettable!

Sneed Yacht Charters.