Sneed Yacht Charters.



SHANGRI LA GUESTS COMMENTS
New years 2021- Lets Play Two
The trip was great. And the crew (TC & Z) were absolutely amazing. TC really knew his stuff, about the islands, sailing, and the boat, and was super focused on ensuring we were enjoying ourselves! Z's cooking was amazing - she really did a great job exceeding expectations and surprising us with meals everyday, which is not easy given the closed quarters. and they really made us feel comfortable aboard the ship. I would 1 million % charter with this crew again - they were awesome. The boat itself was very clean and did not "feel" 4 years old.
Best,
Rob
March 2021- From Lets Play Two
Dear TC $ Suzanne
Start to finish…best vacation ever! Your hospitality is unmatched. You made us feel so
comfortable in a setting we're not used to. We rate the food a solid 10/10. A floating 5 star,
all-inclusive resort! Your kindness and passion for this lifestyle show clearer than the water.
Our activities were very enjoyable - we always had something to do…from snorkeling to
sub-0winging. Thank you lots for the funny accents, jokes, and the entire Caribbean
experience. We hate to leave, but we're excited to see you guys next year!
-Jeff, Jordan, Avery & Dylan
March 2021- From Lets Play Two
TC & Suzanne
We had trouble coming up with the right words to describe the amazing trip we had with you.
We know we aren't the most normal family…Our family members being an amputee, one with
seizures, one that loves the water, and one who is a workaholic. You all took care of us from
the moment we stepped out of the cab. Your genuine kindness, respect and fun-loving nature
made this the trip of a lifetime (and we have taken a lot of trips!). The food, the drinks, the fun -
amazing! The only downside is the expectation of the food delivery and prettiness :-) Thanks
for beating Gavin up on the tube. Grace will be talking about her fruit punch from the captain
for a long time! We will definitely be back to find you both in the future, so please stay in touch.
Thanks for caring about all of us. No detail was left undone. Thanks for the memories! We
love you both!
-Jeff, Elizabeth, Grace & Gavin (Casper)
July 2021- From Lets Play Two
My family and I just spent a great week with TC and Suzanne on Let's Play Two. In my business, we always hear the complaints, reasonable and unreasonable, but rarely the compliments. It's always good to find areas for improvement but I also like to know who's doing a great job. Those people are the lifeblood of our company and they aren't easy to replace.

Both Suzanne and Terry were fantastic. Boating can look easy but it's not. They made it seem effortless. Their relaxed demeanor just made everything better but I could tell that no detail was overlooked. My wife has a food allergy, but Suzanne had no trouble working around it. I've had great meals in great restaurants but her food was consistently as good and usually better, pretty amazing on a boat.

I think you have something pretty special with those two. We had a great time and look forward to doing it again soon.

-David
July 2021 Broker provided- From Lets Play Two
Name: Christine
Yacht: Let's Play Two with Terry & Suzanne
Charter Dates: 07/19/2021 to 07/25/2021
Area Cruised: St. Thomas - USVI
Overall Rating: 5/5

1. Was the crew friendly and accommodating?
Extremely

2. Was the yacht comfortable and clean?
Yes

3. Was the yacht well ventilated?
Yes

4. Was the food good and well presented?
Amazing

5. Did you like the area you sailed?
Yes

6. Additional comments on your charter?
Our trip was absolutely amazing. Terry and Suzanne were extremely knowledgeable and made us feel very safe and comfortable. They left no stone unturned and were attentive from 6am to until we went to bed. The food was better than any of the restaurants we tried.
February 2021- From Lats Play Two
Brokers Comments
2/6-2/12
The Boat was clean beautiful as pictured . what I enjoyed was the food and drink. Our Captain was the best he was knowledgeable, friendly, helpful and funny. the itinerary was fantastic and our Chef exceeded all expectations; she was absolutely fabulous the meals was better than most restaurants the crew were such great hosts. We can't wait to be back
April 2021- From Lets Play Two
With this being our first charter, we had high expectations. After planning for months, we
hoped that we had not an unachievable bar for excellence. We couldn't be more happy to say
that our week on Let's Play Two was way better than we imagined! Not only were TC &
Suzanne first-class hosts, the quality and presentation of the food reflected that of a 5-star
restaurant. Our itinerary suited us perfectly, and the steps that were taken to ensure our
comfort were appreciated. We are now heading back to Detroit where we will soon begin
planning our next charter in the VI's. Thanks for all the memories!!
-Dave Damian & Krista Sohm
July 2021
Thank you for one of the best weeks ever. From the moment we stepped onboard, we were
spoiled for a week. The drinks, food, destinations, and conversations were all the best!
This trip was so perfect for spending time as a family. Thank you for everything!!!
-Keith, Katie, Ellie, William & Annie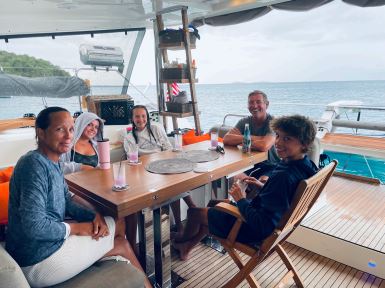 July 2021
What an amazing adventure!! Thank you two so much for the amazing. . . well everything. The
food was impeccable, the sites were incredible, and the memories y'all gave us were those to
last a lifetime. Hope to see y'all again soon.
-Brad and Tammie

Thank you! Thank you!
From start to finish, this was a 1st class trip. We have memories that will last a lifetime.
-Matthew and Michelle

Thank you for making our 40th's such an amazing trip! I look forward to making way more
memories with you guys on the seas.
-Jeffrey

Thank you for an amazing once in a lifetime experience! The hospitality was very much
appreciated. We could not have asked for a better vacation!
-Heidi and Casey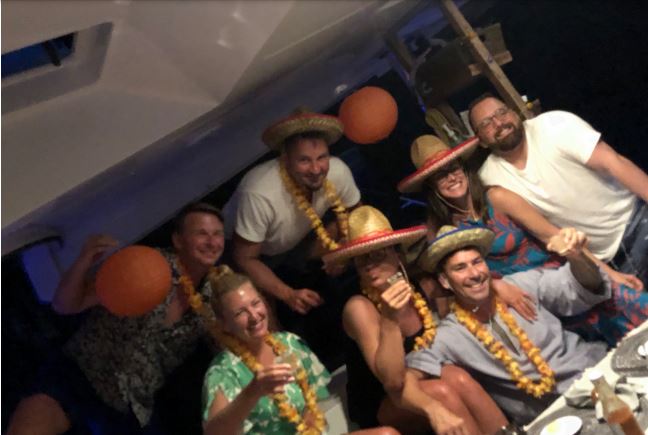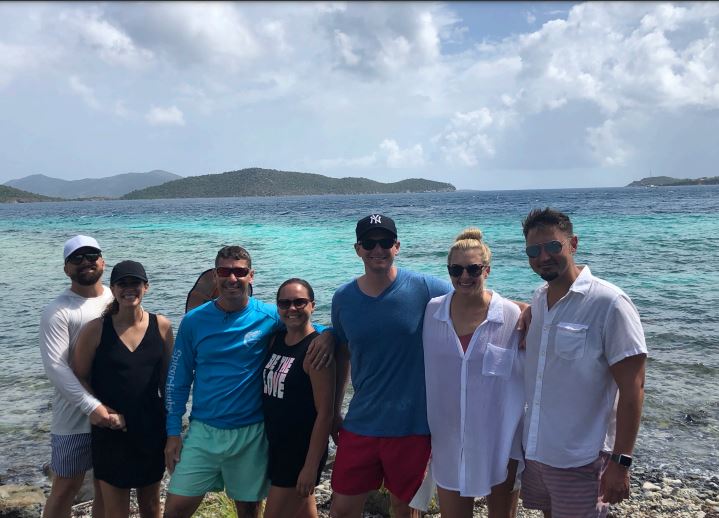 June 2021
This was our long awaited trip due to cover and it was certainly wort the wait! The boat
was pristine the entire trip. The sailing was amazing and every snorkel spot was better than the
last. Amanda's food was over the top. Special desserts were loved by all, especially the kids.
They will miss the milkshakes, Shirley temples (Graham), and the treats each night on their
beds. Graham can't thank you enough for going the extra mile for the fishing rod. We will
treasure our special shells from Brewers. So many fun activities. . . paddle boards, wake board,
party mat, endless stories, history, and great recommendations on lunch spots. Any family
would be lucky to have this amazing experience with you all on this gorgeous boat. This is truly
a trip we will never forget with memories to treasure for a lifetime. We hope one day to sail
again with you and hear Captain Keith say "The Pool is Open" and Chef Amanda says "Bon
Appetite."
Cheers!

Dave, Mindi, Graham, Jane & Kate
June 2021
What a fantastic week its been on the Shangri La with Keith and Amanda! Our family of
five had a wonderful time snorkeling, swimming, sailing, exploring, and of course dining on
fabulous food and delicious cocktails. The ease and pace of life this week was just perfect.
Thank you for all you both did to make this
vacation fantastic!

All the best,
Mike, Alison, Madeline, Laura and Ellie
May 2021
Wow! What an amazing trip we had aboard Shangri La! My wife Carolyn semi-surprised
me with this adventure on my 60th birthday with our three boys John, Chris, and Sam. We
sailed, explored the islands, swam, snorkeled, sub-winged but mostly we ate and were treated
like Kings and Queens! Never before have we been spoiled like this. Chef Amanda's cooking
was to die for. Every meal and every detail was not only delicious, but it was presented with
grace and style. Plus, a warm and friendly smile!
Captain Keith's hospitality, local knowledge, and expert seamanship was exceptional.
The boat was kept spotless and ran like a top. Keith's mixology skills weren't too shabby either.
Both he and Amanda kept us well hydrated to say the least.
Thank you both for a wonderful vacation. We had a few days away that we will never
forget and I'm sure we'll be back again to visit this little piece of paradise.
Smooth sailing on your future adventures and I truly hope our paths cross again.

Cheers,
John
Princeton, Mass.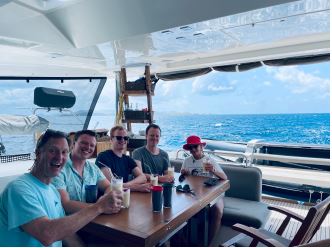 April 2021 - broker provided survey
How was your satisfaction with...

1. Crew Friendliness: Great
2. Crew Knowledge: Great
3. Quality of Service: Great
4. The Professionalism of Crew: Great
5. Value of the Cost + Expenses Charter: OK
6. On-Board Cuisine: Great
7. Destination / Location: Good
8. Variety & Quality of Water-Sports Equipment: Good
9. Overall Satisfaction: Great

What was the most memorable highlight of your yacht charter vacation? The entire Trip was very good.

April 2021
Captain Keith , Chef Amanda,
We have enjoyed our 9 days with you both on Shangri La. It was a memorable holiday for us
and you both were most pleasant, attentive and kind to us all. Thank you for that.
Maybe we see you again.

Chiwawa!
Thank you very much!

Kayhan, Pinar, Omer Karabey
New York/Southampton/Istanbul
Easter 2021
We are wrapping up a wonderful journey, sailing with you and the warm and hospitable
Caribbean Sea. Our Captain has been blessed with good winds, our chef has seduced us with
her culinary musings. Our paths crossed for a few days, full of generosity, thoughtful attention,
and care.

Thank you again for the time shared and a time of gifts. God's speed on your next journey - the
truth and joy of life is in it. The journey, not the destination.

-The AXXXXX Family
March 2021
As we wind down this unbelievable excursion or shall I say, escape, I'd describe it as a once in
a lifetime experience. So much more than a trip or a vacation. Whether it be fabulous
accommodations (boat - Shangri La itself), the breath taking water and National Park setting, or
the exceptional crew - Captain Keith and Chef Amanda, it truly combined to be the greatest
mentally and emotionally uplifting experience.

The memories we have made will with stay with us forever - the laughs, the conversations, the
sailing! The snorkeling, the tubing!!

Captain Keith and Chef Amanda were there at every turn making sure we had any and all we
needed and were enjoying every moment. Many thanks to you both!
We hope to make it aboard again!!

Melanie and Lee
-Nashville, TN
March 2021
We had an extraordinary experience! Fabulous service, Captain Keith and Chef Amanda always
present and filling our wishes from our minds "even my strange habits of coffee with nonfat
milk and non flat" water. Chef Amanda always on the go preparing the most delicious dishes.
Captain Keith always up for some fun! Thank you for taking care of the kids and allowing them
to have the time of their life!

"I am not a woman of words, but being a German, I mean what I say and keep to my words
and promises."

-Edina, David, & Luke


Great time!!! Loved the drinks! Would come again.
-Barron (age 10)
March 2021
We had an amazing week on Shangri La! Captain Keith and Chef Amanda kept us safe and full!
Amanda's cooking was amazing. Everything was delicious. The challenge of feeding 7
individuals with very different tastes was not an easy task!
Every day was a new adventure. Captain Keith made sure that we had just what we needed.
Three generations together on the Shangri La will long be remembered by all!
Thank you, Thank you, Thank you!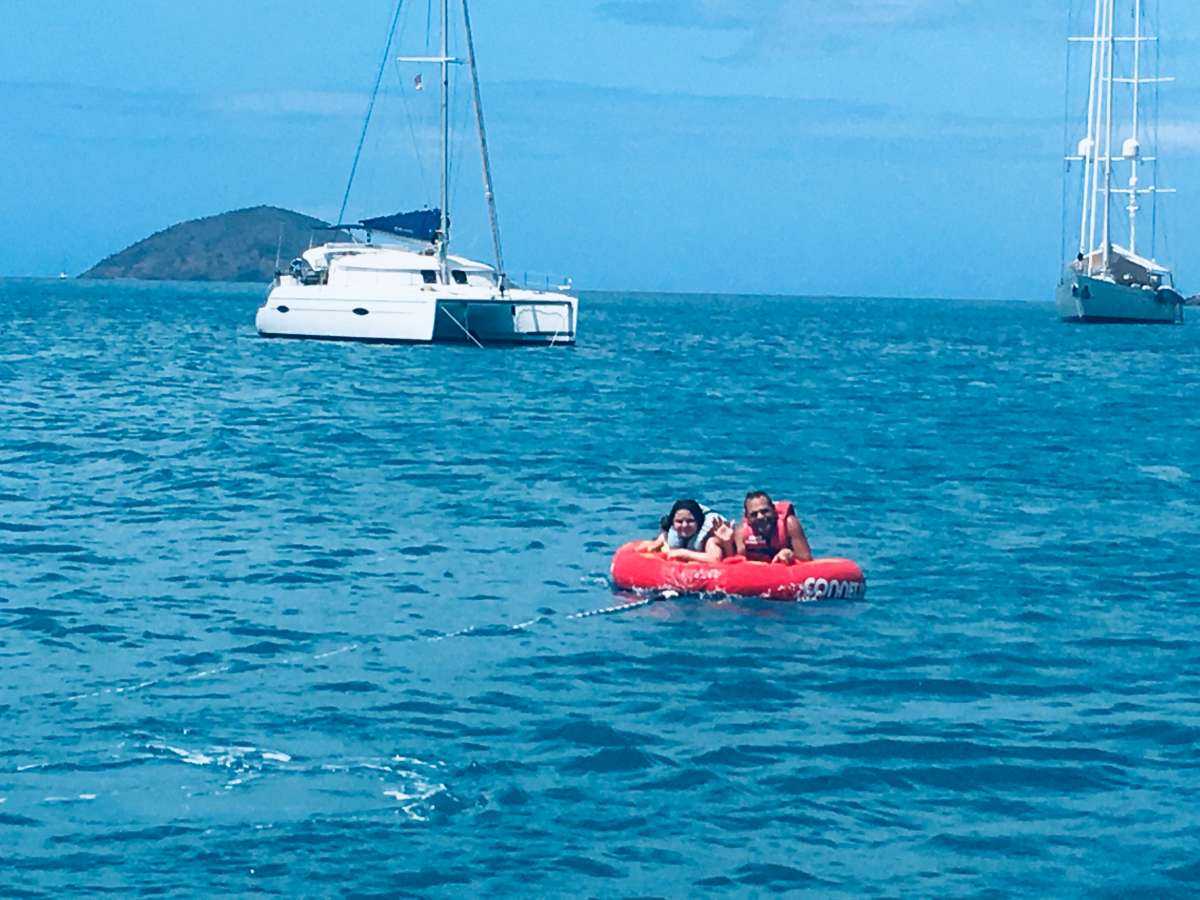 Feb 2021
Our first family boat trip and Wow, it blew away any expectation. Captain Keith and Chef Amanda are incredible. With a vegan and one picky eater, they made sure every meal was catered to each person's liking. The food is 5 star! Mahi mahi, pad Thai, Caribbean chicken salad and desserts that never stopped! Plenty of activities and Capt. Keith always happy to do anything at any time. He picks the perfect locations and ensures everyone is happy! Daily drinks (especially the painkillers) and afternoon snacks were a hit. Always refreshing and very tasty! Capt. Keith and Amanda never stop moving, never stop caring for our experience. They are the ultimate hosts! Always building interesting conversation and full of local information. We could not have asked for a better family trip and assure you we will be back! Thank you thank you for the wonderful memories we will forever cherish!
All the best, Tim, Leslie, Quinlyn, Timothy and Luke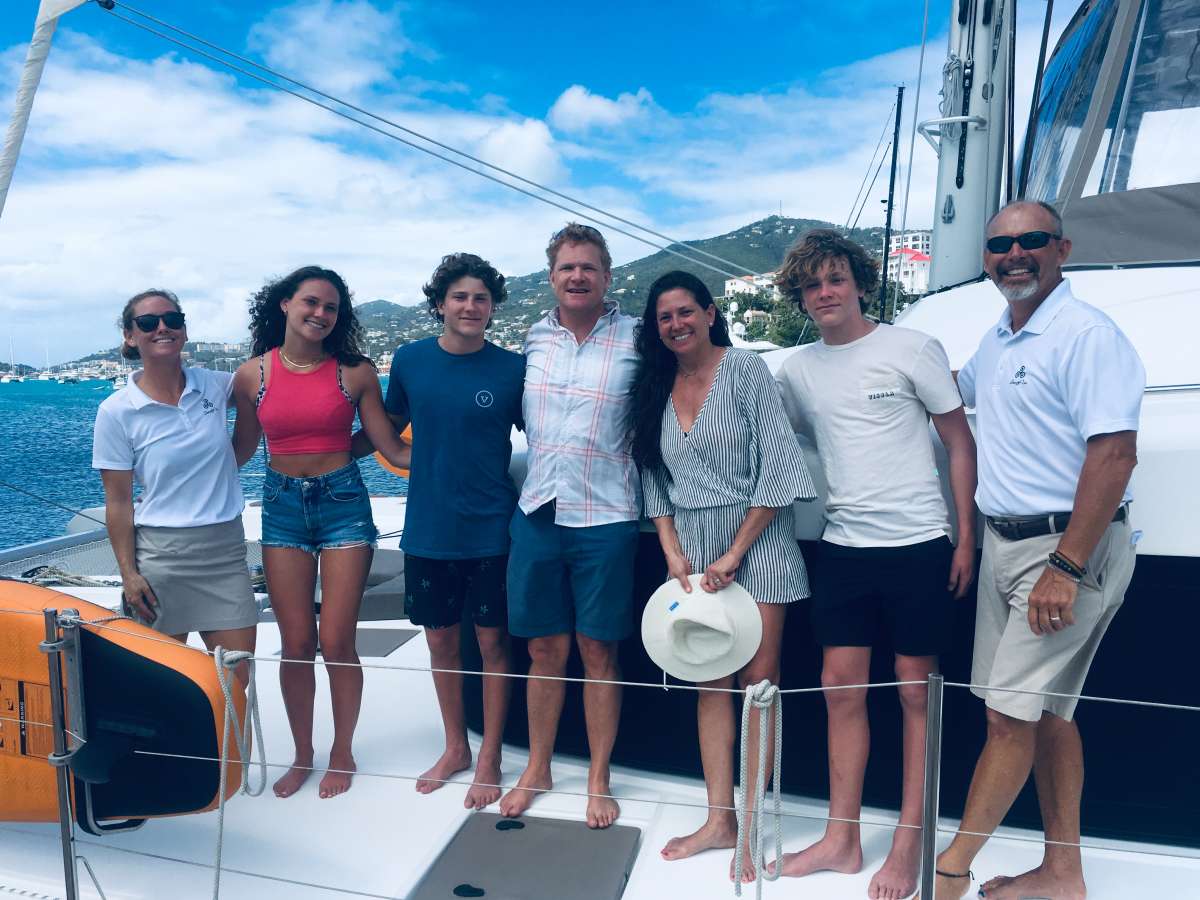 Jan 2021
I have decided to call our experience on Shangri La "The Ritz Carlton" of charter boats! Keith
and Amanda are extremely attentive and intuitive to guests. The boat reminded me of being on
a Disney Cruise because of the constant cleaning they do! They keep the boat very organized
and do all the tidying up for you. We will have very special memories from the trip and thank
Keith and Amanda for their kind hospitality!
Food & Drinks: 10/10
Favorites: Fish Tacos, Pad Thai & Rum Punch
-Ashley & Lance
Feb 2021
Kade and I had an amazing adventure on the beautiful Shangri La. Keith and Amanda treated
us like royalty and made sure we had a very custom and uniquely catered experience. We
loved every minute of our time on this boat, and can't wait to come back. Thank you Keith,
Amanda and Shangri La for a trip we will never forget!
Much Love,
Corey & Kade
Jan 2021
Just finished an amazing breakfast of eggs, bacon swirls, grits, French toast, and mom's.
Listening to Jerry Jeff Walker. . . trying to extend our trip as long as possible before we start
packing.
We had the most amazing trip. So many memories. The most amazing scenery. Celebrating
two milestone birthdays. Incredible food and drink, but the most memorable part of our journey
was our amazing crew, Captain Keith and Chef Amanda, thank you for everything.
Always sailing, always upbeat. Right by our side the whole time.
It's always about the people. Always.
Thank you for everything. Especially for the cool peppermint cloths. Those were amazing.
Hope to see you again soon. If you are ever in Austin, look us up.
Best,
Allan & Maria
2020/Amanda
Amanda,
On behalf of our group, we want to thank you for a truly amazing experience. Honestly, it was the best vacation we've ever had, and much/most can be attributed to you. Everyone felt safe every minute thanks to your skills a competencies. The food was fantastic! You anticipated every one of our needs, stopping a t nothing to find and keep our beer supply stocked. Thank you so much and we hope to be lucky enough to sail with you again soon!
-Kim & Mark

We felt so secure and cared for. What a fine experience to have met you. Thank you, thank you. Bon Voyage!
-Lynn & John
February 2020/Amanda
Thank you so much for a great week of food, sailing, sun, snorkeling, sand, rum, etc. Your hospitality and friendliness helped bring all of us together for an experience that far exceeded our expectations. Thanks again!
-John & Mariya

Thank you for your overwhelming kindness & generosity & hospitality during our trip with you. Most of all thanks for creating memories of a lifetime!!!
-Jennifer & Trip

We had such a wonderful time with you, what a great time! The boat was amazing and you made our trip so special as I was celebrating a 50th birthday! We would do another trip with you any day!
-Sonja & Dave

You took such great care of us and are a lot of fun! Loved Amanda's cooking, i'll miss it. Yummy!! Good luck in all of your sailing!
-Sanda & Dave

February 2020/Amanda
Amanda,
You made our adventures onboard memories that will be on "the best" list for a lifetime! Amanda, your creativity from the galley reflected exactly how hard you are constantly working, but you do it with ease, style and grace, making us feel so cared for. You were a blessing to each of us in every way. We are leaving truly blessed.
-Cliff & Rebecca
Valentine's week 2020/Amanda
Amanda,
Thank you for t he incredible adventure to the BVI. You made the week amazing with food, stories, information about the area and planning each day to perfection. I loved every second!
-Cyndie

Amanda,
Best sail ever! Best week ever! Best food ever!
Loved every moment with you! So nice to do nothing. Blessings to you and your future. Come see us!
-Gary and Karen

BEYOND SPOLIED!
You made us feel like royalty! From the food, the chats, the adventures, and the service! Beyond lovely! May you enjoy many blessings.
-Z & T
June 2019
Dear AJ and Captain Keith
Thank you for showing us such an amazing time and unforgettable adventure. You made our trip so special. your kindness and caring nature shone through like sunshine. We loved all of the beautiful places and delicious food. we have been more spoiled thank you again for making us feel like family. Hope to see you sooner than latter . Next time maybe with out kiddos or not! later Man.
- Cari & Sam
June 2019
we spent an amazing week with best friend and 2 new friends Captain and AJ. We are so truly blessed to experience this amazing 7 days together, from meeting the best cooker in the BVI to some of the best snorkeling @ virgin Gorda. We are so truly blessed to not only experience the love and friendship we have is rare. Such incredible memories we will cherish forever #nauti krew
-Jay,Kendra,Tuisa,Nickand Amanda
"For many are invited, but few are chosen"
happy Bday KC
June 2019
Finding the right words to express our thoughts and emotions is going to be tough. We come aboard thinking this would be an awesome vacation but during the course of our journey we discovered 2 people that will live in or hearts forever! You both have such a heart for making people feel comfortable, happy and above all LOVED! You know the perfect route for us to discover these islands. perfect pace, never felt rushed. The cooking was beyond incredible. The drinks always flowing. Euphoria is an amazing home on the water . Could not have asked for a better vacation. I than god that our paths crossed. Love you both.
-Amy.Ali,Hali &Lucy
June 2019
There aren't enough thank you to convey our gratitude. You were completely responsible for making James 50th celebration a week that will not be surpassed. Your constant care and kindness absolutely made the trip! from exceptional meals, cocktails(just a few),excursions, attention to every detail, you plan and execute the most amazing experience. We are amazingly grateful and imagine that one day we get to enjoy another adventure led by you. This was truly the best week ever!
many , many thanks yours
nav go take naps!
-Sullie,James,Reanst,Julie&John

June 2019
AJ & Captain Keith
Wow what a week! I enjoyed everything ,food, diving and getting to know you guys. I cannot say enough about the food, every meal was awesome. The diving was incredible. Hope to see you guys again before you return.
-debra
June 2019
Shit Show 2019
All I can say is wow From the first moment we boarded the beautiful boat captain Keith and AJ. were professional, inviting and a blast to hang with, great conversation ,awesome cocktails and AJ creates culinary masterpieces time and time again. We Cherished our time and look forward to many more to come.
P.S I hope you both have room for some more life long friends! See you soon in Belize, Oklahoma, North Carolina or anywhere else on the planet you want to meet up!

Aka "Lick" "Adonis" "Garbage disposal" etc.
June 2019
Dear AJ & Captain keith
There anent enough words to describe the gratitude we feel towards you two for the making this one of the greatest experiences we've had in all of our years of coming here.
You both immediately made us feel like family and the bond we all formed I know will last a lifetime.
Our trip was perfectly planned expertly executed with the most amazing food ever. our cocktails were always full and they truly were better than any beach bar around.
You two are awesome team and are absolute professionals and the best at your craft!!!
Thank you we are leaving here with the best memories that we will never forget.
Until we meet again, Much Love
PS- You must come to visit us ok to.

-Tracy (nutmeg lover)

June 2019
shit show 2019- not a writer but we love you soooooooo much!!!!!
1-you are the best!
2-Can we take you home ?!!!!!
3-Can't wait to see you again
4-Love you forever and always
- Tracy & Bren
June 2019
shit Show 2019
For whoever is reading this you are about to experience and amazing vacation!! words wont do what is about to happen. Captain Keith and AJ are amazing!!!
To Cap &AJ- love you both and look forward to many more adventures together. You two are such amazing and special people - God blessed this world with with you two!! from wheeler walker to patsy cline- all that needs to be said much love to you both and god bless!!
I will never forget you two nor will my liver!!!
-Nutmeg
June 2019
AJ& Kieth
We want to thank you for bringing back a happy memory for Karen and I and helping us create a new memory with our family. The accommodations the food and the company were all first class. The BVI is a magical place that will hold a special place in our hearts.

-Ruben& Karen
May 2019
Thank you so much for such a wonderful adventure! Dominic and I will always treasure the memories we made here in the BVI and you both helped make it happen. We've had an amazing family trip filled with laughter and love. Thank you for being part of it and making it extra special!
PS, Send a cookbook our way when it's ready!!!!
-Dominic & Erin
May 2019
May you always sail with Euphoria. We so appreciate the great conversations, excellent meals, amazing cocktails and so much more. Our cups truly runneth over. Many thanks to Captain Keith and chef AJ for sharing stories, we will never forget the wonderful time on Euphoria. Amazing trip with amazing people. Thanks you from the depths of our hearts.
- Ruben, Karen, Erin and Dominic
May 2019
Well...what nice things can I say? The Food ?...Mediocre. Service?... Fair. Entertainment>.... much Improvement needed :)
It's been a lovely cruise... Ke Ke and AJ thanks you doesn't really cut it but we will say it none the less. Thank you both. A fun filled delicious entertaining and fabulous trip it was. Our only wish would be to be able to spend some more time with you both on Euphoria. Until we meet again. take good care of yourselves. as you did us. You both are little rays of sunshine. We were so lucky to met you both.
-Mike, Anne, Ralph & Cindy


May 2019
There are not more compliments I can give to the most incredible 5 days spent aboard Euphoria to celebrate my 40th Birthday. The Food from AJ the attention to detail, service and sailing from captain Keith was out of this world! We will never forget the moments of this trip and Keith& AJ will be in our hearts forever. If we could we would pack you both up and take you home with us. I Fee so grateful to have had you guide and feed us through this amazing adventure. Than you from bottom of My Heart.
-Sara
PS Thanks for everything Keith and AJ love the trip and your hospitality was amazing!! Cheers Enjoy the lucky hat
-Brian

May 2019
thank you for an amazing vacation adventure & dream trip! You both made us feel like family and wanted guests in your home. I will never forget our time wit you all the amazing food, drinks & laughter.
Please come visit us in Cali. you will always have a place to rest your head and we will share many more laughs, good food and drinks.
Until we meet again.
-Spakle Fish
Sneed Yacht Charters.