Sneed Yacht Charters.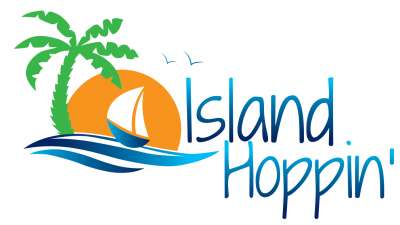 ISLAND HOPPIN' GUESTS COMMENTS
April 2023 BVI Charter
This was our second trip on Island Hoppin and the trip was simply outstanding. Starting with the staff Dean and Yana they covered every detail from making us feel at home for the week. The boat itself was very comfortable and has all the water toys to enjoy the ocean and beaches. Dean is a certified PADI scuba diver and he provided a quick refresher for me to renew my PADI credentials and before I knew it we were exploring super cool caves and sea life at the ocean floor. Yana's cooking and mixology of drinks kept us happy and kept the party going from sun up to sun down. Both Dean and Yana have an interesting background and we enjoyed sharing stories about the different places we are from and places we have been. The route that Dean set us on took us to some of the most beautiful islands and beaches in the Virgin Islands and we fell in love with at least 10 places. Our favorite was the Baths beach on Virgin Gorda. In general a truly amazing time and one of the best adventures ever.
January 2022 BVI Charter
The Very Best! – Captain Dean and Chef Yana were perfect hosts and companions for our vacation. They were in touch with us before we arrived, set up the transfers, read our information sheet and prepared accordingly, planned an itinerary that aligned with our preferences, professionally managed customs, were flexible with meal planning to accommodate our plans, Captain Dean knew all of the great places to go in the VI, Chef Yana prepared gorgeous, delicious meals each day, and they were always a step ahead in their preparations for the next event. In addition to providing outstanding professional services, they are absolutely delightful! Dean and Yana are welcoming and kind. We enjoyed talking with them about many things and their passion for nature and conservation shown through. During our sail, we had a secret marriage proposal planned. Dean recommended the perfect spot and coordinated the day so that we had a fun day scootering and snorkeling on Anegoda and then he met us at the end of the day to film the surprise proposal with his drone and brought chilled champagne for the toast. Yana set a beautiful table and prepared a lovely dinner. These two made this event super special and memorable. We absolutely love Dean and Yana and hope that we are able to book another charter while they are crewing Island Hoppin' charter.

This was a no-hassle, no-worry vacation from start to finish. Just perfect! Highly recommend this charter!

June 2022 USVI Charter
Kaycee and Jack,

Thank you for such a memorable week. Words can not describe what a fabulous trip this has been for us. We have wanted to take this trip for 10 years . You have both and the trip exceeded our wildest dreams.The food, the scenery, and the company were top notch! We appreciate you both for making it a trip of a lifetime for our families!

- The Uhls + Copes
April 2022 USVI Charter
Jack and Kaycee and Island Hoppin!

Way to work hard, but make it look easy. You cant be this successful unless you do really care for other people. The vibe of the trip was so chill yet very professional chef, boat captain, divemaster, smiles, and laughter every day. Cant really think of anything to improve.

Thanks for the trip of a lifetime!
- Chris
April 2022 USVI Charter
Jack and Kaycee

W O W
enough said

- Martin and Deanna

Jack and Kaycee
thank you for being as warm and welcoming and as beautiful as the seas you sail. Forever grateful. And a special thanks for being such an inspiring and confidence building dive master!
- Deanna
January 2022 USVI Charter
Thank you Jack and Kaycee for introducing us to the beauty and fun of the USVI. Each day brought a new adventure - snorkeling in uninhabited coves, hiking into the petroglyphs, or sailing past so much natural beauty. Jack is an expert captain who managed the boat exceptionally well. Kaycee kept us well fed with an incredible menu of gourmet foods. We felt so well taken care of. Island Hoppin' is an incredible charter experience and we are leaving with amazing memories!

The Adams!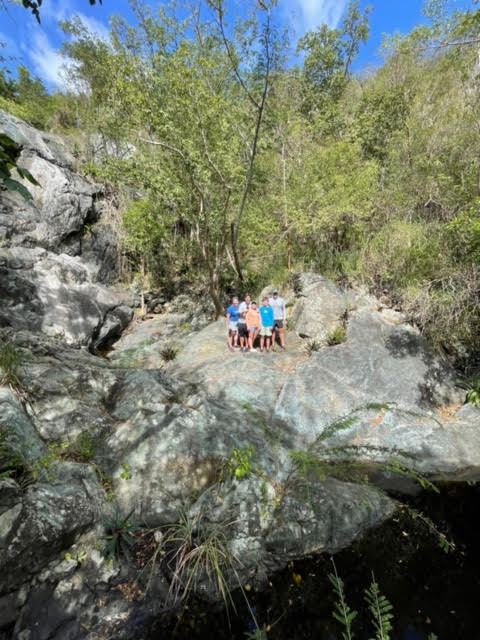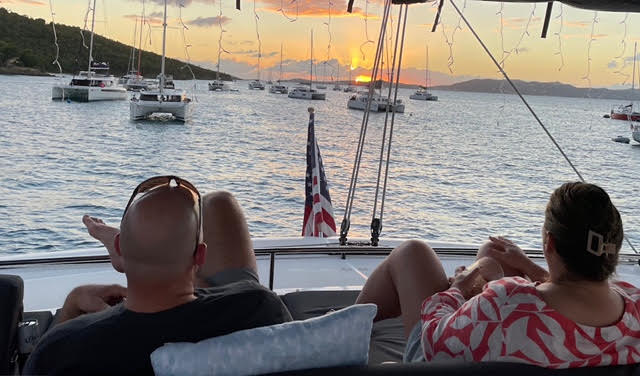 January 2022 USVI Charter
We cannot thank Captain Jack and Kaycee enough for making our week of sailing in the USVI the most memorable vacation of our lives! Each day was filled with a new destination and the gourmet food was unbelievably delicious! Island Hoppin' is a beautiful boat and the hospitality that Jack and Kaycee provided went above and beyond what we ever expected. It was a dream vacation that these 4 couples had been planning for over 2 years. When we postponed a year ago because of COVID, we were so disappointed, But.... it was definitely worth the wait!!! Thanks again for everything! We have so many memories of this great week!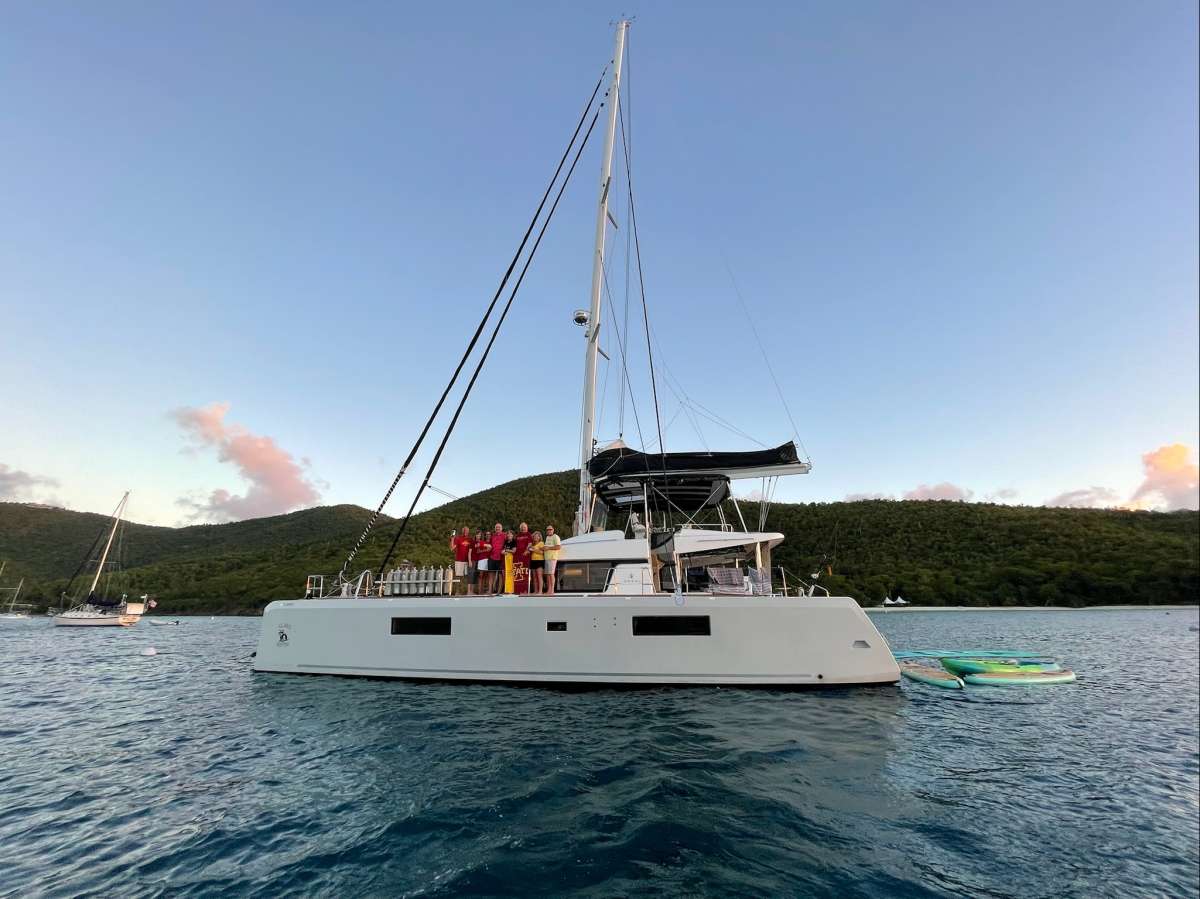 Christmas USVI Charter 2021
Our family gifted ourselves a Virgin Islands trip for Christmas, but we also got a surprise Christmas gift; and outrageous week of memorable first time experience on Island Hoppin with Captain Jack and Chef Kaycee. The meals were gourmet quality preparations of fresh fish, prime quality meats, sauces, and accompaniments that easily equalled any fine dining restaurant. Captain Jack's knowledge of desirable Virgin Island destinations made each day a new adventure! Best of all Jack and Kaycee's hospitality mentally made us feel welcome and simultaneously well served. A great trip on a great boat with fantastic people!!!

The Berfelds!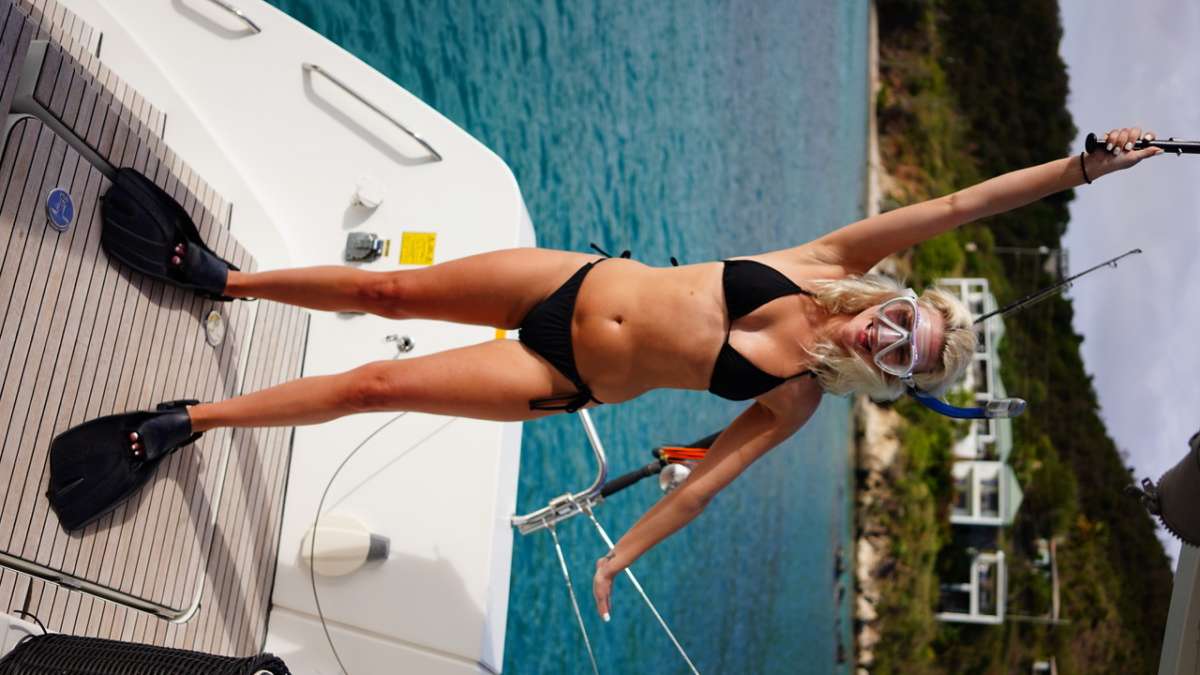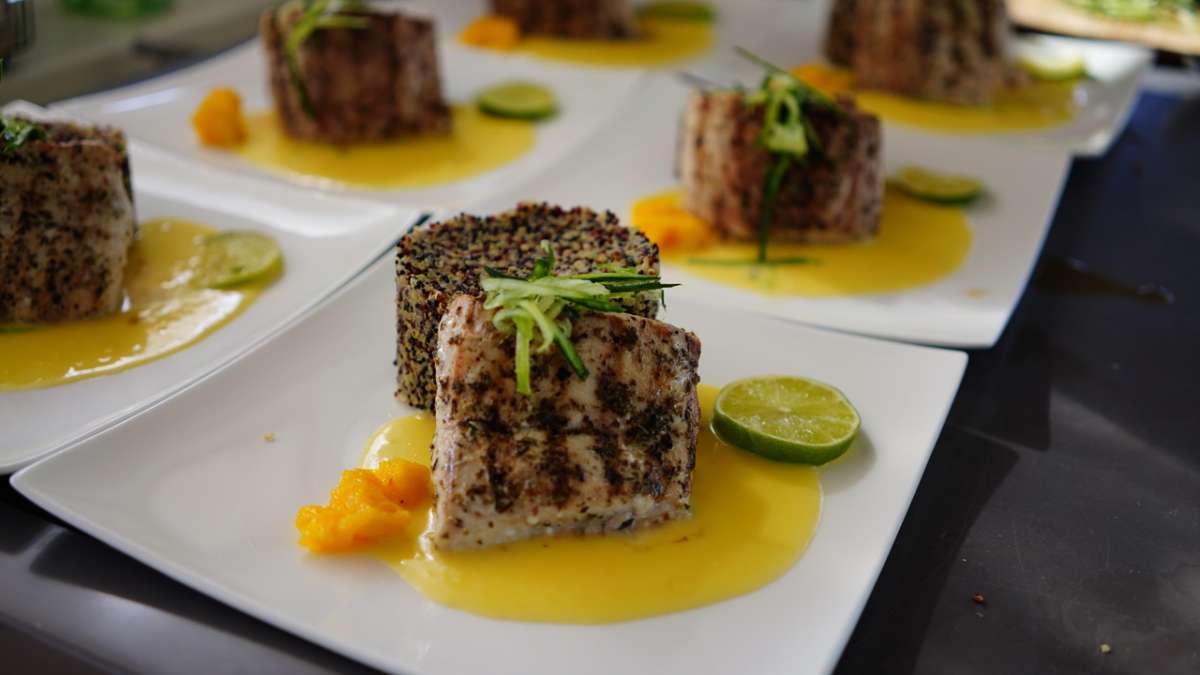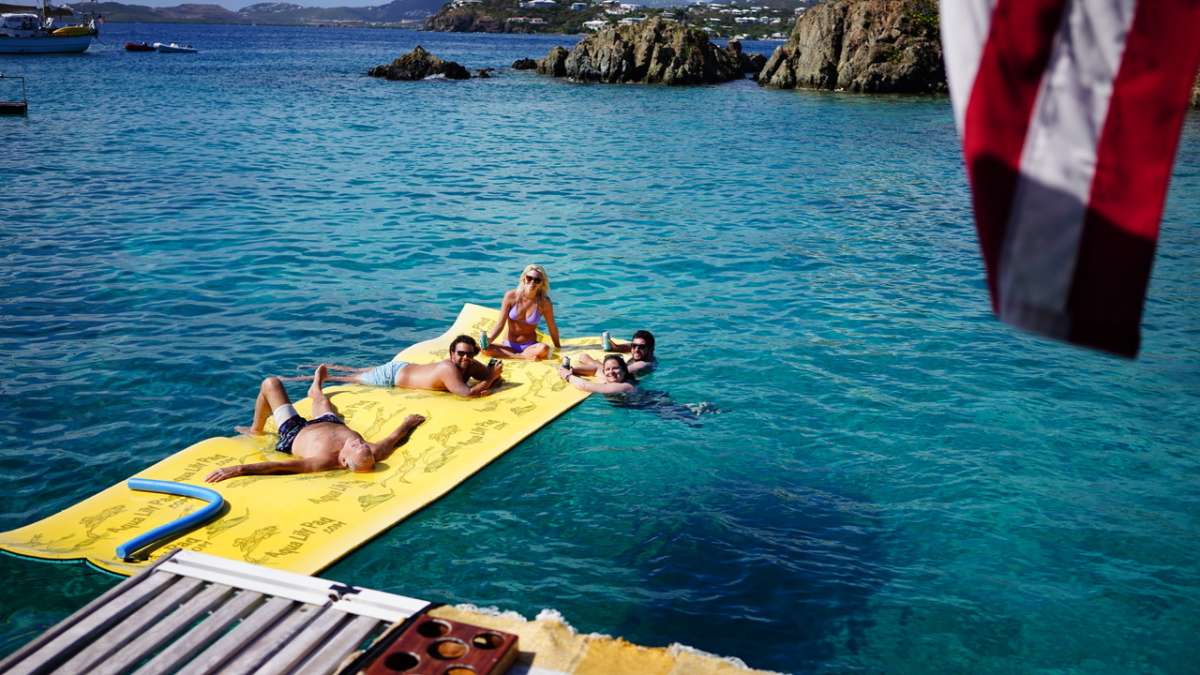 December 2021 USVI charter
We had an amazing time! It goes without saying that the scenery was outstanding and the catamaran superb.

Captain Jack and Kaycee were fantastic hosts. They went above and beyond to make sure every day was a great day! They were extremely flexible and gave us options each day. They both have a great sense of humor and put up with our cheesy jokes. Kaycee did a wonderful job making sure our food preferences were met and every meal was delicious. They were gracious, kind and so very accommodating. Best of all, they made us feel like family and we will forever remember our time with them.
In short, we had an outstanding time on an amazing boat with fantastic people!

A&S
DECEMBER 2021
Dec. 2021 USVI Charter
My wife and I have never taken a vacation like this before. We booked this trip with our friends several years ago, and it was originally scheduled to take place in March 2020. A day before we were flying into St. Thomas, the world shut down due to COIVD and our trip was postponed. Needless to say, we were extremely disappointed.

They say things happen for a reason. And while we didn't know it then, this delay turned out to be a true blessing! I honestly do not believe there is a better, more perfectly matched team to "handle" our group than Captain Jack and Kaycee. And I say "handle" because we can be a handful.

Jack and Kaycee were extremely personable and made us comfortable and relaxed from the very beginning of our journey. They both were knowledgable and professional, and it was evident from the start they wanted us to have an amazing vacation specifically tailored to our wants/desires. They had complete command of their responsibilities and ensured all safety procedures were followed - seamlessly taking great care of the catamaran and us. Their knowledge of the Virgin Islands helped us pick destinations that made our trip memorable.

Island Hoppin' is a wonderful catamaran. It is well maintained and the decor and amenities made it feel functional, yet homey at the same time.

Now at the end of the trip, I truly feel as though we connected with Jack and Kaycee in a way I never would have expected. While our time here on the catamaran is done, I'm excited (and a bit jealous) for future guests who get to experience the Virgin Islands on Island Hoppin' with Jack and Kaycee - they are in for the best trip of their lives.

In closing, I will say this vacation completely exceeded our expectations. We are already making plans to book our next trip!

T&M
DECEMBER 2021
Sneed Yacht Charters.