Sneed Yacht Charters.


CREW PROFILES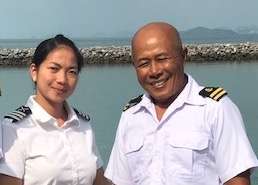 Title
Name
Nation
Born
Licenses
Captain
Joe
Philipinnes
1962
Chef Cook
Thong
Thai
0
Number of Crew: 6
Languages: English & Thai
Crew Profiles:
The Captain Joe, probably Asia's most experienced delivery captain before he captained Silverlining on around the world circumnavigation .Highly experienced , highly skilled and a very pleasant persona. He is also a qualified engineer and speaks good English.

The Chef "Phong" is Thai has a great deal of experience as chef on superyachts in Thailand . He has an extensive repertoire of delicious dishes. He is an accomplished chef and will take into account your individual preferences and taste when preparing dishes specially for you.

The Ship's Hostess Realyn Paglinawan is Philipino . She speaks fluent English and is onboard for over 1 year
She is the picture of commitment, not only in terms of housekeeping, joy, work ethics and service, but also to the safety and comfort of any journey. Her cooperation with Captain Joe goes beyond a normal working relationship and is almost like that of family members. Realyn is the glue that makes the experience on Silverlining more than the sum of its parts: from providing impeccable service to the passengers, over 'running a tight ship' in housekeeping and coordination, to helping the crew out with sailing duties where required.

Realyn has accumulated a broad experience on long sailing charters, both in Thailand and in neighboring countries such as Myanmar, Indonesia, Singapore, Malaysia and the Philippines. She has consistently gained plaudits from her guest, and no doubt: with her outstanding attention to hospitality and positive mood, her good command of English and her extremely personable character, I am convinced she will make any journey all the more memorable - and provide the 'secret sauce' that makes for fond memories, months and years after debarking.


The Officer "Saman" i

The First Officer "Joerex " has been with us now for nearly 2 years, and is a pleasant hard-working young man who is only too happy to help you with anything you wish, in addition to his ship duties.
Sneed Yacht Charters.