Sneed Yacht Charters.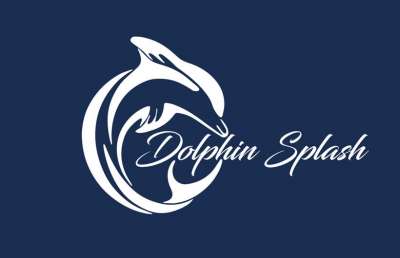 DOLPHIN SPLASH GUESTS COMMENTS
May 2019
May 18-25
Incredible trip, wonderful hosts. Pevon every meal you prepared was Awesome!!!
Andrew your knowledge of the islands, sailing and sense of humor will be memorable and carried on as best we "sailors" can remember.

Thank you, Thank you
We highly recommend this trip over and over.
Karen & Rick

Hats off to the Dolphin Splash crew, young, mighty and utmost professional! We are so happy with all they did to truly make this a wonderful vacation. We are blessed with this opportunity to live on a comfortable vessel with sailing experiences daily. Andy and Pevon's appreciation for what they do helped to create a FANTASTIC and memorable BVI experience. Mission accomplished, we loved all the stops we made from JVD to Virgin Gorda and the secluded secret bays were our favorite. Our route was a winner. Thanks for working together on 'what to do next' and including us in the team spirit.

Where the wind blows us
Keleen & Tom


May 2019
May 10-16
Chartered a week on the "Dolphin Splash" catamaran. The boat was in excellent condition after a complete refit following Irma. The 44 foot cat had plenty of room for our family of five adults. We were picked up in St. Thomas and then sailed to the BVI's. It was nice not having to go through customs at the airport because we arrived in a US territory, and it is less expensive to fly into St Thomas than Tortola.

We had the best crew in the Caribbean. Captain Andy is an accomplished sailor who preferred sailing to motoring (not always the case on charters). We could do as much or as little actual sailing as we desired. He knew all of the great anchorages and was very familiar with all of the shore attractions. Unbelievable what a great diver and snorkeler he is. Biology background gave him immense knowledge of the undersea life. He is very safety conscious and I felt very comfortable with my family diving with him.
Pevon was equally amazing. Her meals were awesome. Three hot, gourmet meals a day, plus appetizers and drinks. Everyone in our household are foodies, and we all raved about the meals. Wine selection was better than I anticipated. Liquor was all top shelf. It's my first sailing vacation that I did not lose weight. Pevon is also a reliable first mate and assisted with the sailing of the yacht. Both had charming personalities and made the vacation awesome. My family fell in love with them and a few tears were shed at goodbye. I would sail with Andy and Pevon again anytime.
Again, Best Crew in the Caribbean!

April 2019
After Charter review
Overall Rating: 5
5 being the highest 0 being the lowest

1. Was the crew friendly and accommodating?
Capt Andy and Pevon were exceptional, warm, friendly, professional, and took care of everything our group required and more
2. Was the yacht comfortable and clean?
It was spotless and well maintained, beds were comfortable, linens high quality, and water sports equipment is very good shape
3. Was the yacht well ventilated?
Yes, and air con ran beautifully at night.
4. Was the food good and well presented?
Pevon is an excellent chef. My wife is gluten free and my youngest daughter Vegan, and she was able to create amazing meals with fine dining presentation
5. Did you like the area you sailed?
Spectacular, the British Virgin Islands are special, we sailed from Tortola to Anegada to Virgin Gorda and stop at the most beautiful coves and beaches along the way, plus some great bars such as the Soggy Dollar.

March 2019
Thanks so much to Captain Andy & Chef Pevon for giving us an incredible 7 day cruise through the BVIs. We all had an unforgettable time, especially my 14 year old nephew, who enjoyed doing so many new things.
The Dolphin Splash is a fantastic boat, comfortable and spacious, the food was consistently incredible and the Scuba diving was thrilling along with the rest of the water sports. To top it off the great conversation with the knowledgable crew was among the highlights of the trip.

Thanks for everything , we hope to sail with you again soon!!

The G Family
Tulsa, OK & Memphis, TN

February 2019
Dear Captain Andrew and Chef Pavon,
Thanks seems an inadequate word for all you have done, all you have provided, and how fun you made this week for us all.
Captain Andrew, you are an outstanding sailor and navigator, master repairman, great free diver, super host, excellent dish washer, great mentor, true leader, tireless worker, terrific bar tender, strong, brave young man. You have numerous talents that will make you successful throughout your life. And you are just one intelligent and fun guy to talk with and be around. You are always thinking ahead.
Chef Pavon, we have eaten around the world, been on the best cruise lines, enjoyed meals in 5 star restaurants, and been served beautifully through it all. You exceed all that. Your creativity in cooking, the variety, the customizing for the kids, the mastery of your presentations are all incredible. We were amazed daily by your mix of foods, spices, decorations, and patience and ease as you did all this ON a boat! Incredible. You also will be most successful as you pursue your culinary career with all these talents. And you were also the best crew a captain could have. AND you constantly cleaned up after us, made beds, scrubbed the heads and did all that without us being the lease bit interrupted
You two have been fun to get to know, to sail with, to play a game or snorkel, to share a meal, or to share a conversation. Many Many Thanks.
I don't think you know how special this trip has been for us all. Truly a lifetime memory making trip. We will all never forget it. It exceeded all our expectations and as I said Friday night, I can't think of any areas of improvement. Keep up the good work.
So THANKS has to be said as inadequate as that word is. But also Best Wishes, Fond Memories, Love to you both, and Fair Winds.
Until We Meet Again,
Hank, Tina, Andy, Grant, and Grace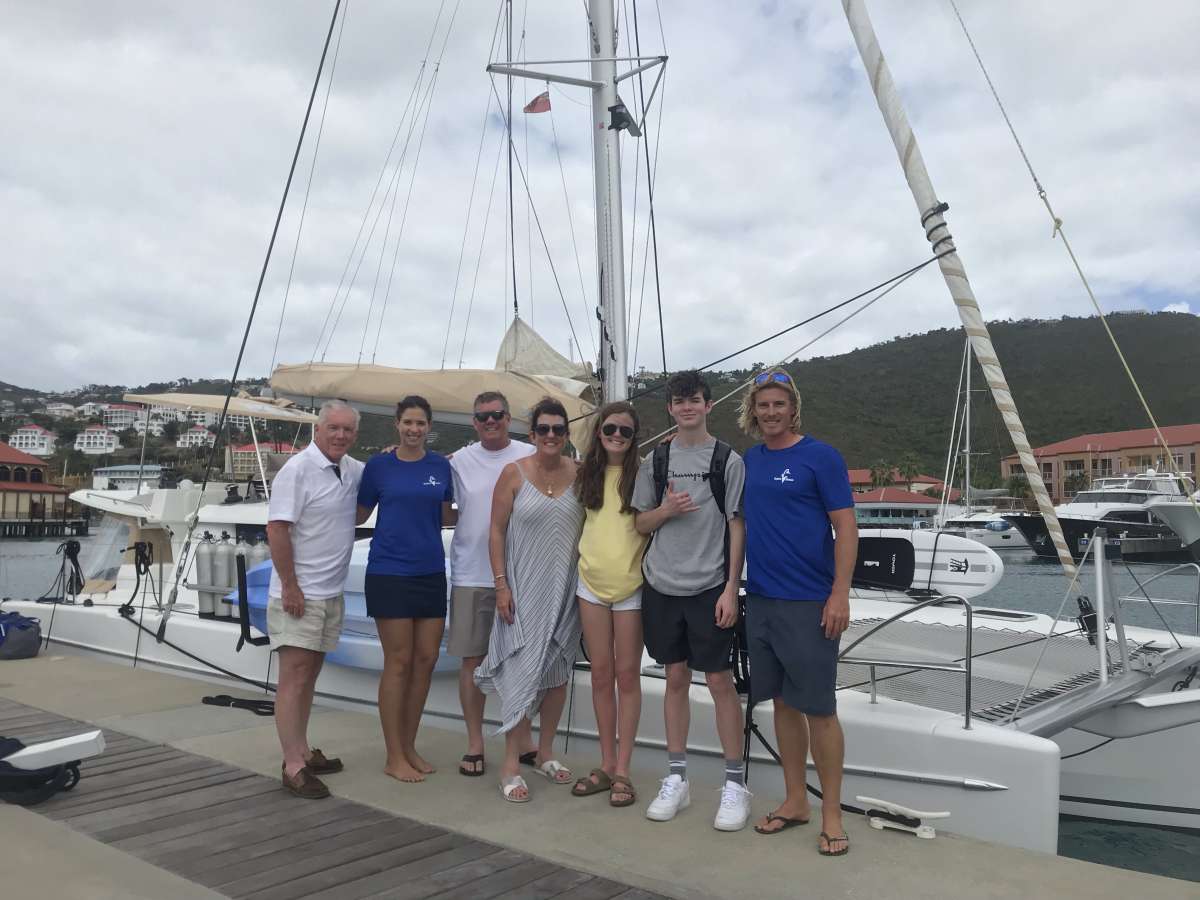 February 2019
Master Captain Andy & Chef Extraordinaire Pevon,
It was so wonderful getting to meet each of you. Meeting people like you guys is the reason I love to travel so much. I will cherish these memories forever! Thank you so much for making this trip so amazing.
I hope to see you guys in the future! Love Trae

Thanks guys for the wonderful memories! We really enjoyed ourselves and meeting you two. Continue to chase your dreams & enjoy life!
You both are great at what you do. Steve & Kim

February 2019
Note to broker -
I just wanted to let you know that we had a wonderful time on the Dolphin Splash! Andrew and Pevon made the trip! He is very knowledgeable, and Pevon is an excellent cook! They were absolutely wonderful. I would highly recommend them!! Our daughter that is 24 years old just really clicked with them and really enjoyed their company. It was a very special trip. We would rebook with them in a second! Thank you for getting us set up with them.

Christmas 2018
Thanks Andrew and Pevon for an extraordinary week in the BVIs!

Captain Andrew is an amazing guy, an extremely skilled captain, with a tremendous passion for the sea and for sailing. He is charming, smart and fun to be with. He is precise, punctual, flexible and responsive to his passengers' desires and preferences. Andy took us on a great hike on St. John and led us on terrific snorkel tours. One of his best attributes — we sailed (rather than motored) everywhere. On previous charters, sailing was the exception to the rule — it always seemed to be a big deal to unfurl the sails. Not true with Captain Andy — he loves sailing and —at our request — involved us in the process, patiently teaching us as we went, including a thrilling and unforgettable afternoon as we manned the helm tacking in the Sir Francis Drake Channel. Always smiling and never too serious, Andy loves to laugh and to engage in interesting conversation on virtually any topic — from music to movies, from ecology and the environment to global politics. We just can't say enough good things about him. Could he improve his Jenga game? Well sure. But his pirating skills are first rate!

Pevon is sweet and charming, and prepares great food. Her breakfast specials, sundowner snacks and desserts were especially good, and something we looked forward to every day! She is a joy to be around, and it was fun to have her come snorkeling and tubing with us!

We will sail anywhere and anytime with Andy and Pevon and the Dolphin Splash, and we cannot wait for our next adventure! Arrrrrrrrgh!
Cindy & Larry, California
June 2018
We absolutely loved our stay on Dolphin Splash. From the second we stepped on board, we felt relaxed and welcome. The food was fabulous and we really enjoyed all of the incredible knowledge of sea life we learned from Andrew. Such an incredible family vacation and we can't wait to sail with them again!

Love, The Shaws

June 2018
A huge thank you from the Douglas Family for our wonderful journey this past week on the Dolphin Splash. Each leg of our journey showed us something new and many times magical. Other than the little mishap on the moped, which I am sure we will laugh about for years, every minute was pure fun and full of wonder and amazement for the beauty of the BVIs and the food and the drink (Including the "Dolphin Splash-Tail") were delicious. How Aj does all her magic in such a small kitchen, who knows?

You both were very flexible & kind throughout. Best of all, we feel we've made some new friends. We truly enjoyed getting to know you both and spending time with you. We hope you will stay in touch and share your journeys with us once in awhile.

Wishing all the best to both of you, now and always
Ali, Scott, Chris, Andrew

May 2018
What a competent, Charming and thoughtful Captain! You must be the best in the BVI. So glad you were our Captain. (Tom – Great ride, FISH ON!)
What a Chef! First Class meals served with elegance and grace. Thank you Thank you! You two are an amazing Couple. Thanks again.
Barbara & Tom


Thanks from all of us for the adventure of a lifetime. We've never been so pampered.
AJ – Your meals, your smile, your personality added so much to our beautiful vacation, your constant attentiveness was amazing.
Andy - Your competence, calmness and concern as well as your smile and constant awareness of what we needed was truly treasured.
Cynthia & Jim

What can we say? Other than we had a great time and much of that is attributable to you both. And weather, cocktails, food, chat time etc. Best of luck from your great friends.
Susie & Don

Frank's Charter
Dear Broker
The crew on Dolphin Splash are wonderful, you were right I did like them very much the food was wonderful. Our grown up children liked them as well. I am so sorry we had to cancel the trip 5 days into our 10 day charter because of hurricane Harvey. When we get home we will set up a charter for 2018-2019 well out of hurricane season. The rest of our trip was at our hotel but that was not as exciting as one board. Thank you for making us take out trip insurance. J.K.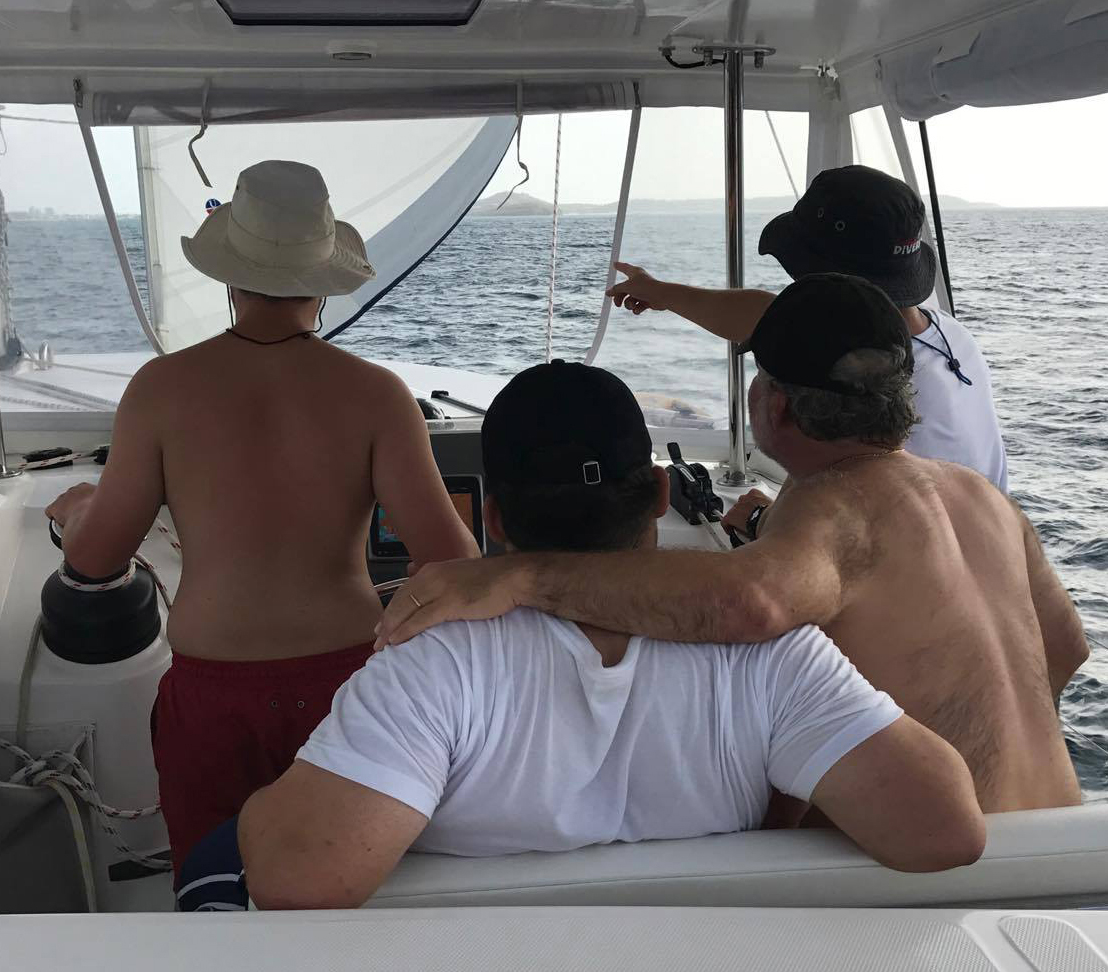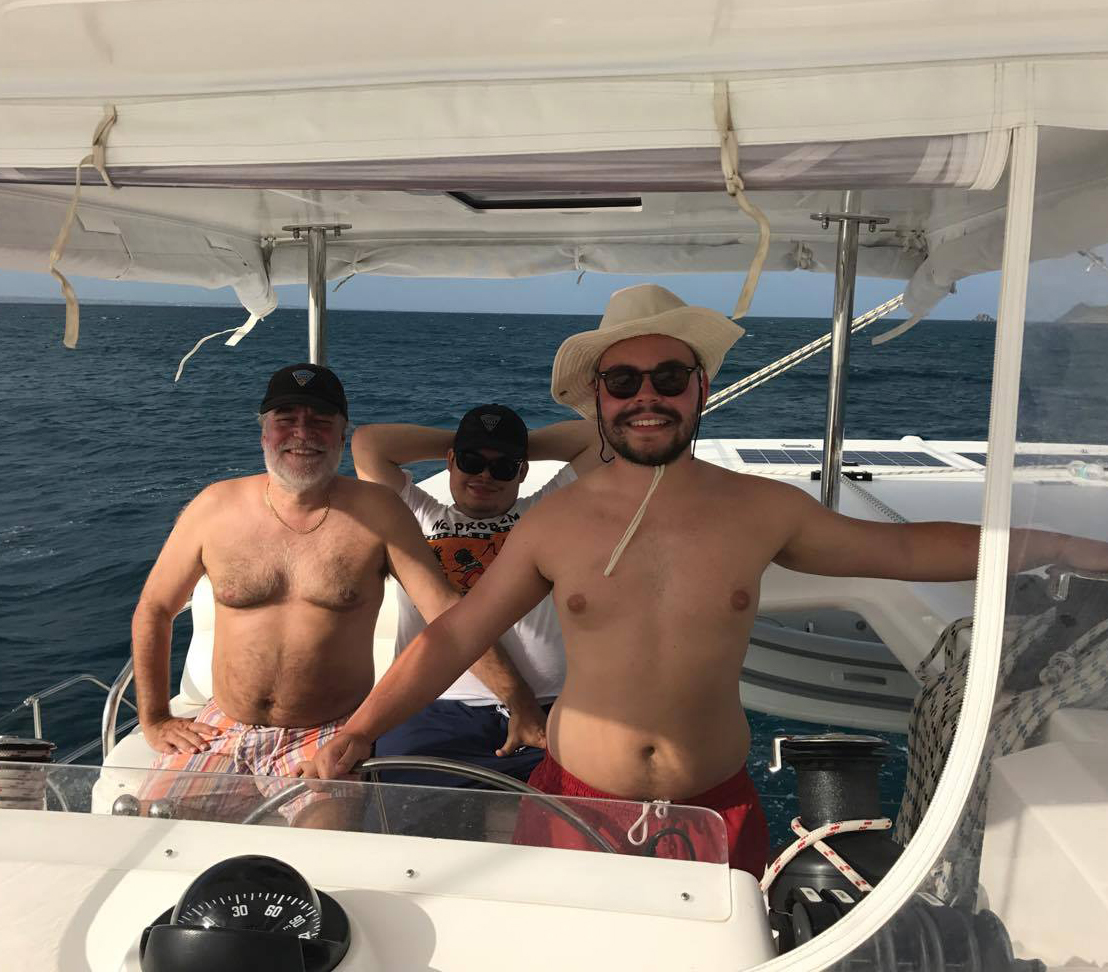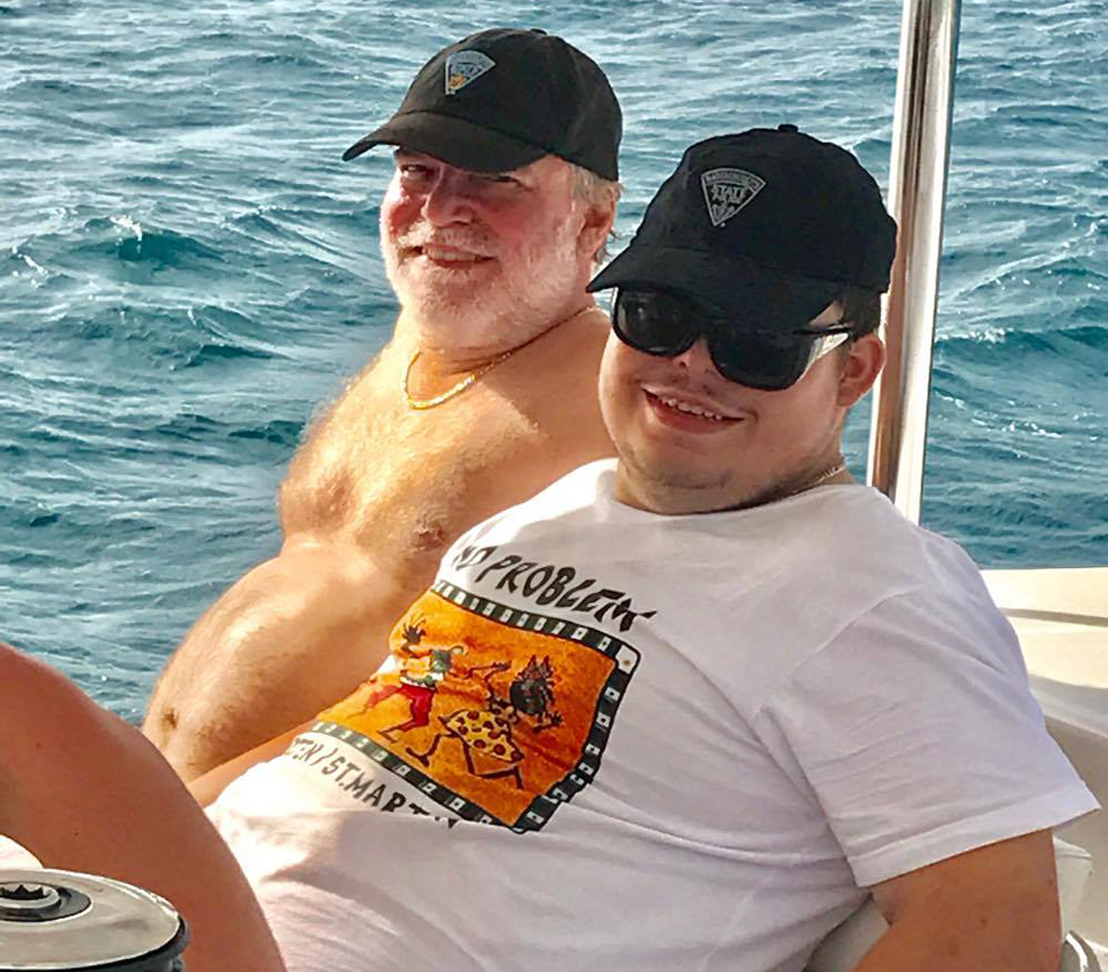 Beyond Perfect
Dear Broker,

Beyond perfect is all Wendy and myself can say, I do want to let you know that the crew are/were beyond perfect for us. Wonderfully congenial from the very moment we met them, we knew this vacation was going to be amazing. Fantastic service, we were never without anything and all meals were set around our schedule. All of us enjoyed their company from the moment we met them both. They attended to our every need. The food was absolutely fabulous.
They make a great crew complement together. Dolphin Splash is exceptionally comfortable, with plenty of space for 6 guests to socialize. Being brand new means she is beautiful, we were all most impressed. Dolphin Splash was kept spotlessly clean when we were on board and the crew seemed to be constantly cleaning & wiping surfaces to keep her in top condition.

This was the vacation of a lifetime and we would love to do this again. It will now be very difficult to have a normal vacation at a beach! Nothing will compare.

Wally and Wendy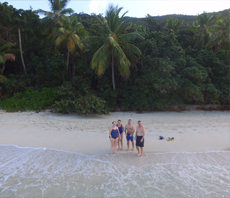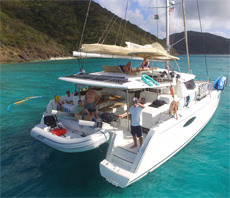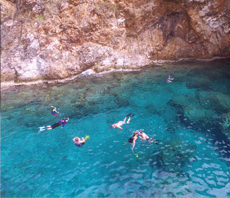 Holidays Charter
Dear Broker
I wanted to write and tell you what a great job the crew did on the DOLPHIN SPLASH. WOW, You made a great recommendation. Both were very professional and interacted with us and our kids well. I was a little concerned about the 44 ft. but the way it was constructed made it feel a lot bigger, we especially liked the sky deck.

Thanks for the great trip, I don't think it could have been any better!.
Hope to work with you again.
Happy New Year,

Pam and Bob
INDIANNA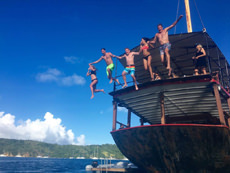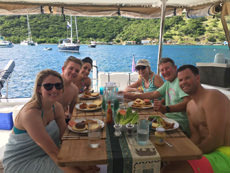 Best Vacation Ever
We enjoyed a terrific family vacation on Dolphin Splash! Actually, one of the "best" vacations we ever had.

Captain Alan and Amy were wonderful hosts! They showed us all the best of the British Virgin Islands. And along the way served us 5 Star meals, were focused on our enjoyment and worked very hard to make it one of our best family vacations.

We have been fortunate to experience wonderful locations and lodging in many great locations across the globe. However, I must admit this was simply one of the "best" vacations we have ever had. I attribute this to the quality of the crew and the boat.
They make a special team and as a result of their hard work they turned a very good holiday into a great one.

Well done!

William and Mary D.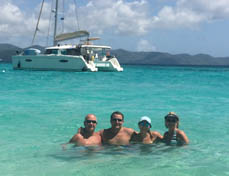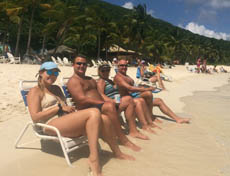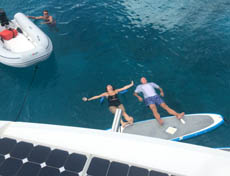 June 2016
Dear Broker:

Dolphin Splash is a beautifully designed boat. Air conditioning worked wonderfully. Dining area was fantastic. Front lounging area and top deck (sky lounge) were fantastic for taking in the views. The condition of the boat is flawless. The crew worked tirelessly in making sure it was immaculate.

I could write two pages on the Captain and crew. They are two of the nicest people Ive met in my life. In a matter of a couple of days, they felt like part of the our family. They were continually going above and beyond to suggest and provide anything and everything you would imagine. They were always smiling, , very witty, and had all kinds of ideas to make our trip a memorable one. Our kids adore both of them and did not want to leave Alan and Amy. I have to admit that I was surprised at their young age, when we arrived. It took no time at all to realize that they are both very capable of handling anything on that vessel. Their knowledge and skill were a joy to watch.

The meals were all fantastic. I have no idea how Amy was able to create all of those dishes in that kitchen. All of us ate things we never would have tried at home and absolutely loved them. Amy must have spent an inordinate amount of time planning all of the meals. She varied them tremendously, Alans grilling was stupendous, and the food was so good that we overate at very meal. It was as good as any fine restaurant in the world. She is no amateur.

Without a doubt, yes, we would charter this yacht again.


Darrin & Sandra K.
June 2016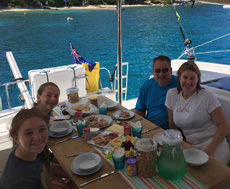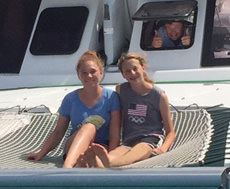 Sneed Yacht Charters.