Sneed Yacht Charters.


CREW PROFILES
Title
Name
Nation
Born
Licenses
Captain
Andreas Voulgaris
Greek
1983
British Coastguard, RYA Yachtmaster Ocean no limit, Internat
Cook/Hostess
Mary Manta
Greek
1980
Number of Crew: 2
Languages: Enlgish
Crew Profiles:
Captain Andreas Voulgaris
Andreas is a holder of the RYA's Yachtmaster Ocean and he is also certified for GMDSS Long Range Operations, firefighting and lifesaving.
He speaks English fluently.He grew up in a family business that is owning, chartering and providing assistance to yachts. Since the year 2000 he has been working as skipper in sailing and power vessels all around the Mediterranean. His first charters started with sailing vessels in the Sporades islands (Skiathos, Skopelos, Alonisos) located in the Northern Aegean sea. He stayed there for 2 years doing weekly sailing trips as captain. Then he moved to Athens and Lavrion where he got to know the Cyclades islands (Mykonos, Paros, Syros, Santorini etc) very well. The Last 6 years he is based at the Ionian Sea where he acquired perfect knowledge of the area's attractions and weather conditions. Over the years and countless miles he has developed excellent seamanship. He is a people pleaser and has a great sense of humor.
Andreas has two daughters, In his spare time he is an enthusiastic road cyclist and a swimmer.

Cook/hostess Mary Manta
We would reasonably consider Mary more of a chef, rather than just a cook! This truly passionate professional whose experience as chef in restaurants dates back to 1998, specializes in fish and seafood and her dishes combine traditional Greek cuisine with influences from other countries. A certified confectioner trained by Greece's most famous confectioner, she has been spending winters writing recipes, devising menus and consulting on menu contents for major culinary magazines and electronic editions in Greece as well as for a national broadcast cooking tv show. Remarkably she been a menu advisor and staff trainer in 2015 for oceanmarketgrill.com, Long Beach, California. A photographer and sea protection volunteer in her free time, Mary HACCP certification on food handling and safety also certified for her nautical skills as she is a licensed powerboat operators' instructor. She is 37 years old and despite her many talents and job opportunities she always chooses to go on charters during the summer as she cannot help not spending the summer hosting people at sea, this is the one thing she finds professional fulfillment in.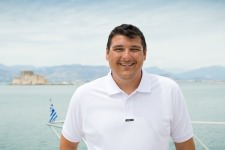 Andreas Voulgaris
Captain
---
Mary
Cook/Hostess
---
Sneed Yacht Charters.