Sneed Yacht Charters.



SEA SENOR GUESTS COMMENTS
Day charter for family of 4 on 8th August, 2018 out of Nassau
Everything was amazing! Captain Brayan did a great job. I will certainly pass the good word on about your company. Thanks for all your assistance!
T.R.

4th April, 2018 Day charter
Clients had a wonderful time on Sea Señor, by the way, said it was the highlight of their trip.
Broker
3rd March 2018 - day charter
The trip was fabulous. The boat was well stocked and better than advertised and Brayan and Renee were great.

Many thanks to you for organizing a wonderful day for my group. When we come back we hope to do it again. Also please let me know if you would like me to leave a review on social media.

Mike"
29 December, 2017 Christmas Day Charter
We had a wonderful time. The captain and his assistant are very courteous. Food and beverage were nice too. We enjoyed the trip and would love to go back some other time in the future.
June 2015 Charter
Another great trip. Would highly recommend Sea Senor to any family or party traveling in the Bahamas.
29th May 2015 - day trip
We had a great trip. The boat and crew were awesome. Thank you for making that happen for us.
20 April 2015 - day charter with 12 guests
The charter yesterday was very enjoyable. We had excellent weather for almost all of the day. The Captain and the crew member were polite and courteous and the service was very good. The food was generally good and there was more than enough for everyone.

I am a satisfied client and would have no hesitation in recommending the yacht to other persons for a one day charter. It was a good find for a Rose Island excursion. M.
2nd April 2015 - Day charter
We took the Cat out yesterday and the trip was fantastic! I can not say enough good things about Capt. Brayan and his mate, an extremely fun young man. The food was great!

Note from broker:
Please extend my thanks to Capt. Brayan and his mate for taking such great care of my clients. Sounds like they had a blast on SEA SENOR! I appreciated your help in making this happen.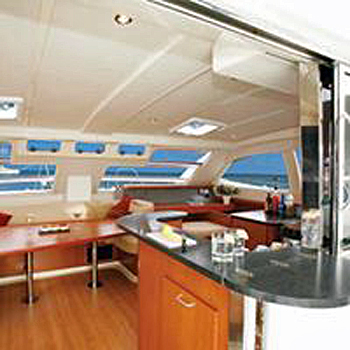 March 18 - Nassau, Couple from Spain (24 hour cruise)
The boat was absolutely great and we enjoyed a lot! We could not sail as there was not enough wind but the motor sailing was also very nice....We look forward to going back soon!
Best regards, Kyra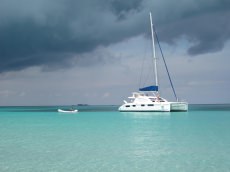 22 March 2014 Nassau
Everything was great. Crew did a great job. Food was prefect!
C.
17 March 2014
Sea Senor' and the crew, Captain Obie and Perez met my expectations.
The iphone/ipod compatible stereo was not working properly. They did not have plug for iphone 5, only iphone 4 and ipod. Most importantly the crew was great and what a beautiful boat. Thanks again,
Jennifer
Guests Aboard
Guest photos from Bahamas charters.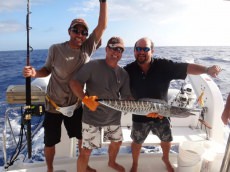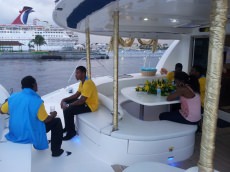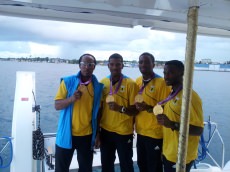 7 April 2013
Thanks again for all the help. Crew, boat, and destination were all FANTASTIC. I would 110% take this boat out again. Rebecca was great. Food was perfect. No complaints at all, except that I couldn't stay in the Bahamas longer! Let me know if you need any more feedback, but highly recommend others taking this boat out. Look forward to working with you next time.

Best,
Eric"
Sneed Yacht Charters.