Sneed Yacht Charters.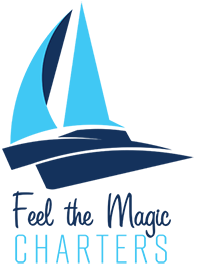 FEEL THE MAGIC GUESTS COMMENTS
June 2019
Name: Richard
Yacht: FEEL THE MAGIC with Hank Hampton
Charter Dates: June 16-23, 2019
Area Cruised: Virgin Islands
Overall Rating: 5/5

1. Was the crew friendly and accommodating?
Captain Hank and Brenda were the PERFECT MATCH for our charter. It would be hard to find a more accommodating and caring crew. All our needs were met, some even before we knew we had them! EXCELLENT IN ALL RESPECTS, AND VERY RESPECTFUL OF GUESTS!

2. Was the yacht comfortable and clean?
Yes.

3. Was the yacht well ventilated?
Yes.

4. Was the yacht's cooking and cleaning equipment sufficient?
Yes, and then some. The kitchen provided us with everything we needed. Brenda was so helpful guiding us where we needed to be in her kitchen. She was AMAZING.

5. Did you like the area you sailed?
Visiting little quiet coves off St John was a first time experience for us, what a delightful treat that was for all.

6. Additional comments on your charter?
Captain Hank(and Brenda) is/are the Jewel in the Caribbean! His/their unwavering energy, planning, upbeat Spirit, expert sailing abilities, communication with guests and crew, and activity directing were outstanding. But his crown jewel was his MUSIC!!! He has a song for EVERYTHING! There was never a dull moment! Brenda and Captain Hank provided us with the perfect week of sailing, entertainment and HOSPITALITY! We took our granddaughter on this trip as a graduation gift, she told us she is spoiled for a life time of vacations, this one was so perfect.



Exceeded our expectations...
Our charter was the trip of a lifetime. My dad and step mom had the best time and it really exceeded their expectations.
The boat was really clean and well kept. Everything we were expecting, if not more. They really take care of the boat and much of it was brand new.

Captain Hank and Chef Micheale were awesome. Hank has a great personality - funny, sarcastic and Micheale is sweet, soft spoken lady who works her tail off. She did whatever it took to make us happy. Let me tell you, my brother in law is not the easiest person to deal with either. He's very high energy and they handled him well. Hank was a great Host and shared valuable information about our stops. He toured with us and even took us out to a few bars at night after my dad and step mom went to bed.

Micheale's food was REALLY good - there wasn't a bad meal. She made breakfast, lunch and dinner and presentation was beautiful. She made some killer grouper picatta, fish tacos, burgers and Asian tuna. We asked for fish most of the trip and she delivered. Hank made the best ribs I've ever had. He said it takes 2 hours just to make the sauce. I can't imagine how hard it is to cook 3 meals per day....plus lots of drinks in between. Micheale made cupcakes for my birthday and was eager to ask what I wanted for breakfast, lunch, etc....

Luckily, we were able to take them to dinner one night and bought them drinks at stops along the way. Poor Micheale didn't make it off the boat very much - between cooking, cleaning and being first mate - she's just one amazing lady. Oh and she cleaned our bathrooms and made beds daily! Of course, most of us made ours because the thought of her doing one more thing made my stomach upset.

The greatest part of the trip is their personalization....it's like an added bonus. Hank has a chalk board and he writes sayings from the previous day - usually very funny. Our theme was 6 states, 6 drinks and 6 itineraries (making fun of our varying personalities). He'll play music correlating to to next destination...ex: on way to Jost Van Dyke he plays Kenny Chesney's "Somewhere in the Sun" - brings back so many fond memories....leaving JVD he played "It's That Time of Day."
To top it off, they were taking pictures throughout the trip and the last day made a picture video for us to take home and also had a local artist configure a map of our trip - outlining all of our stops in order. They also sent us home with koosies, water bottles and beach bags.

One last thing I just thought of - they are owner/operator of this boat, it is their home. They made us feel welcome in their home. There were a lot of rules up front but we understand why. I don't know how they allow strangers into their home so often. It takes special people to do that...

Thanks so much for helping us book the trip that made lasting memories!

Amazing Trip April 2017
Thank you Janet! Steve!
It was an amazing trip. We really appreciate the hospitality and expertise you brought forth to make us comfortable and safe and providing our families with many memories. And Janet, thank you for being an AMAZING cook, you have made this trip more enjoyable for everyone. All of your food has been great.
The Sherry's and McNeil."

New Years 2016-2017
Thank you so much for our fantastic trip. It was all that we hoped for and more. Food was delicious! Water was beautiful! Bootcamp was hard but awesome :-) Capt. was top notch, thanks Hank. Micheale was lovely, beautiful inside and out. Thanks for all the memories we have now because of you. Also, as with any trip of this size, there is always a situation, thank you for handling with class, much appreciated. Hope to see you both again. Tom and Robin

----
This was th trip you dream about... for the last seven days I could "feel the magic"... this was a awesome trip. Thanks for a job well done Hank and Micheale. Wayne and family
----
This trip was so amazing! The food was spectacular and Micheale did an awesome job with gluten free meals! The islands were so pretty - it was better than the pictures you see in the magazines :-) Have to come back soon, thanks for the bootcamp Hank! Tom, Kean, Logan, Taylor and Regan
Dec. 22-29, 2016
"Feel the Magic" definitely lived up to its name. We were blown away by the
beauty of the islands and the waters. But mostly we were in awe of the Magic
of Hank and Micheale. With Hank's amazing skills at the Helm and Micheale's
seemly effortless ability to serve up delicious meals, truly met every need
we had. Truly an unforgettable trip. Thanks for all the great Memories.

Erin, Ted, Emily, Julia, Abby and Sam Conway

May 2016
Hi Laura!
We are sadly at St Thomas now. We have had a fabulous trip and Feel The Magic was perfect... We cannot say enough good things about Hank and Micheale! We feel like we are all one big happy family and we are truly looking forward to another visit!
If there is anything you need from me to encourage others to use them, each of us are happy to do so! 5 star trip from the food, sun, and fun! Our captain and his first mate are number one in our books!
Thank you again for connecting us!
Ann Clary

Best,
Laura
"The trip could not have been better."
Hank and Micheale were unbelievable. We could not have asked for anyone better. Micheales cooking is world class. Hanks knowledge of the area and the sea was also world class. The boat was very clean and well stocked with everything you could imagine. From toys, to drinks, snacks, etc. I cannot imagine that there is a better Charter than Feel the Magic. Just because I could not think of one thing they could have done better. It was truly a trip of a lifetime. Jeff S.
"Wow! What an awesome family vacation we had!"
This could not have been possible without the two of you. You both made us feel comfortable from the start, like we were already friends. Snorkeling was amazing, fishing was fun a barracuda, a bone fish and almost a tarpon. You did a great job assessing our likes and finding just the right places to moor for our activities. Thank you both for everything wonderful food, great sailing and the best of the Virgin Islands. We started as strangers and leave with two new friends. Debbie S.
"What an absolutely wonderful trip"
You two are just amazing. We had so much fun with you. Keep the disco ball charged up, we will be back! Terri O.
"It was truly life changing\"
Thank you some for an awesome trip. Hank thank you for taking us snorkeling and allowing me to skipper the boat. You helped me discover an aspect of life that I want to follow in the future. Micheale thank you for all the amazing food. Katie C.

"The kids are already begging to come back and Feel the Magic again next year"
Thank you for an amazing introduction to the BVIs and all of your hospitality aboard Feel the Magic. From the moment we first set sail out of Red Hook, it was one adventure after another. As a family we were able to totally immerse ourselves in the island vibe and forget about cell phones, TVs, homework, and the cold weather back home. Thanks for everything! Scott C.
"By far the most fun crew we have ever had the pleasure of knowing"
I think I might have found my own kind of paradise (Zac Brown Band). I couldnt have put this trip in any other words. Captain Hank & Micheale, you guys couldnt have been any more fun, and although I have been to the BVIs many times, you still made it interesting and amazing. Evan V.
"You guys rocked!"
I am trying to summarize this weeks events, but I cant. Ill just say Thank You for making me feel so comfortable. I was truly at peace this week. Thank you for bringing us to the beautiful sites and for cooking us the most delicious meals. Mary Ellen C.
"Life was good today!"
I was sitting on the back of the boat with my feet dangling over the water with a drink in my hand and not a care in the world. Life was good today! Hank and Micheale took great care of us and from start to finish I felt safe, full J and relaxed. As Hanks playlist rolled on, I wanted to stay on the boat forever. Andrew V.
"We look forward to our next adventure together."
Where do we begin and how do we thank you enough for giving our family one of our most memorable times together. The boat was great, the activities were a blast, the food was unbelievable, but the best part of the entire trip was getting to know the two of you. Your efforts to make sure we were comfortable and entertained went way beyond our expectations. The daytime adventures were fantastic, but the best part of each day was enjoying one of Micheales wonderful dinners, then being entertained by DJ Hank. Mark M.
"Thank you for an amazing trip."
This trip would not have been nearly as much fun without you guys. Micheale you food was awesome and I could not wait for the next fantastic meal you were making. Hank you are a great Captain that always had fun things to do on and off the boat. Both of you were always there to help with whatever I needed and you were always fun to be around. Troy V.
"We were honored to have been your first guests of the season."
What a week we had. You guys made a great team. We felt right at home on your yacht. We were definitely Feelin the Magic. Hope you enjoyed us as much as we enjoyed you, because we will be back. Wendy & Tim
"There is really no way to describe this trip other than magical!"
Hank was an amazing captain and chaperone for our many adventures day and night! Micheale was an amazing chef, every meal was fantastic! Best of luck in the future, cant wait for our next trip. Dustin V.
Sneed Yacht Charters.