Sneed Yacht Charters.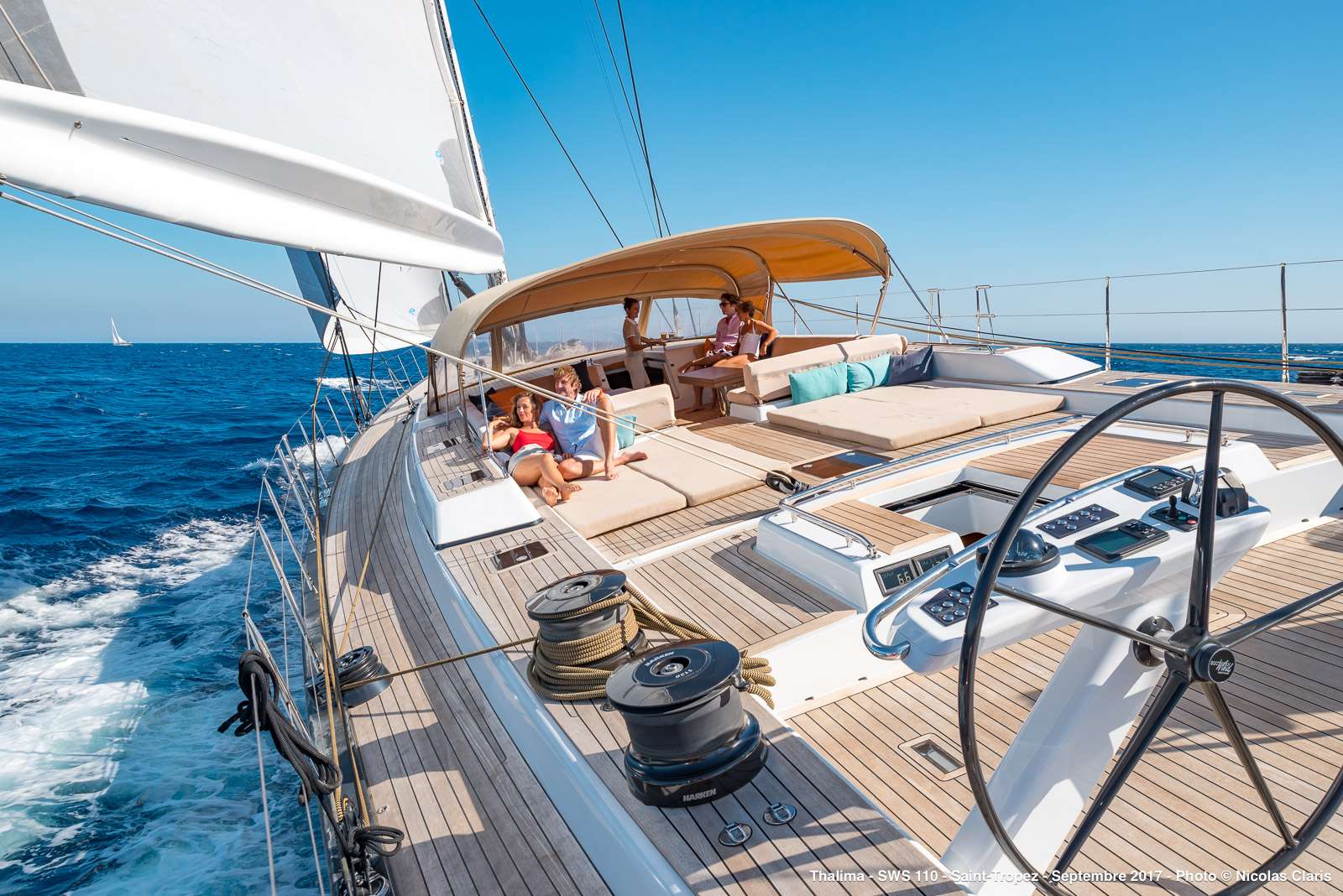 THALIMA, is a luxury sailing yacht, first in the new SWS 110 series, designed by Nauta.
Although THALIMA is a true bluewater cruiser, she has also been designed for high sailing performance, to combine relaxing cruising and exciting sailing. The forward cockpit allows plenty of space for guests to relax while the crew is manoeuvring. The retractable anchor means the foredeck and bow are clear of obstruction.
THALIMA has a modern, spacious and bright interior. It has been achieved with a choice of premium materials, colors, shapes, and light source. The décor is simple yet with an elegant contemporary edge and a welcoming atmosphere. The yacht has air conditioning throughout, and Wi-Fi connection on board.

Anchorage takes on a new dimension and will please guests with the spacious cockpit, well protected by a bimini. Guests can rest or enjoy the large choice of water toys.
The 5 crew members welcome passengers to a great layout which includes a spacious master suite with full beam bathroom (including a bath) with light therapy.
THALIMA is geared towards performance cruising and racing, and offers the ultimate experience for unforgettable holidays with family or friends.

Photos of interior and sailing: Courtesy of Southern Wind Shipyard.
Photos of cockpit and sailing with guests: from the photograph Nicolas Claris.
Accommodations:
THALIMA offers accommodation for up to 8 guests with :
- A Master cabin: with a king-size bed and a full beam bathroom (with bath, bidet) with led light therapy.
- A VIP cabin: with a king-size bed and a spacious bathroom with carbon-fibre sinks and also with led light therapy.
- 2 Twin bed cabins, both with en-suite bathroom.
In the main interior THALIMA has a dining area, large saloon and a warm TV lounge with U-shaped sofa, flat screen TV and built-in audio system.
Sneed Yacht Charters.