Sneed Yacht Charters.


CREW PROFILES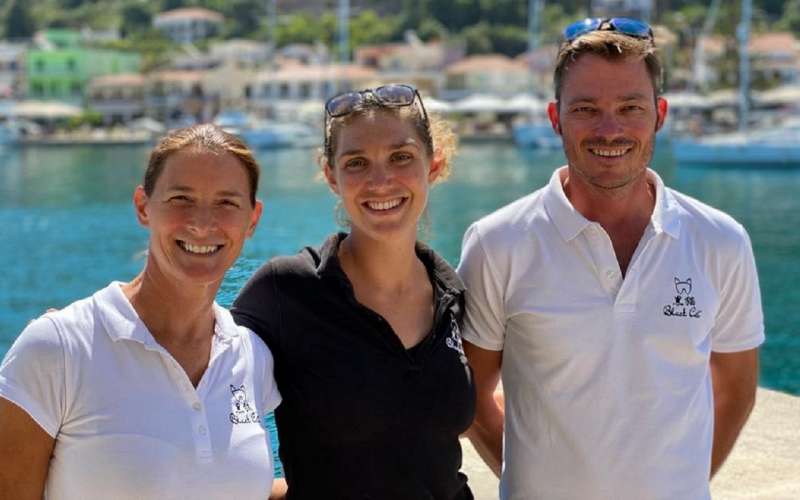 Title
Name
Nation
Born
Licenses
Captain
Sebastien TSCHULL
French
0
CHEF
Pauline BOULAY
French
0
Number of Crew: 3
Languages: French, English, Italian, Spanish
Crew Profiles:
CAPTAIN: Sebastien TSCHULL
French
STCW 95 – PADI Divemaster, level 4 CMAS
Languages: French, English

CHEF: Pauline BOULAY
French
STCW 95 - PADI Divemaster, level 4 CMAS
Languages: French, English

Since 8 years we are sailing, from Mediterranean Sea to Pacific Ocean and we know very well West Indies.
Our shared passion is the sea. We love playing with the wind and sail along the water to discover her wildlife and wonderful landscapes.
What we love is to share these magical moments, a perfect anchorage, sunrises or race with dolphins,…and to offer to our guests an unforgettable experience.
With our great cruises experience we can adapt as close as possible to the desires of our guests.

Sebastien knows perfectly the wakeboard and love learn and frame nautical sports.
For those who like to put the head under water, we accompany who wants for snorkeling. We are both dive master and level 4 CMAS and know very well marine species from Mediterranean and west indies.
Sebastien studied manufacturing plastic and composite. He began to work by producing carbon mast for sailing vessels like one off, race and for famous shipyards. After spending 8 years of manufacture he had decided to focus on sail.
His several navigations, off shore and inshore, and greats knowing permit him to become a Captain.
He gets all his degrees top of his class.
He had sailing on a lot of kind of vessels like mono-hulls, catamarans and trimarans.
As he had many miles on the sea he is prepared and trained for all types of situations. Cruises be held in a climate of trust and security.
His seriousness and perfectionism are exploited to be as close as possible to the expectations of his guests.

Pauline was always passioned by cook. She became cook 8 years ago for the first time on a sailing vessel. She decided to learn also to sail. She passed his captain license, so she can help the captain when he needs.
Each new destination is perfect to learn new recipes. She knows very well French cook but also Italian, West indies, Polynesian, and Asian cook. She especially like to cook fresh fish that she buys on the coast or the best way, the one we fish!
She only works with very fresh products and as possible organic. Meals are always healthy and balanced. But she doesn't forget the gourmand, she cooked also delicious pastries.
She proposes during all day different snacks, sweet or salted, and cocktails or smoothies.


STEWARDESS: STEWARDESS: Oceane FAMERY
French
STCW, PSC1
Languages: Fluent English, Basic German & Spanish.

Oceane has worked aboard a M/Y Mangusta 92 as stewardess for luxury guests in West Med, French Riviera, Sardinia and Italy.
She is very welcoming trying always to anticipate all guest's expectations with sense of detail.
She is very fond of children
She is now happy to join Sebastien & Pauline and is looking forward welcoming guests aboard BLACK CAT.

Sneed Yacht Charters.