Sneed Yacht Charters.



EXODUS GUESTS COMMENTS
January 2020

If you want the trip of a lifetime, this is it! This amazing 58 foot sailboat with its captain and crew epitomizes what luxury charter boating is all about. Our captain Alan, his wonderful "stew" Jill, and the spectacular Chef Louise were attentive to our every need. From rum drinks to all the "toys", island history to fishing, it was obvious their goal was to insure our safety, comfort and fun. Alan is a true professional. He handles every situation on and off the water with competency and skill. Chef Louise prepared snacks, appetizers and meals that rival any we have had in a five-star restaurant. Treat yourself to this adventure, you won't be disappointed!

Susan & Matt

New Years 2019/20
"Dear [Broker}: Both weeks were a great success and everyone enjoyed themselves immensely. Alan is very personable and has the right service attitude for being a charter captain. Louise is a very good chef and we all put on several pounds! Although they were a new team working together, they were an absolute joy to spend time with. You should feel good about putting others on Exodus."

D.F.
Christmas & New Year's Weeks 2019/2020

New Years 2019/2020
"What can we say besides Fabulous and 5 stars for Service Excellence for the crew of Exodus!

We were on Exodus for 2 weeks with two different groups of eight each time and everyone was thrilled and raved about the attention to detail, small touches and pleasant personalities of the crew. My husband and I even said that they shifted seamlessly in working with our 2 very different groups and their needs as we had our "family" cruise with my son and his fiancé and her family and then to our "friends" cruise.

Alan and crew were super accommodating in meeting us in Marigot Bay (St Lucia) and getting all 8 of us on board, where we were promptly handed refreshing cool wash clothes, a welcome drink and shortly after introductions, a brief but thorough safety chat and off we went to our first night of anchoring near the Pitons. We LOVED the huge fly bridge on Exodus and spent a lot of time up there - even had a surprise engagement party with champagne, appetizers and photos! And the 2 huge sun beds at the stern of the boat were daily called for dibs for afternoon naps and book reading!

Alan's a very capable, safe and calm captain, making sure everything was "ship shape" , and always with a smile and friendly conversation. He anticipated when to put out the boat toys (snorkel gear, floaty ropes, paddles boards or skiing / waterboarding) and when to make suggestions for sunset cocktails of rum punches, pina coladas or a new favorite drink!

Louise was our chef and was incredible! She was always in the kitchen prepping something fabulous, including a surprise Carrot Cake for one of our friends birthday! Everyone agreed it was the best carrot cake we've ever had! She repeated 2 dishes during the 2 weeks and only because we asked her to make them again cause they were so wonderful! Every dish was fresh, perfectly seasoned with a beautiful presentation! And her smile and personality were delightful!

And because we chartered for 2 weeks with large groups, we asked for and paid extra for a stew. Jill joined our cruise and was so sweet! She made sure the rooms were tidy, snacks & appetizers and drinks were replenished, towels and sunblock at the ready, and helped out everywhere when needed!

Overall, we'd cruise with Alan and Louise (and Jill ) anytime or anywhere!!! We loved all of our anchorages, water activities, hikes, and local restaurants!!! We felt safe, had tons of fun, and were very well taken care of! Thank you to Alan, Louise and Jill for making our trip so memorable!!!!!"

Doug and Linda (the happy camper)


7th -15th July
Where do I begin other than with descriptive words like…"incredible", "fantastic", "beautiful", "unforgettable" and "accommodating". We are fortunate in that we have been able to experience some pretty amazing vacations including catamaran/sailing experiences throughout our life but our recent experience sailing the British Virgin Islands on the Catamaran Exodus ranks near the very top. Their warmth and friendliness was beyond expectation, their professionalism second to none, the Exodus was probably the most beautiful well maintained catamaran we've ever seen and their attention to detail would live up to even the toughest critics standards. What I cannot speak highly enough about is the special attention, warmth and kindness shown to our 7 year old son throughout the voyage. Everything from cooking him special meals (only those a 7 year old can appreciate) to racing him around at top speed on the dinghy to plotting out our course each day on his own personal souvenir map. Should anyone think this type of vacation is strictly for adults, they are mistaken. We cannot say enough wonderful things about Exodus Yacht Charters.

Jeffrey G.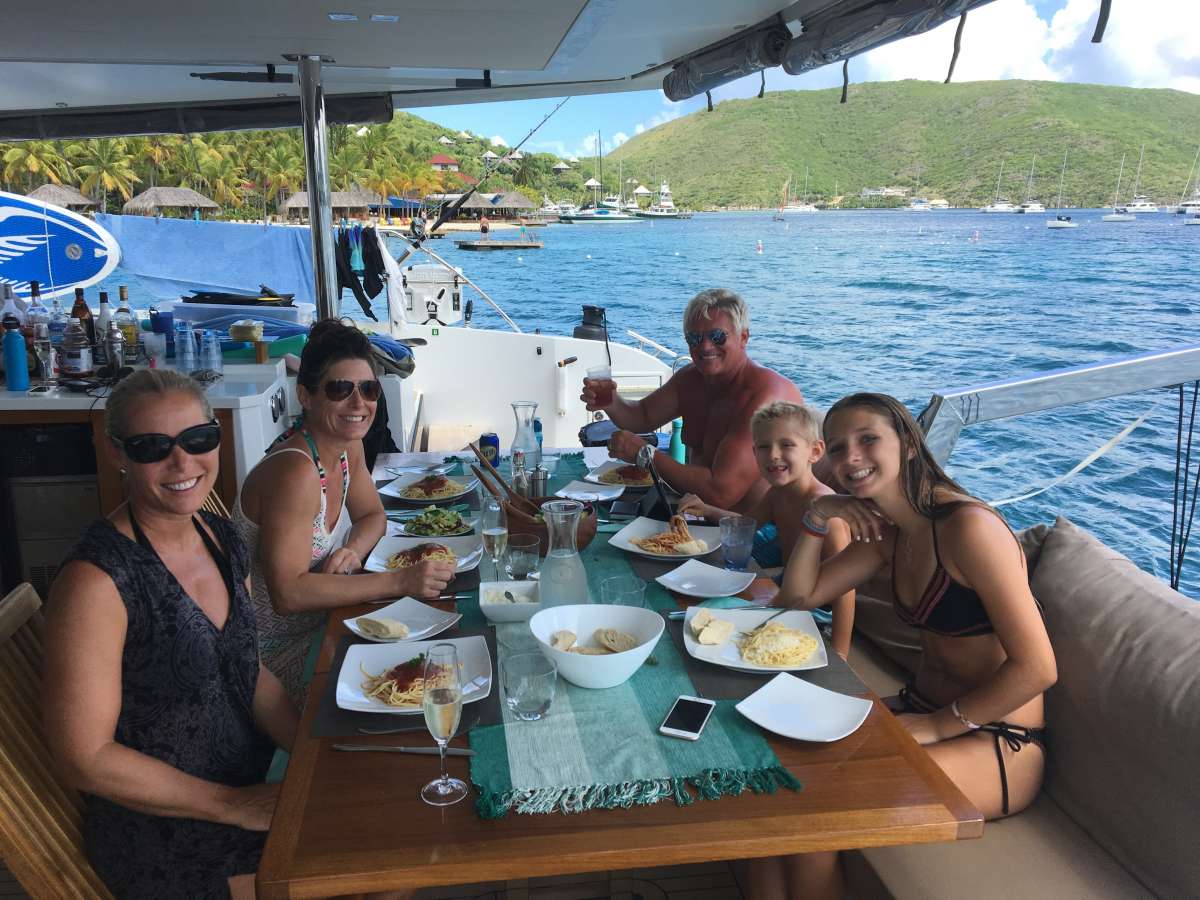 June 2017
Our only experience chartering a sailboat in the Caribbean was 26 years ago. It was not a good one – the crew was intrusive and bossy, and the boat was cramped and messy. So we decided to take our family of 5 on the Exodus for a week in the BVI with some trepidation. Our vacation on the Exodus with Peet and Kate was one of our best ever, and far surpassed all our expectations. Our three boys ages 17 to 24 all agreed, and that does not happen often!

We were very deliberate in choosing a yacht and crew for our vacation, and feel fortunate that we made the right choice. Peet and Kate made sure that our experience on the Exodus was an excellent adventure. First there is the yacht. From the moment we walked onto the boat we knew it was something special. The care Peet and Kate take with the boat is obvious. They keep the boat spotless – cleaning all the bedrooms and baths while we ate breakfast, scrubbing after dinner until late at night. We worried that the boat would feel crowded, but it never did. We could be relaxing on the spacious fly bridge while one son was reading below, and other kids were up front on the trampoline listening to music. The bedrooms are spacious and comfortable, and super clean. The shower and bathroom area is spacious as well, something that really surprised us.

The quality of the food was also a surprise. Kate takes great care and presents each course as an artistic achievement. My kids are not picky eaters, but our family has lots of diverse diets – vegetarians, avowed carnivores, non-fish eaters, etc. Kate managed to please all of us, and there were no leftovers. Her biggest achievement was managing to cook interesting and tasty meals for a VERY picky vegetarian each day without ever repeating a meal. How she did that in a small galley for a week was a constant topic of conversation.

Most importantly, and key to our great week, is that Peet and Kate are great hosts and great fun. We read many reviews and scoured crew bios since we knew the crew could make or break the trip. It only took us a day to realize that we had made the right choice. Peet is incredibly organized, knowledgeable and interesting. He was always calm and answered all of our incessant questions with patience and good humor. He offered options and ideas for destinations, but never dictated – it was "our trip." He showed us the quieter areas of the BVI that we wanted to see, but mixed in beach bars and action for the kids. Kate is so terrific -- always cheery and happy to talk world events with my son while she toiled in the kitchen.

Favorite moments include Peet bringing us coffee at 6:30 am each morning on the flybridge and greeting us with smoothies after snorkeling trips, Kate cheering on my kids as they jumped from the top of the boat, Peet taking our kids paddleboard skiiing using the dinghy, and Peet letting the rope go as our kids drifted far away in the floating island. Instead of wanting to get off the boat, we were always happy to be there. That is probably the very best endorsement.

You cannot go wrong with this boat and this crew. We have already discussed booking our second trip next year and can't wait to go back.
~B.L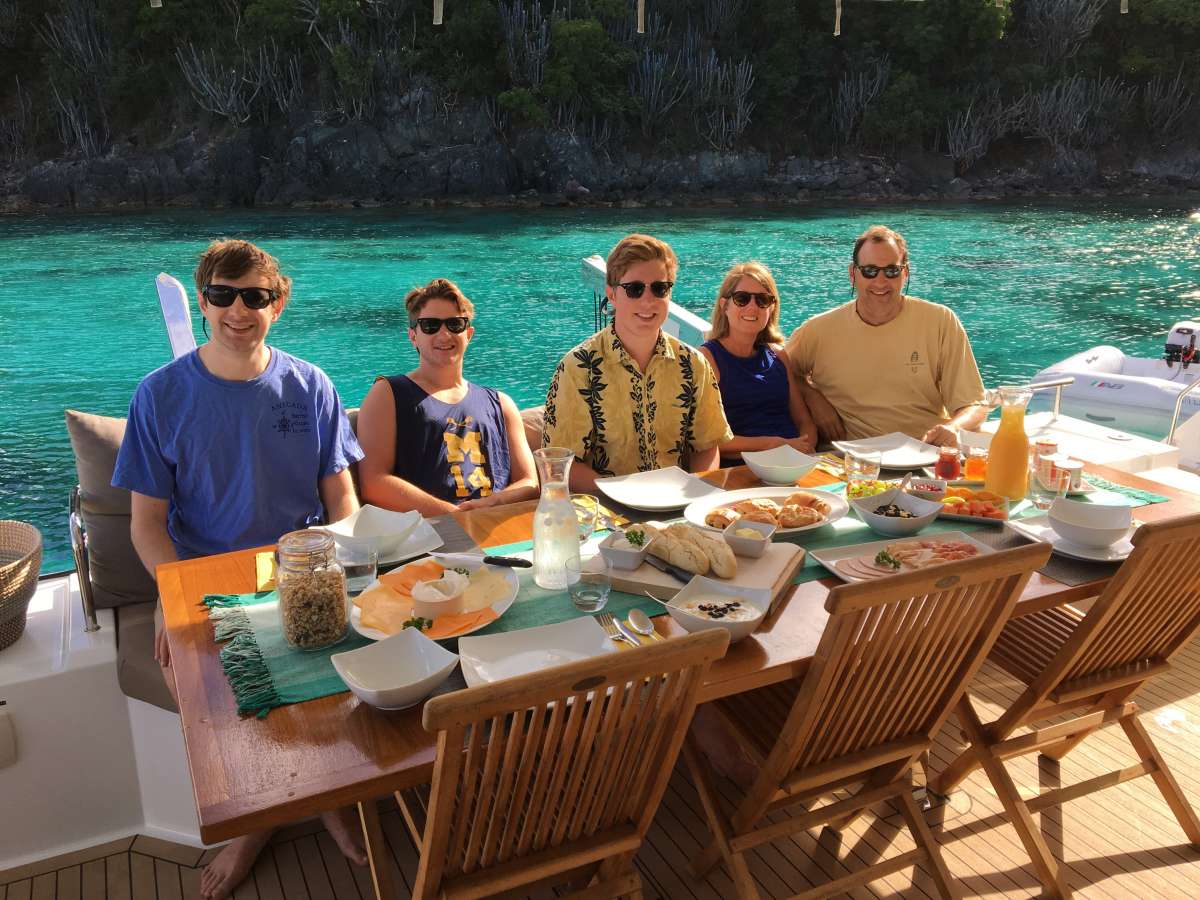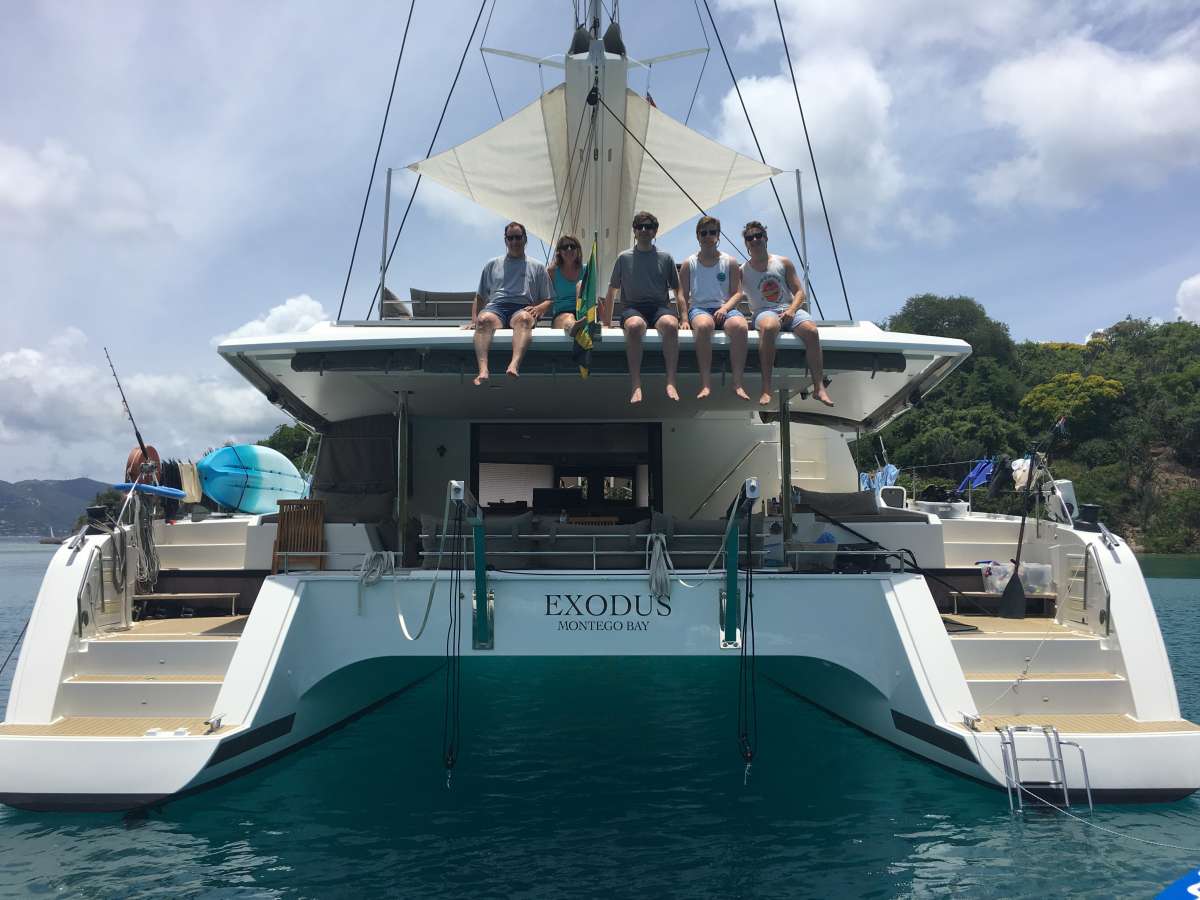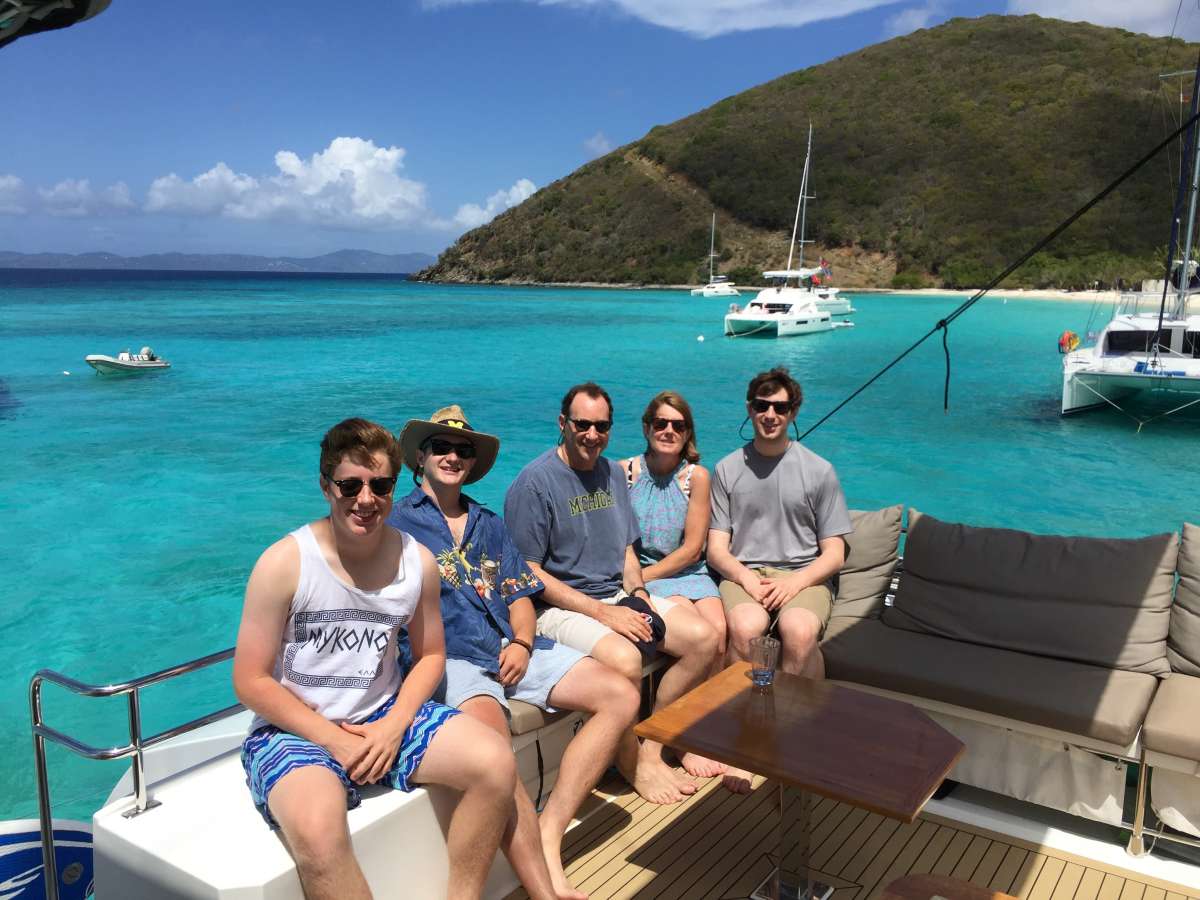 29th April - 6th May 2017
Peet and Kate,

We had a great time sailing with you on the Exodus. It was our first charter and we are sure to repeat. We all enjoyed our time together and Leslie's dad especially enjoyed the sailing and the morning "Geronimo" plunges into the water.

Kate and you had us feeling comfortable from the beginning. Loved our daily sundowners, Kate's cooking, all your great stories and of course, our day at Nikki beach.

Hope you are finding some good spots for bocce ball. We miss you and are looking forward to our next charter. Maybe Grenadines. Will you be in doing charters in the Med next summer?

Come visit us in CA.

Frank and Leslie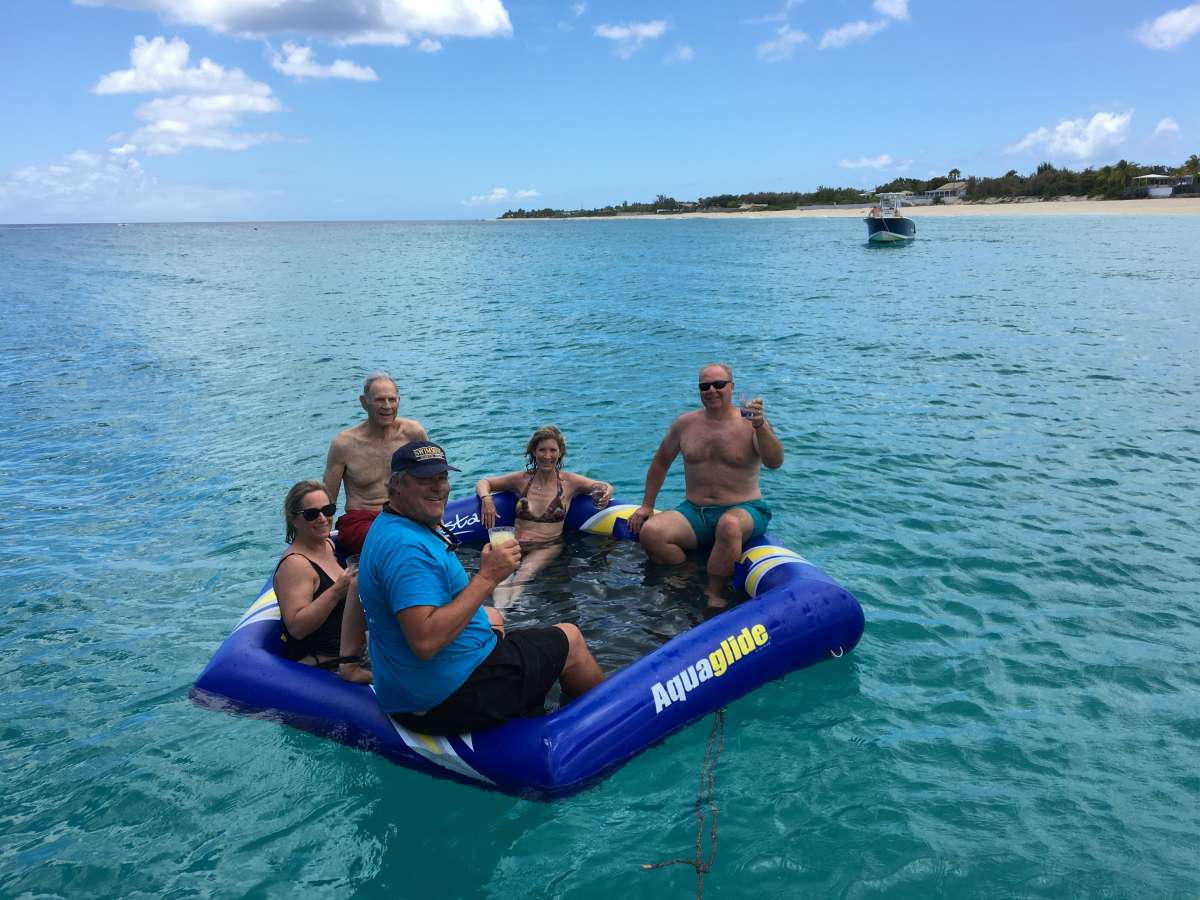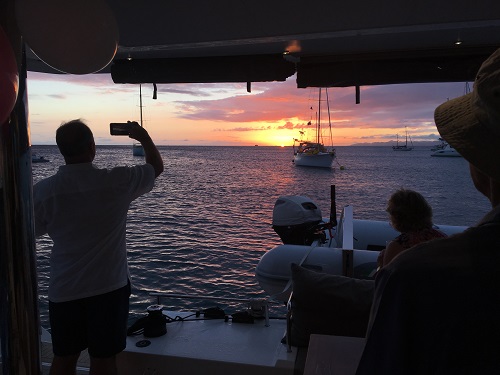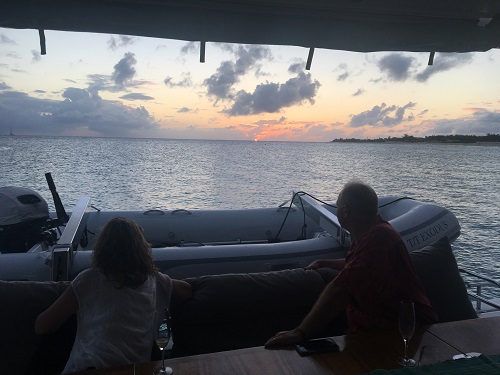 March 2017
Letter to the broker:

I think this trip was one of our best trips ever. I was trying to figure out what made it so awesome...I think it was a combination of perfect weather, amazing scenery, beautiful/comfortable boat, great family time together, no stress getting to an anchorage or mooring field by a certain time (was so remote, so few boats which we loved), easy passages, kids were a great age and got along so well, Grenadines had this old Carribean feel like BVI's 20 years ago, water was soooo blue, wildlife was amazing (saw whales and swam with turtles), etc etc
But it was the crew that put it at the top of our list. Peet and Kate took such good care of us and were so much fun to be around. They seamlessly blended into our group, like old friends -- I never felt like I was tip toeing around them (ie. if the kids didn't want something Kate made - which rarely happened, it just wasn't a big deal) and I never felt uncomfortable asking for something. The food was the best we've had (my dad and Joanne said so as well) -- Kate did a fantastic job of making delicious meals with fresh ingredients that everyone loved. The boys tried everything!! She was also SO great about Sawyer's food allergies and made me feel very at ease. She also worked tirelessly in the kitchen - I've never seen a kitchen more spotless! We loved her sense of humor and just enjoyed being with her.
Captain Peet was the best! He was so fun and laid back about everything -- letting the kids jump from the top of the boat, playing on the trampoline (he made us feel like the boat was really ours for the week) but was also making sure everyone was safe at all times. He too worked tirelessly to keep the boat SO clean and comfortable for us. He planned a perfect itinerary incorporating anything we wanted to do. He brought us to such beautiful, private anchorages - just stunning. The joke was "Cue the....(fill in the blank: rainbow, turtle, amazing sunset, etc)

Favorites were Tobago Cays (water was incredible, swimming with turtles, snorkeling the reef), Petit St. Vincent gorgeous (reminded me of Peter Island BVI), Horshoe Cove (we were the only boat there - gorgeous!), Sandy Island (fun kayaking, walking the beach, etc). Fishing was also super fun! We hadn't done that from a boat we've chartered before. Peet had caught fresh wahoo the night before we got there (YUM) and he and the boys caught fresh tuna (which Peet and Kate sliced into sashimi -- was so delicious! Kate also made amazing fish tacos from it).

We all just really enjoyed hanging out with them (cocktail hour was a fav), swapping stories and laughing a lot. We just adored them. Overall, a fantastic trip -- a perfect 10!

Sawyer had his drone and took some of these pics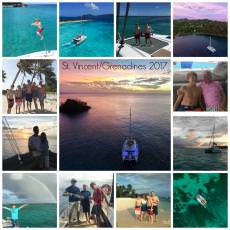 The most incredible, relaxing, fun trip!
We missed you guys as soon as we got off the boat. Where was Kate with the iced coffee at the airport? :)

We got in around midnight, airline lost one of our bags (Bar's this time) but none of us seemed to give a shit because we were still on our Exodus high.

I am making this last pic the back drop on my computer at home.

THANK YOU again for everything!! We had the most incredible, relaxing, fun trip with you guys!

Same time next year, unless we see you in Boston before then.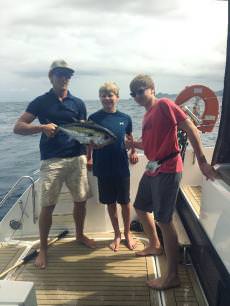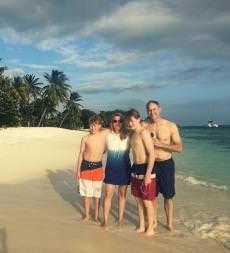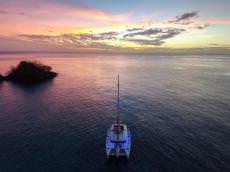 February 2017
Peet and Kate,
We wanted to thank you both, ( and the owner of Exodus), for accommodating our last minute yacht plan. We didn't know what to expect but we were all very happy with the entire trip. For a group that normally sticks to the air, we were new to life at sea but you two made it an easy adjustment. All of the locations we went to had something a little different to offer and were all worth spending some time enjoying.
Peet, we enjoyed all the sailing stories you shared with us and the knowledge you have of the area was very interesting. Having a captain that has the passion you have makes it even more enjoyable. It was nice to relax with you at the end of a long day and just shoot the breeze for a few minutes to wind down the day.
Kate, the meals you made were delicious and we are going to attempt to recreate a few when we get back home. And if we think of any good conspiracies we will be sure to see what your thoughts are haha.
Everything on the Exodus was very clean and comfortable. You two take great care and pride in keeping it clean.
We will be seeing if Exodus is available for future trips and hopefully will be able to have a little more time to plan next time lol.

Wish you two the best and we will keep in touch.
The Williams family

February 2017
The charter went perfect. Peet and Kate made a great team and we enjoyed the whole trip. Her meals were creative and delicious. Peet was a knowledgeable captain with lots of entertaining stories and neat trivia.
The Exodus was a very clean and modern vessel with the comforts of home. We definitely recommend promoting them to future clients.

Thanks again for helping arrange the trip, we were very happy with the whole experience.

Take care,
Patrick

New Years 2016/17
Mac and I wanted to send you a quick note thanking you again for a fabulous week touring the BVIs with you and Kate. It was the vacation of a lifetime and one we will always treasure. I am a veteran cruiser and was very apprehensive about a catamaran trip, but it was PERFECTION! Just wanted you to know how much we enjoyed the adventure and that we are looking forward to going again- sooner than later.

The Exodus is spectacular! She is beautifully decorated and so spacious. It was wonderful having such abundant outside space to enjoy the glorious views. It is obvious that the Exodus is well taken care of and very loved. Each time we came in to a cove, others were in awe. We were definitely the most beautiful boat wherever we went.

As spectacular as the catamaran is, it is made more special because of her crew. Captain Peet, you made everyone feel at home from the moment we stepped onboard. Your knowledge and expertise in your job was apparent in every phase of our trip. Your gentle smile and down to Earth personality, put each one of us at ease. Your ability to share information, both fun and historical, made island hopping much more delightful. Your ability to relate to our kids (ages 16-25) was amazing. You included them in all aspects of the trip, including excursions and celebrations. They havent stopped talking about your kindness, or your accent. You made certain that we were comfortable and were entertained, both on and off the boat. You encouraged us to stretch our comfort levels and enjoy the amenities. Having the floating bar, as we affectionately called it, and Peggy and her friend to sunbathe on, was a highlight of each day. Your hospitality made us feel like part of the Exodus family. Your work ethic and commitment to detail was superior. It was obvious to our family that you arent just a phenomenal captain, but also a wonderful man of integrity. Plus, you make SENSATIONAL cocktails! We believe that you are our friend for life and we look forward to seeing you soon.

Kate, you are an unbelievable talent! Not only are you beautiful, you are also exceptional in the galley. Our meals and wine choices were delicious and the food presentation was incredible. Your attention to every detail - whether it was our food allergies or just our own personal preferences was so appreciated. You made each meal and cocktail hour- an event that we looked forward to each day. It was amazing to watch you prepare meals with such skill. Your creations were scrumptious. We loved having a proper English pudding, and loved hearing you introduce each part of our meal with excitement and happiness. It is obvious that you love what you do and you are such an asset to the entire catamaran experience. I especially appreciate your willingness to make my protein shake each morning. You knew I was attempting to be good. Thank you for being so accommodating and sweet to each of us. We have said on numerous occasions how much we miss you.

In addition, we appreciate how clean and well organized you both kept our cabins. That was quite the undertaking! We also appreciate your willingness to hang out with us. We enjoyed our time ashore with you guys - learning new dances, trying new cocktails, and just experiencing the island life. You were both extraordinary and we could not imagine a better crew or better friends with whom to share a magnificent vacation.

Again, we thank you for your dedication, hard work, and for putting up with our craziness during our week on the Exodus. We are grateful to you for making this week a remarkable celebration for our family one that we will never forget! Our daughter, Lauren, created a youtube video called BVI New Years and she describes it as the best week of her life. As we say in the South, I guess that just about sums it up.

We told you when we left that we would see you again and we plan on keeping that promise!

Until then

with love
Susan and Mac
Dec. 28, 2016- Jan 3, 2017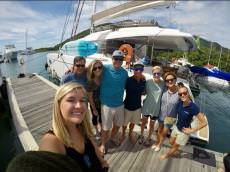 Christmas 2016 - Exodus is truly a beyond expectation type of experience
Hello Everyone! Exodus is truly a beyond expectation type of experience.
My family and I just finished a week long Hoilday cruise with Captain Peet and Chef/Hostess Kate and it was inspiring. They are tremendous hosts and very special people whom both go above and beyond to treat and pamper all the guests.
First, the Sailing Catamaran is so spacious and new. The amenities are endless on board and the four sleeping cabins and common areas are very spacious and each room has its own bathroom. The deck spaces are incredible for lounging and if you want to stay connected they have fabulous high speed internet on board at no added cost. You can stream movies though I don't know why anyone would!
More importantly, Peet and Kate are professional and highly skilled in their professions as well as being fun to be with. Peet can really sail! and will customize the trip based on what you like to do. Want to motor instead of sail? No problem...Want a secluded beach accessible only by water? Want a cove nestled in a resort? Want to windsurf, sail, kitesurf? Snorkel or Scuba? or do nothing at all? He knows the right locations to go and wherever you go, he is well known and if you are on Captain Peet's boat you often get special attention from the shore activities and resort operations.
Once the boat is on its mooring or anchor, you will then turn your attention to the many fine meals which Kate so carefully plans for and then prepares. Multi course, delicious, fresh, and very healthy. You will be blown away by every detail. We ate a few meals at some of the BVI's best restaurants and yet always preferred "Kate's Kitchen" to any other in the Islands.
All in all a 100% perfect adventure never to be forgotten.
Paul Sabharwal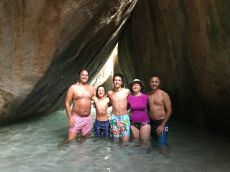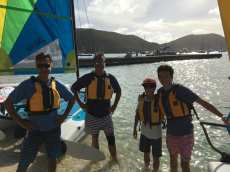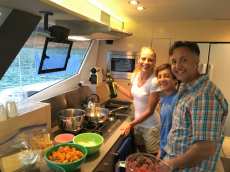 Exodus is the yacht to charter
I had the enormous pleasure of sailing on board of exodus in august with some friends.

The crew made sure we could sit back and sun ourselves while we were handed cocktails and amazing food.

From desert islands to floating bars, sunken party ships and natural jacuzzis, Peet showed it all to us.
He is one of a kind. A true sailor. An amazing host.

I had the most fun time on board and would repeat it a million times.

I am actually begging him to hire me on board so i can wake up every morning to those turquoise waters.

Exodus is the yacht to charter !!!

Besos

18th -25th November 2016
Dear Exodus family,
Premise:
What a great week you have given us.
No complaints!


From the moment we arrived on the boat you made us feel welcome, like if it was our own!
Peet & Kate, your attitude is fantastic: professional, hard working but yet fun and relaxed. This is truly a hard combo to nail.
From our first breakfast on the boat to our last dinner Kate delighted us with light, tasty and splendidly presented food arrangements, this made me loose the weight I wanted to loose... considering we are an Italian family where feeding is a pivotal part of the day and a central topic of conversation this is a 5* judgement!


On that note- the quantities were just right, sometimes I would have loved a second serving but given 6 boys on the boat, nothing to be seen (so maybe for the 6 navy seals I would double the portions !! ).
All the amnesties on the boat were spot on, paddle board, canoe masks etc..


I would add a bogie board after our latest surf spot finding!

The boat cleanliness was twice what we expected and I think I speak for all: great job at room cleaning and general cleaning.

Cabins are perfect size, splendid master cabin but I can't say how you sleep in that one, Ugo & Alex might have a say on that one?
Sound-wise aka music, Peet we need to give you a different playlist from the 5 Seasons lobby playlist you have ;) haha- just kidding!!!

The freedom of choice we had over the choice of program and route was fantastic, Peet was very flexible and answered to all our needs by letting us steer the cruise where we preferred.
His knowledge of sailing and the surroundings made us feel safe and relaxed, and this is crucial to our wellbeing and the vacations success - hats off for that!

I wish you all the best and hope to see you again soon.
Ciao
Jeremy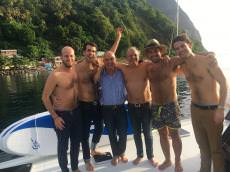 Sneed Yacht Charters.