Sneed Yacht Charters.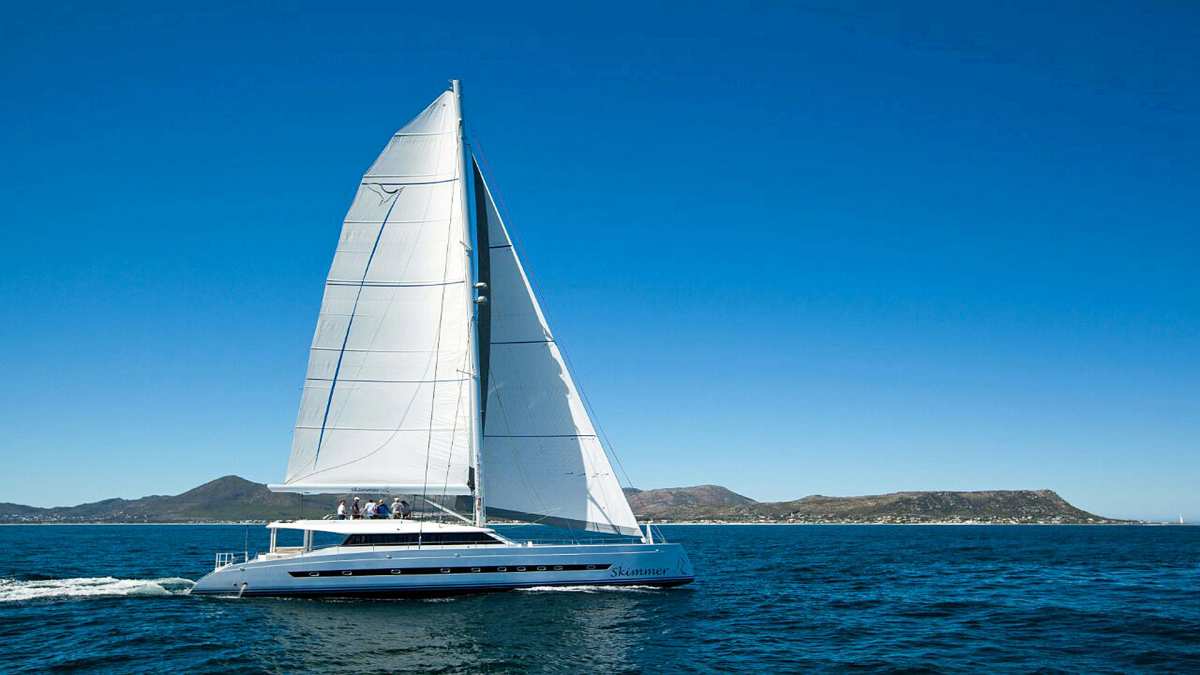 Following her Capetown launch, SKIMMER, a Balance Catamaran 760f, burst on the scene and quickly made a name for herself when she took line honors in the 2017 Cape2Rio yacht race. SKIMMER was engineered for transoceanic performance and top speed without sacrifice to luxurious accommodations and sumptuous living spaces. The enormous hulls provide vast space above and below deck, with luxury and luxury. The low profile flybridge design with racing stripe band of windows bisecting each hull is sleek and dynamic. The build has a tall rig, a large sail area, and a deep keel and rudder for unparalleled performance. SKIMMER is a masterfully designed, open-plan home that boasts 360-degree water views.

Step aboard SKIMMER's beamy aft deck cockpit where there's plenty of space for your entire charter party to lounge comfortably. Banquette seating with adjustable tables in protective shade make this a popular place to dine or relax. A double-wide door opens the interior galley and saloon to the outdoors, expanding the social space for near seamless open circulation and excellent fresh air flow.

The main saloon has a contemporary decor of rich woods with upholstery in gentle hues that create a pleasingly organic ambiance. The L-shaped sofa seating with additional modular chairs keep the charter party comfortably at the large dining table. White paneling is crisp and bright, and a generous surround of windows infuses the area with daylight. Opposite the dining area is the galley bar with four built-in stools. The professional galley is a chef's delight, with five-burner stove, dual sinks, expansive counter space, and loads of storage and refrigeration.

The most popular spot aboard SKIMMER is the magnificent flybridge. Awnings over the flybridge and also the trampolines keep guests protected and deliciously cool. Everyone loves riding outdoors while under sail, it's a fabulous feeling. There is plenty of space for a crowd and the views are spectacular.

SKIMMER is best suited for eight guests, but can accommodate 10 guests in five cabins. Four cabins are ensuite, the fifth has a dedicated bathroom positioned outside of the cabin. All bathrooms include very large dry showers, an overhead shower, plus a flexible hand shower, and a seat in the shower cubicle. Each cabin features fine linens and soft goods, dual reading lights, thoughtful amenities and sufficient storage for extended voyages.

SKIMMER has many notable features that make her an ideal option for first time sailors and families with children. At the bow, two bench seats head up the two spacious trampolines each with a raised side, which supports anyone seated either on deck or at the trampoline. This intelligent design provides bow seating common to motor yachts but unusual in a sailing catamaran. The best of both worlds. Raised gunwales augment safety on deck. Experience the thrill of true sailing in safety and comfort, while voyaging through some of the most spectacularly beauty scenery on planet earth.
Accommodations:
2 King Aft Cabins, bed size 6 x 6.5
1 King Forward Cabin, bed size 6 x 6.5
1 Queen Forward Cabin, bed size 6 x 5
All Cabins with ensuite heads (apart from Starboard Midships)

1 Queen Starboard Midships Cabin is Crew cabin, and can be made available for 10 pax inquiries. Please inquire further.



Sneed Yacht Charters.